Nashville vs. Kansas City to Kick off Stretch of 10 PBR Games of the Week on CBS National Television
By: Justin Felisko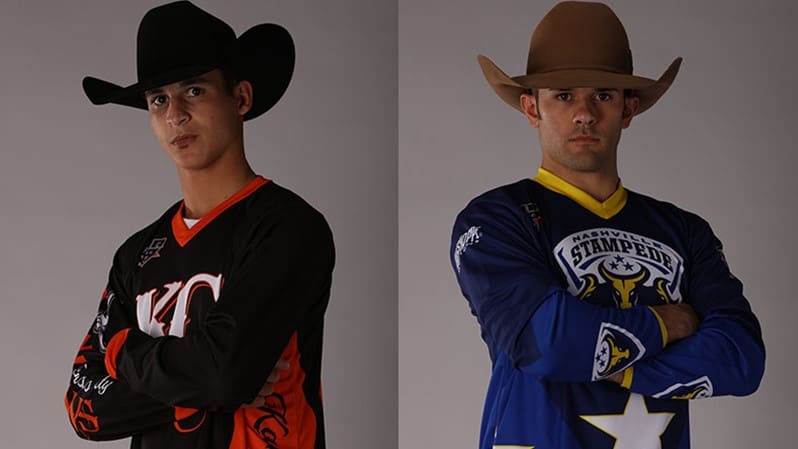 PUEBLO, Colo. – Nashville Stampede head coach Justin McBride and Kansas City Outlaws head coach J.W. Hart spent more than a decade helping build a CBS national television broadcast for the sport of professional bull riding.
Both PBR Ring of Honor inductees have since exchanged their CBS microphones this summer for head coaching positions in the PBR Team Series. The two friends and their respective teams will be front and center when the inaugural season begins its national television run on CBS on Aug. 7 when the Outlaws host the Stampede at T-Mobile Center in Kansas City.
On Wednesday, the PBR announced the full 112-game schedule for the inaugural 2022 PBR Team Series.
The PBR and CBS have teamed up to bring fans of professional bull riding 10 exclusive Games of the Week during the inaugural PBR Team Series, including two Sunday doubleheaders in August.
Game of the Week Schedule (all games air on CBS national television/Paramount+)
8/7/22: Nashville Stampede vs. Kansas City Outlaws (12-1 p.m. ET)
8/14/22: Arizona Ridge Riders vs. Texas Rattlers* (1:30-3:30 p.m. ET)
8/14/22: Missouri Thunder vs. Carolina Cowboys* (1:30-3:30 p.m. ET)
8/21/22: Missouri Thunder vs. Austin Gamblers* (1:30-3:30 p.m. ET)
8/21/22: Kansas City Outlaws vs. Nashville Stampede* (1:30-3:30 p.m. ET)
8/28/22: Texas Rattlers vs. Austin Gamblers (12:30-1:30 p.m. ET)
9/17/22: Austin Gamblers vs. Oklahoma Freedom (1-2 p.m. ET)
9/25/22: Nashville Stampede vs. Missouri Thunder (Post-NFL broadcast)
10/9/22: Carolina Cowboys vs. Texas Rattlers (Post-NFL broadcast)
10/15/22: Oklahoma Freedom vs. Arizona Ridge Riders (1 – 2 p.m. ET)
*CBS Game of the Week Doubleheader
"It is a big deal," McBride said. "It is a big deal for the PBR to start having those. It is going to be awesome for fans. It is going to be huge for the league as a whole, but as an individual team, that is where you want your stars to shine the brightest. That is where the most eyeballs are going to be on you. I am not going to tell my young guys that, but you hear guys talk about that on Monday Night Football. They talk about primetime.
"You want your guys to be the best in those situations."
Every PBR Game of the Week will feature the host team of that respective event weekend. First up will be none other than the Kansas City Outlaws, who most recently began the PBR Team Series Preseason with a victory in Bismarck, North Dakota, against the Nashville Stampede (177-0).
Hart knows the Outlaws' ownership group and front office are excited to be the first team to host a PBR Team Series event following the neutral-site season-opener on July 25-26 in Cheyenne, Wyoming.
"I know they have to be excited," Hart said. "They want to be the first in everything and set the precedent and the standard, and I know we will. That's what we want. Coaches. Owners. We all want this to go there. We want to push it to that (national) level."
The PBR Team Series will offer unprecedented broadcast coverage for the league. Fans can watch every game of the season on either RidePass on Pluto TV or CBS Sports Network/CBS. There will be approximately 65 hours of team bull riding available to fans.
Every Friday and Saturday night of the season will feature live broadcasts of games on RidePass on Pluto TV.
Kansas City most recently went on to win the overall event title in Bismarck with a 2-0 record and 90.75-point ride in the Bonus Round from Team Captain Dalton Kasel aboard Oilfield Outlaw's Yellow Feather.

"J.W. and his team, their organization, are going to be fierce competitors," McBride said. "They are going to be one of those organizations where, any time you go against them, it is going to be tough to get a win. That is just the way J.W. is, and that is the way he will have his squad. He has a good squad led by Dalton Kasel. They will be tough."
McBride then added with a laugh, "I would like to spoil J.W.'s day every day. He is one of my best friends, and that is how we are with one another. We will both push our guys to compete very hard against one another. It will be very fun going against J.W., not just because we are friends, but because I know what kind of competitor he is. He is going to do everything in his power to get his guys ready to win. He won't settle for anything less."
The Stampede and the Outlaws are the only two teams with matchups against the same opponent twice on national television. The two teams will meet again on Aug. 21 in the CBS Game of the Week when the Stampede host Stampede Days in Nashville (Aug. 19-21).
Hart knows bragging rights will be on the line all season long, not just between him and McBride but all of the coaches of the eight teams.
"Every one of us head coaches are former competitors, so we know what it is like to compete against each other," Hart concluded. "It is going to be fun trying to beat each other again."
Follow Justin Felisko on Twitter @jfelisko
Photo courtesy of Andy Watson/Bull Stock Media
© 2022 PBR Inc. All rights reserved.