News & Notes from the Rodeo Trail, June 14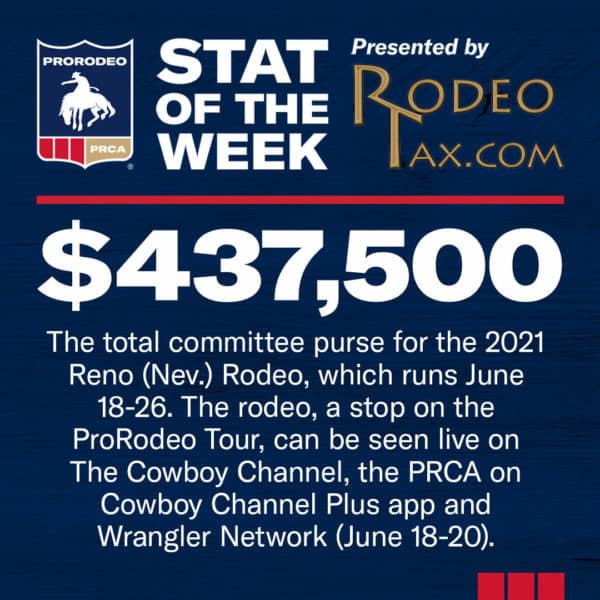 Nominations are being accepted for the PRCA Donita Barnes Contract Personnel Lifetime Achievement Award, created to recognize PRCA members who have dedicated their lives to advancing the rodeo industry through their commitment, work and contributions. Any active member (or active lifetime member) of the PRCA may nominate eligible contract personnel members for the award. Nominees must have been a PRCA member for a minimum of 15 years and may not have won a yearly contract personnel award within 15 years of the date of nomination (life members may be nominated even if they are not actively renewed). Nomination letters of 500 words or fewer may be e-mailed to mnaber@prorodeo.com or mailed to the PRCA, 101 Pro Rodeo Drive, Colorado Springs, CO 80919 by 5 p.m. (MDT), Aug. 6. For more information, contact Matt Naber at the PRCA National Headquarters, 719.528.4768.
---
The St. Paul (Ore.) Rodeo announced last week it will induct four people in its 2021 Hall of Fame. The inductees are Dan Ackley, in the timed-event category; Ivan Blosser, in the St. Paul Rodeo membership category; Bob Hockett, notable; and Walt Miller, as a St. Paul Rodeo director/officer. Ackley, who passed away in 2018, won the steer wrestling at the 1984 St. Paul Rodeo. He worked the timed-event chutes at various PRCA rodeos across the Northwest and qualified for the National Finals Rodeo three times in steer wrestling (1977-79). The late Blosser was an active St. Paul Rodeo member for nearly three decades, from the 1950s through the 1970s. In 1976, Hockett and four other farmers formed Marion Ag Service. Two years later, he bought out the partners and continues to oversee its daily operations at age 82. Hockett donated time and resources to St. Paul Elementary, the St. Paul Booster Club, the St. Paul Parochial School, and local 4-H and FFA chapters. He has, in the name of the Marion Ag Service, purchased fair animals, allowing the 4-H students to carry feed and expenses on interest-free credit at the store, paying their bills after the auction. Miller was a St. Paul Rodeo officer from 1988-2000. As a rodeo director, Miller oversaw parking and security. A carpenter by trade, he worked on the facility and the grounds alongside his cousin, Bill Miller. The hall of fame barbecue honoring the class of 2021 will be June 29 at 5 p.m. (PDT) at the St. Paul Rodeo arena. A meal will be served, with live and silent auctions. Auction proceeds benefit the Justin Cowboy Crisis Fund. Tickets for the barbecue are $32 and must be purchased in advance. They can be purchased online at StPaulRodeo.com. This year's rodeo is June 30 through July 4, with performances each evening at 7:30 and a 1:30 p.m. matinee on July 4.
---
Reno (Nev.) Rodeo officials say plans for new facilities are moving forward. The cancellation of the rodeo last year due to the pandemic slowed financing for the proposed projects at the Reno Livestock Events Center. But this year the rodeo is back on (June 18-26 with an Xtreme Bulls event June 17), and the Reno Rodeo Association is pushing ahead with its plans to revamp the LEC area, including building a new outdoor rodeo arena. Clint Thiesse, chairman of the Reno Rodeo Association, said a new exhibit hall is first up in the plans, followed by a second indoor arena and upgrading the current indoor area. "We're not just looking at a new arena, we're looking at revitalizing the entire Reno Livestock Events Center facility," Thiesse said in a June 14 article in the Reno Gazette Journal. "Over the years, it's gotten outdated, and it basically doesn't meet the needs of a lot of existing equestrian events that happen throughout the year." Thiesse said highly variable construction costs have altered the preliminary cost of $120 million cited in 2018 and that the association prefers to not give out cost estimates that are inaccurate. Thiesse said the earliest both of those first two projects could be completed would be 2023, depending on funding availability. A new, 15,000-seat outdoor arena is planned for the northeast corner of the LEC parking lot. Thiesse said that would not be done until 2025 or 2026 at the earliest.
---
Houston Livestock Show and Rodeo™ 2021 auction sales totaled $15,345,020. The Houston Livestock Show and Rodeo promotes agriculture by hosting an annual, family-friendly experience that educates and entertains the public, supports Texas youth, showcases Western heritage, and provides year-round educational support within the community. Since its beginning in 1932, the rodeo has committed more than $500 million to the youth of Texas and education. For more information, visit rodeohouston.com and connect with #RODEOHOUSTON online via Facebook, Twitter, Instagram and YouTube for all the latest news.
---
Sowing Good Deeds applications now open. This season, one rodeo committee has a chance to win a Massey Ferguson® tractor for the charitable work that committee does. As a proud sponsor of the Professional Rodeo Cowboys Association, AGCO® Corporation, through its brands Hesston® and Massey Ferguson, recognize that PRCA-sanctioned rodeos contribute significant support for local, regional and national charities and organizations. These charitable efforts by rodeo committees are making a positive impact on members of the various communities. Hesston and Massey Ferguson, through its Sowing Good Deeds initiative, want to raise awareness of these many local efforts and reward one PRCA committee each year whose impact goes above and beyond. Agco will share the stories of rodeo teams across the country who are Sowing Good Deeds in their communities and will reward one of those committees with a new tractor. The deadline to apply for the Sowing Good Deeds initiative is Sept. 15. The five finalists will be announced by Oct. 31. The Sowing Good Deeds initiative is open to all PRCA-sanctioned rodeo committees, regardless of size. Rodeos can enter at http://bit.ly/SowingGoodDeeds.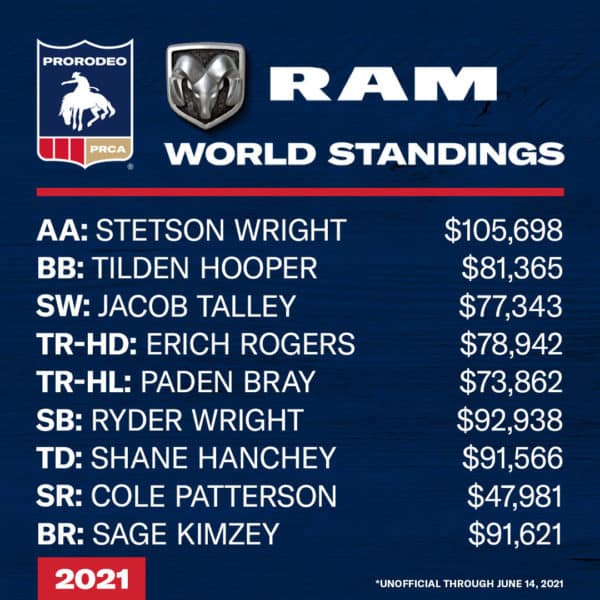 Courtesy of PRCA