Orman and Woodard Break Tucson Record
By Matt Naber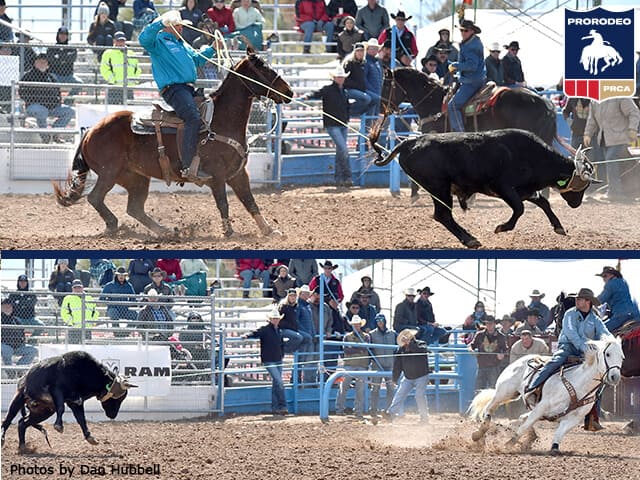 TUCSON, Ariz. – Team ropers Jake Orman and Walt Woodard had plenty to celebrate after breaking the rodeo record at La Fiesta de los Vaqueros in Tucson, Ariz., Feb. 19, with their 4.6-second run. The newly formed duo shattered the previous record by 0.3 seconds, which was shared by four sets of team ropers.
"Jake is the one that made that run happen," Woodard said of his 27-year-old partner. "A header has to be wide, and he's an aggressive roper. I'm excited to be roping with him, he is super talented."
La Fiesta de los Vaqueros has been ongoing since 1944, and the significance of being the fastest team ropers in 75 years of competition was humbling to Woodard, who has 20 qualifications to the Wrangler National Finals Rodeo (1976-90, '93, 2006-08 and '11).
"To rope the fastest in that arena with all the good people who have been there is an honor," said Woodard, 63. "To set a record, everything has to go your way and have the stars aligned."
The previous record of 4.9 seconds was shared by Matt Sherwood/Randon Adams and Derrick Begay/Victor Aros (2008); Spencer Mitchell/Broc Cresta (2011) and Steven Duby/Evan Arnold (2018).
Woodard has won just about every major rodeo since joining the PRCA in 1975, but La Fiesta de los Vaqueros has alluded the two-time world champion (1981 and 2007).
Orman ranked 35th in the 2018 PRCA | RAM World Standings with $42,494. His best season since joining the PRCA in 2010 was 2017, when he finished 21st with $60,146. Woodard was outside the top 50 with $26,818 last season. Now, they've set the pace to surpass their 2018 seasons.
The first round didn't go well for Orman and Woodard, so despite their record-breaking run in Round 2, they were out of the average at Tucson. Woodard considered their draw for Round 2 to be the opposite of their first draw.
"It's a long barrier and it's easy to break the barrier, but Jake did a great job of turning wide," Woodard said. "That guy really set up the run and made it fast."
Woodard recalled a quote from team roping header and five-time Wrangler NFR qualifier Kollin VonAhn.
"Kollin said, 'If you could bottle confidence, you could sell it for any price you need, and that's what winning does for you,'" Woodard said. "People talk about getting on a roll, and setting a record starts that roll with the confidence that things are going your way."
La Fiesta de los Vaqueros continues through Feb. 24. Check with prorodeo.com for the full results and more coverage.
Courtesy of PRCA