Parsons Gets 'Surprise' Win at World's Oldest Rodeo
by Bob Stephens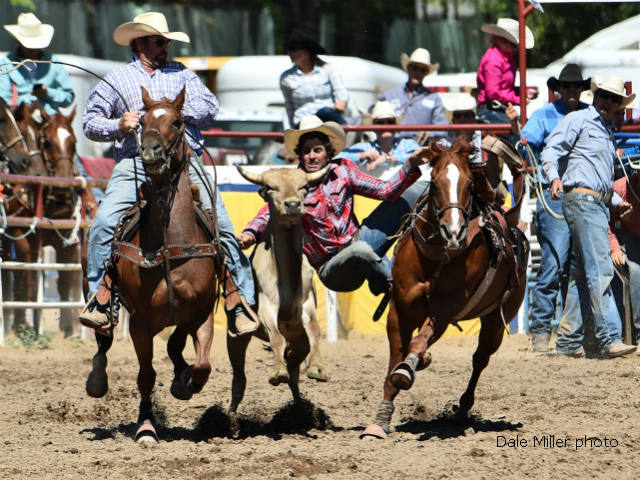 PRESCOTT, Ariz. – Cutter Parsons, who only competes in about a dozen rodeos a year, fulfilled a dream by winning the World's Oldest Rodeo on the Fourth of July.
"It's very, very exciting," he said. "It was a nice surprise."
The 33-year-old Turquoise Circuit cowboy won the two-head average with a time of 9.2 seconds and took home checks totaling $5,703. Not bad for less than 10 seconds of work.
Both of his runs were on Monday, as he won the first round with a run of 4.4 seconds during morning slack. He went 4.8 seconds in the afternoon perf – the last one of the June 28-July 4 rodeo – and just about knew he'd wrapped up one of the biggest wins of his career.
"Once I threw him down, I knew there was nobody behind me that could probably catch me," he said. "They had to be 3s, so I was pretty sure I was going to win. It was very exhilarating."
And to do it at the World's Oldest Rodeo was a great bonus.
"As far as rodeos go – other than Cheyenne, Wyo. – this one is my favorite," Parsons said. "I don't go much, and I don't go far these days because of my business. This is one of the top ones in our circuit and, for a spectator, it's one of the best to go to."
He had lots of support in the stands, including his wife Sarah and their two sons, Ryder, 9, and River, 7, plus his parents and a host of uncles, aunts and cousins.
Parsons said his two-head time of 9.2 seconds – which beat runner-up Jacob Talley by 1.2 seconds – "is a very good time for Prescott, and one of my best ever."
"It's always such a hard rodeo to win," he said. "To draw two good steers and put together two good runs is pretty tough. I've been close, but never won it."
Parsons said he finished third in the average in Prescott about five years ago in the bulldogging, and was eighth last year.
Now, much of Parsons' time is spent running his building contractor business, which he began a little more than two years ago.
"It's been a very good two years," he said.
The only other rodeo he competed at during Cowboy Christmas this past week was Window Rock, Ariz.
Parsons lives and works in Marana, Ariz., about an hour south of Phoenix. He'd won $126,643 prior to this season – although most of that was in tie-down roping ($92,124) rather than steer wrestling ($34,265), with another check or two coming in team roping.
Parsons, who used to rodeo more than he does now, is not without credentials. He won the Dodge National Circuit Finals Rodeo tie-down roping championship in 2007 in Pocatello, Idaho. He also won Turquoise Circuit year-end all-around championships from 2007-09 and the year-end tie-down roping title in 2008.
His older brother, Joe, won seven Turquoise Circuit year-end titles in tie-down roping and Joe's son, Joseph, has won three. Cutter's other older brother, Clay, also has his PRCA car and competed in Prescott in team roping.
The brothers learned to rope from their dad, Charlie, who competed in tie-down roping and team roping.
Cutter Parsons competed in tie-down roping in Prescott but missed his first calf and had a time of 10.1 seconds on his second.
"I don't' get a whole lot of time to practice either event," Parsons said. "The business keeps me busy. I practice tie-down more, and used to concentrate on it more. I was probably better at it."
He rode the horse of a good friend, Tim Robertson, and also credited his hazer, Dean McIntyre.
Other winners at the $252,218 rodeo were all-around cowboy JoJo LeMond ($2,715 in team roping and steer roping), bareback rider Tim O'Connell (86 points on JK Rodeo's Molly), team ropers Riley Minor and Brady Minor (12.4 seconds on two head), saddle bronc rider Clay Elliott (87 points on Harry Vold Rodeo's Happy Valley), tie-down roper Rhen Richard (16.7 seconds on two head), barrel racer Falena Hunter (35.08 seconds on two head), steer roper Jess Tierney (40.2 seconds on three head) and bull rider Ednei Caminhas (83.5 points on 4L & Diamond S Rodeo's Spanish Moss).
Read more about the World's Oldest Rodeo in the July 15 ProRodeo Sports News.
Courtesy of PRCA