PBR Canada's Elite Cup Series Returns to Grande Prairie, Alberta for Fourth Time Sept. 30-Oct. 1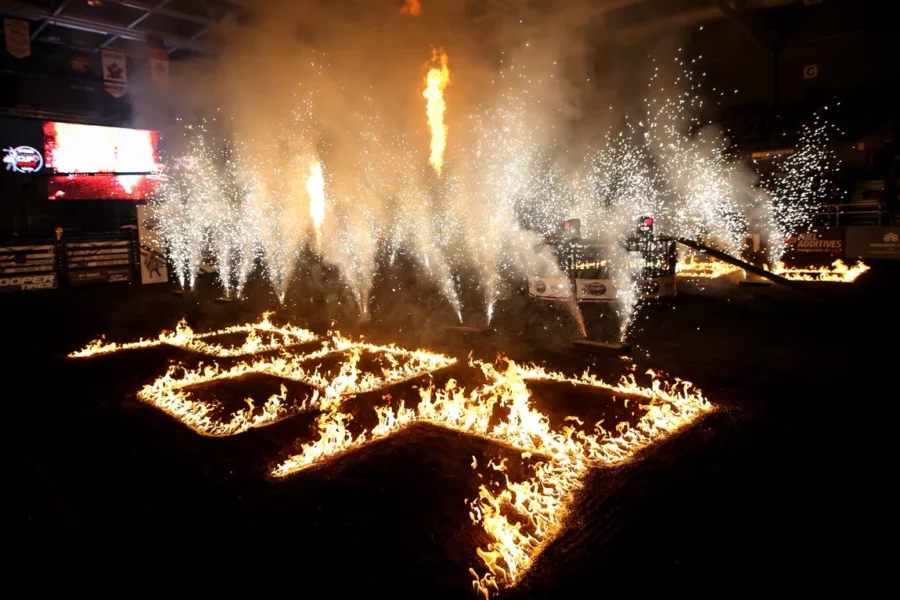 GRANDE PRAIRIE, Alta. – For the fourth time in history, PBR (Professional Bull Riders) Canada's elite Cup Series, presented by Wrangler, will return to Grande Prairie, Alberta, holding the PBR Peace Country Invitational at Bonnetts Energy Centre on September 30 – October 1.
PBR Canada's Cup Series regularly features Canada's best riders alongside some of the sport's top international athletes, squaring off against the rankest bucking bulls from across the nation.
For two performances only, fans will witness exhilarating 8-second rides and wrecks throughout the action-packed event as the PBR's courageous bull-riding athletes face off against their 2,000-pound opponents bred to buck.
The Grande Prairie event will mark the seventh event of the 10-event 2023 season for the PBR Canada Cup Series, presented by Wrangler. Prior to travelling to the Alberta city, the Cup Series will visit six towns across the provinces of Alberta, British Columbia, Manitoba, Ontario and Saskatchewan.
When the elite Canadian Cup Series last travelled to Grande Prairie in October 2022, Aaron Roy parlayed a 2-for-3 showing into an event win, allowing him to crack the Top 5 in the heated race to be crowned the PBR Canada Champion.
Roy was quick to put points on the board in Round 1 when he went the distance atop Teeka (Vold Rodeo/R Saga Ranch) for 85 points.
Tied for third ahead of Round 2, the veteran Canuck then reached the 8 atop Dealing After Midnight (Thompson Rodeo Livestock) for 85 points to surge to the top of the event leaderboard.
Despite being bested by Built Tough (Thompson Rodeo Livestock) in 6.25 seconds in the final round, Roy's opening scores were enough to clinch him the event win.
Compliments of the golden finish, Roy earned a crucial 79.5 national points. He gained three positions in the national standings, rising from No. 8 to No. 5.
Last season's event in Grande Prairie contributed to one of the most intense national title races in PBR Canada's history. Following a riveting regular season, nine riders traveled to the 2022 PBR Canada National Finals in contention to win the honor and accompanying $50,000 bonus.
Mounting a come-from-behind surge, Nick Tetz (Calgary, Alberta) emerged the 2022 PBR Canada Champion, surpassing regular-season No. 1 Dakota Buttar (Kindersley, Saskatchewan) and holding off a hard-charging Brock Radford (De Winton, Alberta) in the final outs of the season.
When the dust settled, Tetz finished 26.5 points ahead of runner-up Radford.
Thus far in 2023, Tetz is on pace to make history as the first rider to win the PBR Canada Championship in consecutive seasons. Courtesy of an event win at the second tour stop of the season in Lethbridge, Alberta, Tetz is No. 2 in Canada, 8 points behind the top position.
Jared Parsonage (Maple Creek, Saskatchewan) currently holds the No. 1 rank in the nation, a position largely earned via his Cup Series event win in Red Deer, Alberta, and a second-place result at the latest tour stop in Lethbridge.
The bull riding action for PBR Canada Cup Series' Peace Country Invitational, begins at 7 p.m. MDT on Saturday, September 30, and 2 p.m. MDT on Sunday, October 1.
Tickets for the event go on sale Friday, March 31 at 10 a.m. MDT, and start at $20, taxes and fees not included, and can be purchased online at BonnettsEnergyCentre.com, and by phone at (780) 538-0387.
Stay tuned to PBRCanada.com and follow the tour on Facebook (PBR Canada), Twitter (@PBRCanada), and Instagram (@PBRCanada) for the latest event and broadcast schedule, results, news, stats and more.
© 2023 PBR Inc. All rights reserved.