PBR Pick 'Em Morning Line – Albuquerque Round 2 & 15/15 Bucking Battle
By: Slade Long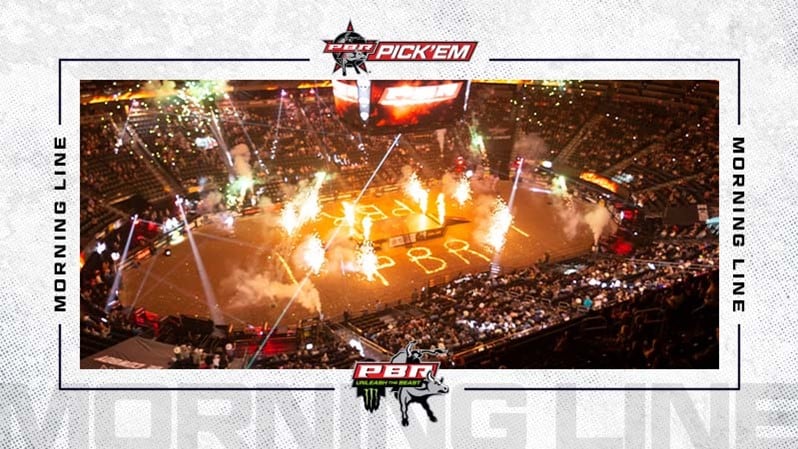 15/15 Bucking Battle
They rode three bulls in last night's very tough 15/15 Bucking Battle. The 15 bulls out tonight are a step nicer, but quite a few guys drew bulls that go away from their hand. Dener Barbosa had the best-looking matchup in the round last night but didn't convert. He actually drew a lot tougher here. 08B Hostage is similar to I'm Legit Too but hasn't allowed a qualified ride since November of 2020.
The three guys who stayed on last night were Kaique Pacheco, Mauricio Moreira and Dalton Kasel.
Moriera has a solid draw here in 94 First Down, but one that's likely to go away from his hand.
Pacheco has a bull called Moonwalk, who is 12-0 overall. However, Pacheco is riding well and beat the odds on another bull with "moon" in his name last night. Pacheco has ridden his last six UTB bulls in a row and eight of his last nine.
Nicest matchup – Dalton Kasel on 739 Nasty Wishes:
Kasel won the 15/15 last night in a tough pen of bulls, and he might win this one too. This is a prime draw for a left-handed rider. Kasel was 90.5 points on him in January in Sacramento. This bull is 1-5 against lefties overall.
Kyler Oliver, Joao Ricardo Vieira, Eduardo Aparecido and a few others have bulls that will probably go away from their hand.
Round 2
While the Top 15 riders turned down the bull power from last night, the 30 riders in Round 2 of the qualifier event went the other way. This is a tougher pen of bulls than we saw in Round 1. They rode nine bulls last night and may ride fewer than that tonight.
Sam Woodall won Round 1 with a big 92-point ride on a debut bull. He has 637D Border Crisis here – a bull that is 5-1 in his career and was ridden by Bob Mitchell in Glendale a couple of weeks ago.
Adriano Salgado turned down a re-ride last night and kept a low score. He has a good matchup here with 688 American Gangster. He won the Velocity event in Fresno last week, and he also turned down a re-ride there and kept a low score. Everyone else helped him out by bucking off at least two out of three of their bulls. That's only a viable long-term strategy when your competition consistently rides below 33% and riding two of three at a single event is rare. At this level, it is not.
Ramon de Lima on 169 Sky Harbor and Cody Jesus on -51 Skeeter Peter are both interesting matchups. Both guys stayed on last night and have a chance here. These two pairings are pretty typical of this round. There are a lot of good bulls, and many riders have challenging but winnable matchups. Cody Teel, Derek Kolbaba, Brennon Eldred, Brady Fielder, and Joao Henrique Lucas are all in the same situation.
Nicest matchup – Lucas Divino on -6 Delbert:
A veteran bull who is very rideable. Divino bucked off in Round 1 but has been riding pretty well recently.
© 2022 PBR Inc. All rights reserved.