PBR Pick 'Em Morning Line – Iron Cowboy Round 1
By: Slade Long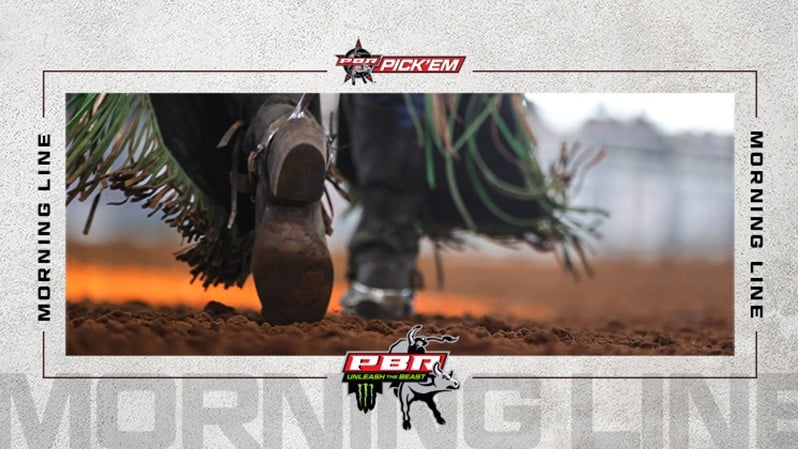 Round 1 of the PBR Tractor Supply. Co Iron Cowboy, presented by Ariat, gets underway at 8 p.m. ET on CBS Sports Network.
Dener Barbosa on 437B Lil 2 Train:
Lil 2 Train hasn't given up a qualified ride since May, but Barbosa rode him for 88 points in April. This is a consistent, veteran bull who all the riders are familiar with, and left-handed riders have had a lot of success on. He's not a pushover, but he is a good fit for Barbosa.
Cody Teel on 277 Butter Bean:
This bull has been around for a while, but like a few other bulls in this round, he's never been to a PBR event until now. He has faced some quality riders, and has a respectable record, but he's weak to right-handed guys. They've ridden him about 50% of the time. Teel is probably familiar with this bull as well.
Kaique Pacheco on E21 Skirt Chaser:
Pacheco has held on to the number two spot in the world standings for a long while. He's having a great season, really, but the problem for him and everyone else below him is that there aren't that many points left to be had after Jose Leme takes his share. Pacheco has a good bull here, but one that will be tough to ride. Skirt Chaser is 6-0 against right-handed guys.
Cooper Davis on 78 County Jail:
This is another bull who primarily works the rodeo circuit. He is a near perfect fit for Davis. He should go to the right, and he's been vulnerable to right-handed guys. He has good timing, and has given up four 90+ point rides this season at rodeos across the country.
Dalton Kasel on 626 Schott in the Dark:
This bull only has six outs in his career, but he's been ridden three times – all by lefties. Kasel won Sacramento, but has one qualified ride in the two events since. He has a very good chance at a first round score here.
Jose Vitor Leme on 520C PBR on TikTok:
Leme is the favorite against every bull he faces, and this bull is pretty rideable. He is a much better fit for right-handed guys though. TikTok is 8-10 against right-handed riders and 7-3 against lefties. There are a number of bulls in this round that Leme would have better odds against. This one will challenge him.
Joao Ricardo Vieira on 6E Liston:
Liston threw Vieira off in July at the WCRA rodeo in Salt Lake City, Utah, but this matchup still looks pretty good for Vieira. Chase Dougherty has two 89+ point rides on this bull this season. Liston goes to the left, and the margin for error on him is slim, but Vieira is capable of getting the job done here.
Mason Taylor on E13 Skull Crusher:
Taylor has pretty good odds of a qualified ride here, mostly because this bull has been ridden a lot when he's gone against the better riders. He is 5-0 against right-handed riders, though, and hasn't given up a score since February.
Boudreaux Campbell on 93E Border Show:
This is a Frontier Rodeo bull making his PBR debut here. He originally came from the Page breeding program, and he's a half-brother to a lot of PBR bulls, including Manaba, who is also out in this round. This will be an interesting matchup to watch because of this bull. Border Show has been one of the highest-marked bulls in the rodeo world this year, averaging 45.44 points over eight outs.
© 2021 PBR Inc. All rights reserved.