PBR Pick 'Em Morning Line – Nashville Round 2
By: Justin Felisko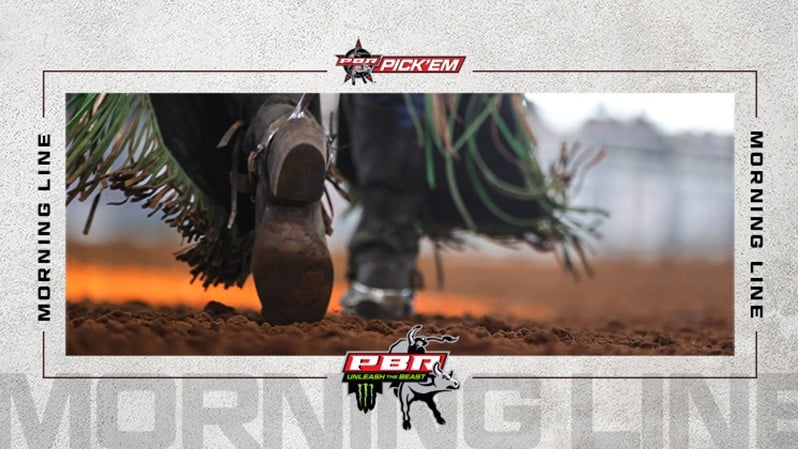 Alex Cerqueira on 319 Canadian Mist:
Cerqueira rode for 87.25 points in Round 1 – one of 10 guys who made the whistle in the round. He has a chance to get another big score, but it will not be easy. Canadian Mist is a veteran bull who does the same thing just about every time. He goes to the left about as fast as a bull can go. Everyone knows what's coming, and he dares riders to try to keep up with him. Most can't. Cerqueira is left handed and Canadian Mist is definitely a better fit for lefties, but he's not a great fit for anyone because most riders just can't keep up with him.
Daylon Swearingen on 513 Boogie Bomb:
Swearingen is not doing as well this year as he did last year and he bucked off in the first round. But, Boogie Bomb is right up his alley. This bull should go to the left and stay hooked. Most of Swearingen's career highlights have come against bulls a lot like this one. Boogie Bomb is not easy – he threw off Jose Vitor Leme in Billings earlier this year.
Thiago Salgado on 761 Bushwacked:
Bushwacked is not your average PBR veteran bull except on paper. He has a solid record, he's been a consistent performer and has been tough for even the best riders on tour. In person he's a little old school. He's big and a kind of mean. He has big horns and a reputation for inappropriately touching people with them. Salgado is left-handed, which is a plus against this bull, and he's from Brazil, where they have plenty of old school style bulls. He did ride his first round bull, so he's in position to double up if he can get past this one.
Lucas Divino on 25B Trail of Tears:
Divino finished ninth in Round 1, but he's in great shape with this draw to get into the short round near the top. However, Divino is also dealing with separated ribs and is questionable for the round. Trail of Tears is a fantastic draw for a right-handed rider, and Divino is 3-for-3 against him over the past couple of years.
Rafael Henrique Dos Santos on 437B Lil 2 Train:
Santos is another guy looking for a second straight score here. He will have to earn it. Lil' 2 Train is rideable, but he's legitimately hard enough to beat the top riders more often than they beat him. He gave up a string of qualified rides earlier this season, but he hasn't been ridden since May. This is an intense bull who can go either way and won't stay spinning in one direction if it seems like it's not working. He's got a lot of hustle and try, and Santos will have to have the same to win this matchup.
Cooper Davis on 43 Roulette:
Davis was blanked in Little Rock, and so far here in Nashville as well. He hasn't drawn all that well of late. For the most part, Davis does ride the bulls he's supposed to ride, and this is one of those. Roulette has been pretty good to both left and right-handed riders, and he's particularly weak against the top riders.
Derek Kolbaba on -6 Delbert:
I'm pretty sure Kolbaba got a re-ride option in Round 1 and opted to keep an 81-point score. If that's the case, he may have been looking ahead to this bull and is confident of getting a second-round score. Delbert is a pretty good draw for riders at this level. He gets ridden almost every time he draws a top tier rider, although he did throw Dener Barbosa off in Sacramento.
Kaique Pacheco on 51 Safety Meeting:
This little bull is one of the best draws in the sport. He's kind of the opposite of Bushwacked. He's not scary or particularly mean, has no horns, and is pretty well-behaved. He has perfect timing, and is as predictable as they get while still being good enough to be 90 points on He will probably go away from Pacheco's hand here, but he's been ridden a number of times by right-handed guys.
Chase Dougherty on C4 Power Dozer:
Dougherty was bucked off in the first round, but he should get a score. Power Dozer can go either way, but struggles to get guys on the ground. He's been ridden in almost half his career outs, and in three of his last four outs. He can be hard to get out of the chute clean on, but if Dougherty can get into the arena with him, he probably wins this matchup.
Jose Vitor Leme on A1 The Sauce:
Leme won the opening round with a record-setting 90.75 points, but he drew tougher here. This bull offers Leme the lowest possible ride probability he could have drawn in this round. The Sauce is 15-2 overall, and he threw Leme off earlier this season. But if you are looking for someone to beat the odds, Leme is a good bet here. The two times Sauce has been ridden come in his last three outs, and in their first meeting Leme took him 6.56 seconds.
© 2021 PBR Inc. All rights reserved.