Petri Latest Rider to Propel Himself to UTB via Velocity Tour
By: Justin Felisko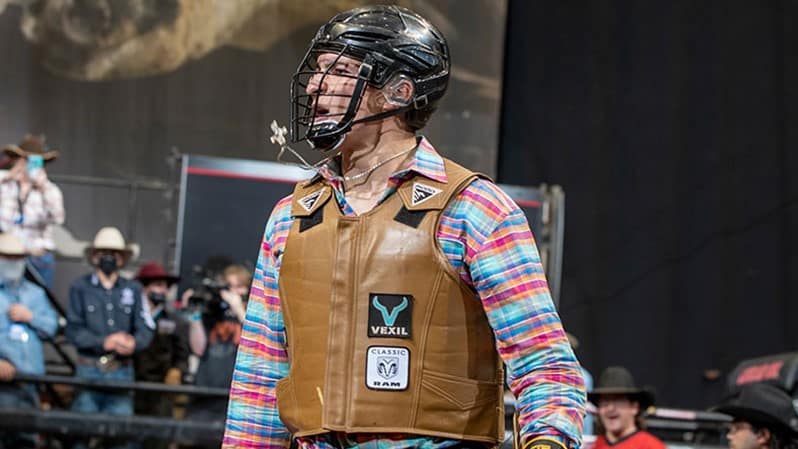 PUEBLO, Colo. – Every Wednesday, Jesse Petri would make the same hour-and-half journey down Interstate 4 in central Florida. The then-teenager would finish up his classes at Oviedo High School in Geneva, hop in his car and head southwest to Haines City, where he would get on some practice bulls at C.J. Brown's.
The mileage would not stop there, either. Petri could be found on Saturday nights another hour south, competing at the Westgate River Ranch Rodeo, where he could sometimes take home $500 to $600.
"That is how I made a living in high school," Petri told PBR.com. "I would go to open bull ridings all over Florida, and I would win a bunch of money."
Petri – the 2016 Florida High School Rodeo Association state champion bull rider – will be competing for a lot more than $500 this weekend when he makes his debut on the PBR's premier series.
The 23-year-old has drawn Vertigo Spy (1-1, UTB) for Round 1 of the PBR Built Ford Tough Invitational, presented by Cooper Tires, in Glendale, Arizona. Saturday night will be the culmination of a dream that began when Petri was 9 years old.
"I feel like I have been waiting for this since I was a little kid," Petri said. "Not only getting on tour, but doing big things and making the PBR World Finals. Every kid watches it on a TV, and they want to have all those big sponsors one day and be a top dog in the PBR."
Way before Petri was cruising up and down Florida interstates, his family lived in Montana for about a year. He was 9 years old when he finally convinced his mother, Valerie, to let him attend a Rodeo Bible Camp in Bozeman.

"I begged and begged her for the longest time to let me go get on something," Petri recalled. "That was the only way I could get my mom to let me get on steers, if it was at a bible camp or something. I had always rode horses and team roped a little bit, so I was kind of always around the Western way of life. I always just wanted to ride bulls because it was the event everybody wanted to see. It is the very end of the rodeo, and it is the most exciting, and I thought you could make the most money doing it. You don't have to haul around a horse trailer or have a horse to feed. So I have always loved it."
Petri moved back to Florida when he was 10 years old, but he was still determined to become a bull rider.
He began to watch videos of successful Florida bull riders, such as 2011 Ring of Honor inductee Tater Porter, and he would scan the internet for highlights of PBR greats Justin McBride, J.W. Hart, Michael Gaffney, Chris Shivers, Ross Coleman and others.
It was that group of PBR heroes and legends who inspired him as he worked his way up the junior ranks in Florida, and it was the dream of riding in the PBR that was top of mind as he made those long drives throughout humid Florida in search of a bull riding to compete at.
"Anything I could find to do with bull riding, that is what I wanted to do," Petri said. "It is pretty cool that it is all coming to life right now. I could tell any kid that would be in my shoes to keep dreaming and believing, because you dang sure can do it."
Petri is ranked 25th in the PBR world standings following his victory two weeks ago at the Pendleton Whisky Velocity Tour's Collision at the Coliseum in North Charleston, South Carolina.
Petri, who owns his own saddle-making company, went 3-for-3 to also take over the No. 1 spot in the PWVT standings. He leads No. 2 J.T. Moore by a slim 8.33 points.
The PWVT next heads to Pensacola, Florida, on March 20-21 for the Pensacola Invitational.
"I really like how the Velocity Tour has helped riders, especially today, to get on tour if you can ride your bulls," Petri said. "It used to be a hassle to get on tour, I feel like. I really do like how those Velocities are set up perfectly for a guy to get used to the atmosphere that hasn't been around it. Especially the short round, the big lights and announcers and the fans. It definitely is a perfect situation."
Petri, though, says he was "seasoned" on the rodeo trail.

The Palestine, Texas, resident competed at 18 PBR events before this year as he was primarily focused on attempting to qualify for the Wrangler National Finals Rodeo. Petri, who also competed at Trinity Valley Community College on a rodeo scholarship, was unable to accomplish that goal. A series of injuries cost him – a broken leg in 2018 and three surgeries on his free arm elbow. Petri broke his elbow in back-to-back seasons, and his best finish in the PRCA standings came in 2019 (No. 30).
"I've got about 13 screws in it," Petri said. "It was a disaster, but I know I have what it takes. I think I definitely would have made the NFR at least twice if not for my injuries, and then I think I would have went straight to the PBR, but that is all behind me.
"I am really glad I am here today. I am 23, and I think I am at a perfect age to go straight into the PBR. I feel really good right now. I feel healthy. My arm feels strong. My leg is strong. Everything in my body feels strong. I really think I am going to do some good in the PBR this year."
Follow Justin Felisko on Twitter @jfelisko
Photo courtesy of Andre Silva/Bull Stock Media
© 2021 PBR Inc. All rights reserved.