PRCA for the Record: Wrangler NFR Round 6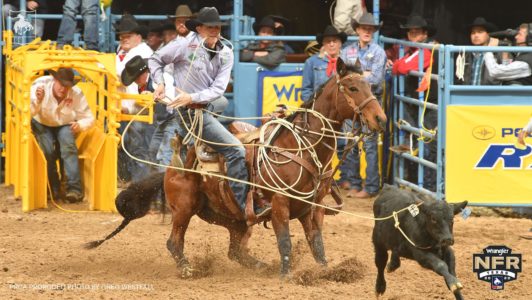 Tie-down roper Marty Yates was on a roll during the 2017 Wrangler National Finals Rodeo. He won Round 5 with a 7.0-second run and returned with a round record-tying time of 6.9 seconds for Round 6.
Although an impressive feat, Yates and his fans were struck with a bit of déjà vu since Yates and Matt Shiozawa each set the Round 6 record of 6.9 seconds at the 2014 NFR.
A Texas tongue twister if there ever was one, the Texas tie-down roper tied his own Round 6 NFR record.
"Any time you're under 7 (seconds) it's pretty fast and everything is happening the way it is supposed to," Yates said. "I have tied a lot of calves in 6 (seconds), but to go to my first NFR (in 2014) and do it was incredible. I don't remember the one in '17, but I made a lot of good runs."
Yates' 2014 run was on his horse, Eatin with Rooster "Chicken," who placed second for tie-down roping horse of the year in 2014. His 2017 run was made on his current NFR mount, Buster.
"Buster's been my main one for years but was out with injury for a bit this year so it'll be nice to have him at the Finals," Yates said. "I rode him in San Antonio and The American, but I just now started roping on him again. He enjoyed his break and is ready to go again."
Although the rest of the 2014 NFR didn't go as planned, placing 15th in the average, Yates finished sixth in the world standings with $141,268. His 2017 NFR went better, placing sixth in the average and finishing third in the world standings with $233,673.
"Any time you win a round at the Finals it gives you a lot of confidence for the next night and you hope to put another round together," Yates said. "If you make solid runs it helps your mindset throughout the Finals."
Now the 26-year-old cowboy is gearing up for his seventh consecutive NFR (2014-2020).
"I'm probably one of the veterans in the field by now, but the playing field will be leveled a bit since nobody has competed at Globe Life Field before," Yates said. "When you show up in Vegas and have been there before, you know what to expect. But in Arlington, nobody knows what to expect and it'll dang sure be different."
This year's Wrangler NFR competitors will get a different experience with the Finals moving to Globe Life Field in Arlington, Texas, due to the ongoing COVID-19 pandemic.
While a different arena means past NFR records likely will remain untouched this year, the best rides and runs of the past remain a good measuring stick as the 120 best ProRodeo athletes kick up dust on a new batch of arena dirt.
Every point counts and a fraction of a second can mean the difference between winning the world or coming in second at the Wrangler NFR.
The following records, and the records for the other nine rounds, could be broken Dec. 3-12. Fans can check with ProRodeo.com for updates throughout the competition and can watch the action unfold live on the PRCA on the Cowboy Channel Plus app.
The NFR Round 6 records are:
Bareback Riding
90.5 points
• Cimmaron Gerke on Classic Pro Rodeo's Wise Guy, 2004
• Kaycee Feild on Classic Pro Rodeo's Wise Guy, 2008
Steer Wrestling
3.0 seconds
• Bryan Fields, 2001
Team Roping
3.5 seconds
• Trevor Brazile/Patrick Smith, 2011
• Colby Lovell/Russell Cardoza, 2012
Saddle Bronc Riding
89.5
• Cort Scheer on Mo Betta Rodeo's Sue City Sue, 2018
• Zeke Thurston on Powder River Rodeo's Miss Chestnut, 2018
Tie-down Roping
6.9 seconds
• Matt Shiozawa, 2014
• Marty Yates, 2014 and 2017
Barrel Racing
13.37 seconds
• Taylor Jacob, 2013
Bull Riding
94 points
• Jerome Davis on Growney Brothers Rodeo's Dodge Ram Tough, 1996
Courtesy of PRCA