PRCA Team Roping Header World Champion Clay Smith Rodeoing with Broken Leg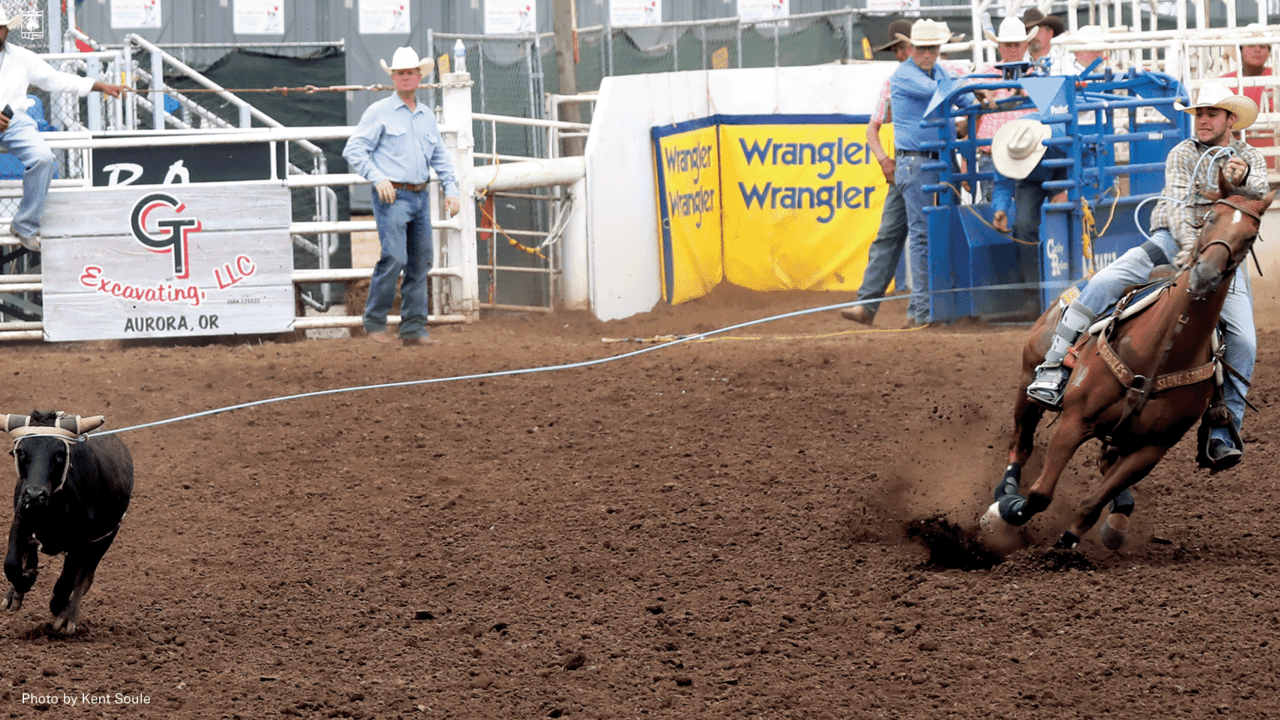 Sometimes freak injuries happen in sports.
That was the case for two-time PRCA Team Roping Header World Champion Clay Smith.
Smith, who won the PRCA Team Roping Header World Championship in 2018 and 2019, broke his right leg while roping at the World's Oldest Rodeo in Prescott, Ariz., June 28.
Smith, who was roping with Jake Long, broke his tibia and fibula and had surgery at HonorHealth Deer Valley Medical Center in Phoenix, Ariz.
"They put a rod and screws in my leg," said Smith, 31. "It was a spiral fracture of the tibia and fibula."
Smith said he was initially told by doctors he would be sidelined for 12 to 15 weeks, essentially ending his 2022 season.
Britt Smith, Clay's brother, described to the ProRodeo Sports News how the injury happened.
"The neck rope was either malfunctioning or put on wrong and it came around and caught his leg," said Britt, Clay's brother. "It went around his horse's chest and caught his right spur. They tie the neck rope on the steer, and when it breaks off the steer's neck it is supposed to go on the ground, and it went up to the right and caught his spur."
Smith was eighth in the PRCA | RAM World Standings with $40,931 at the time of the injury and Long was second with $73,995.
"When it first happened (Clay's injury) I was just concerned for him," Long said. "It was a freak deal. Once the dust settled, I was fortunate enough with my Houston win that standings-wise I wasn't overly worried about myself. Honestly, it was more about Clay's safety."
Smith started roping this season with Long at the Reno (Nev.) Rodeo, which concluded June 25.
The grim outlook of Smith's injury didn't detour him. He replaced gloom with hope and was roping at rodeos again by Aug. 6.
"The Good Lord wanted me to come back a little sooner than what I was supposed to," Smith said. "My wife (Taylor) ordered a (walking) boot for me to wear, and I have a friend of mine Dan Carroll, who is an orthopedic surgeon in Kansas City, Mo., and I talked to him, and he told me just try (to rope with the walking boot) and see if I could do it (rope) and see how bad it felt. I thought, man, I'm going to try it. I didn't want to be sitting at home wondering if I could have done it. I wanted to know if I could or not. I practiced a couple of times just to see if I could do it. It is pretty good. I just put that walking boot on and it hasn't been giving me too much trouble.
"You kind of have to change the way you rope a little bit because I can't really stand up. So, you have to rope sitting flat on your butt. It is just roping but you have to remember sometimes you can't stand up how you would want to."
After being sidelined from June 29 through Aug. 5, Smith dropped in the world standings to 17th.
Smith, amazingly, has kept himself in position to qualify for his eighth Wrangler Nationals Finals Rodeo thanks to teaming with Long. Smith has earned $45,076 since he returned. He is 14th in the Sept. 22 standings with $$86,007 and has a $4,004 lead over No. 15 Jake Orman.
Long is second in the world standings with $127,487.
"There are a lot of things that went right, and my partner has roped really good," Smith said. "The whole reason I came back is because we were trying to make the NFR (together). The Good Lord has helped us get this far. We are entered up pretty much everywhere we can get to, and we are going to keep on rolling. My partner has really good chance of winning the world and I want to try and get there and give him a chance to win it. It has been awesome roping with him.
"The boot really is just for roping. After I get done roping, I take the boot off. The rod and screws I have in my leg keep everything stable. I'm just waiting for bone to grow around the screws and closing the break a little bit before I really start walking on it. We don't really know how long that is going to be. It was supposed to be 12 to 15 weeks is what they told me."
Long believes what he and Smith have accomplished since Smith's setback is faith-based.
"I think this is just glory to God honestly," Long said. "I think it was a miracle he came back as soon as he did, and I think it was bigger miracle that we have done as good as we have. I don't think either one of us dreamed it would go that good. The No. 1 goal is to get Clay to the NFR and go there and try and win a lot of money and if it's God's plan for us to have a chance to win world championships then that's great and if not, we want to just win a bunch of money and get after it next year."
Courtesy of PRCA