PRCA Weekly Recap: Chad Rutherford Starts Year Strong with Waco Win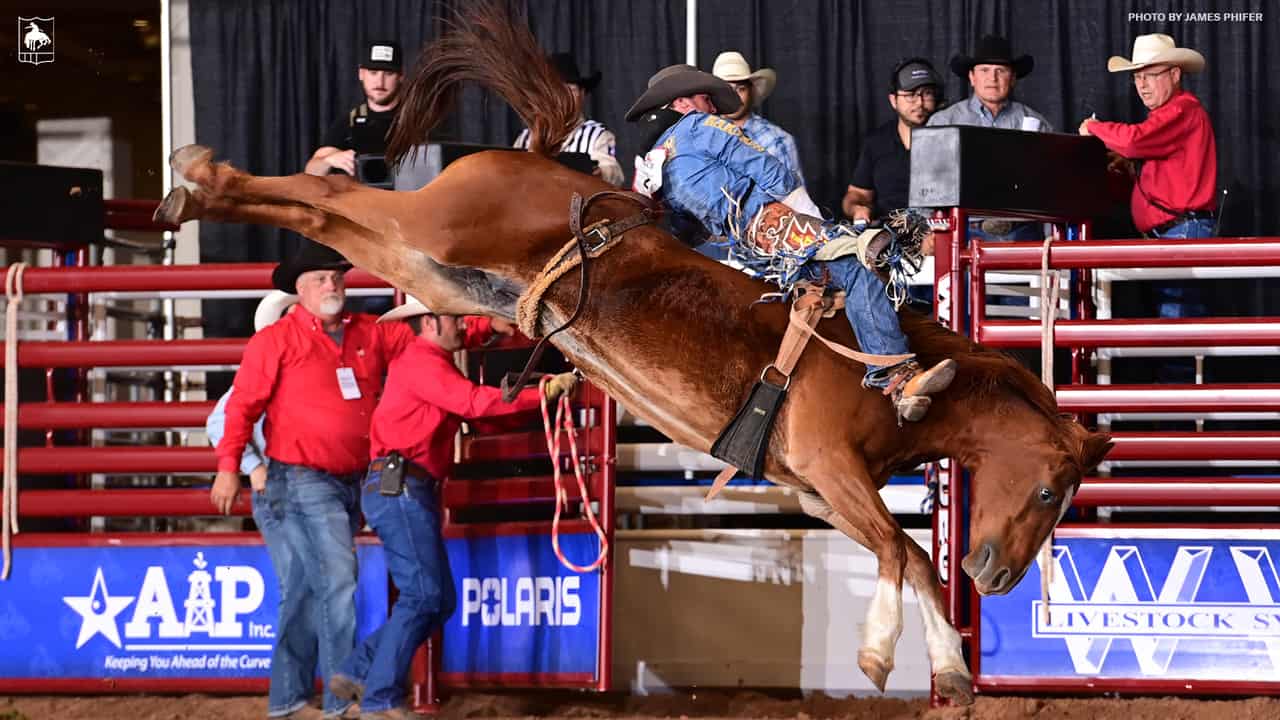 A change in mindset has bareback rider Chad Rutherford on a new path headed into the 2022 season and it paid off for him this past week.
Rutherford put together the highest-scored ride of the week (Oct. 11-17). He had an 88-point ride on The Cervi Brothers' Bay Nation. He said not knowing a ton about the horse coming into the performance worked out in his favor.
"I think I had the third out that horse has ever had as far as the PRCA goes," said Rutherford, 30. "So, there wasn't very much information out there on Bay Nation. I told myself we were just going to go jump for jump and see how it went. That's definitely an outstanding young horse that's going to be a superstar."
This past season Rutherford missed out qualifying for his second straight Wrangler NFR, he finished 21st in the PRCA | RAM World Standings with $46,400. That created a moment of realization for the Hillsboro, Texas, cowboy.
"We are kind of stepping back a little bit and reevaluating," Rutherford said. "Last season we threw everything we had at making the Finals and came up short. This year we are going to hit all our circuit rodeos, we're going to go to all the Tour rodeos, but we are going to focus more on quality over quantity this year."
And he hopes a week's worth of wins in Texas gets him off to the start he needs in 2022.
"It was great to be able to go to a couple rodeos and win a little more than $4,000 on a single tank of gas," he said. "It's not too bad of a start to season. Hopefully things can keep growing from here."
Below are the other top times and rides for the week of Oct.11-Oct.17.
Jacob Talley posted the fastest steer wrestling time of the week. He stopped the clock in 3.3 seconds at the Austin Co. Fair & Rodeo in Bellville, Texas, Oct. 15.
The team roping duos of Lightning Aguilera/Coleby Payne and Nelson Wyatt/Tyler Worley tied for quickest times this past week. Both teams had 3.9-second runs at the Heart O' Texas Rodeo in Waco, Texas, Oct. 16.
Weston Patterson had the highest scored saddle bronc ride of the week. He had an 87-point ride on Frontier Rodeo's Cross Fire at the RAM Prairie Circuit Finals Rodeo in Duncan, Okla., Oct. 16.
Riley Pruitt clocked the fastest tie-down roping time this past week. He put together a 7.4-second run in Waco, Texas, Oct. 12.
Laramie Johnson had the quickest breakaway roping time of the week. She posted a 2.2-second run at the Bellville (Texas) Breakaway Roping on Oct. 15.
Kailee Webb put together fastest barrel racing time this past week. She stopped the clock in 15.34 seconds at the Black Gold Stampede in Henderson, Texas, Oct. 16.
Toby Collins had the highest scored bull ride this week. Collins had an 88.5-point ride on Lancaster & Jones Pro Rodeo's Mutt at the Black Gold Stampede Oct. 15.
Thomas Smith clocked the fastest steer roping run this past week. He posted an 8.0-second run at the Austin Co. Fair & Rodeo Oct. 13.
Courtesy of PRCA