Ratliff Returns to WCC Winner's Circle
by ProRodeo.com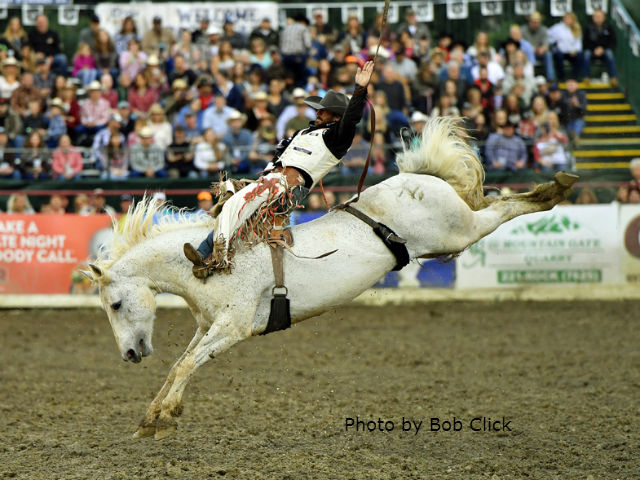 REDDING, Calif. – Although bareback rider Winn Ratliff was eighth in the May 16 WEATHER GUARD® PRCA World Standings, consistency has been a problem for him.
That's wasn't the case Saturday night as he was consistently good for eight seconds.
Ratliff won the Wrangler Champions Challenge presented by Justin Boots with an 84.5-point ride on Growney Brothers Rodeo's Wild N Blue.
"I never had been on that horse," said Ratliff, 27. "I've seen him several times, but I never had the opportunity to draw him. I felt very blessed for name to be beside his. The horse was very exotic and very rider-friendly. I was very fortunate."
The weather, mainly the rain-soaked Redding Rodeo Grounds, didn't make things easier for Ratliff, but he wasn't bothered by Mother Nature.
"It was just real sloppy out in the arena, but I can't complain because (Friday night) it was raining on the bareback riders during the last perf of the Redding Rodeo," Ratliff said. "I didn't ruin my cowboy hat and I didn't ruin my glove. I just got a mud patch on the side of my hip and my back, other than that I came out pretty clean."
Ratliff, who was competing for the B&W Trailer Hitches Team, collected a $4,692 check for his performance. This was Ratliff's third career WCC win as he also took home a pair of titles in Scottsdale, Ariz., and Kennewick, Wash., both in 2014.
"It feels good to be back in the Champions Challenge winner's circle," Ratliff said.
Actually, this week has been a victory binge for Ratliff. The Leesville, La., cowboy split first at the Redding Rodeo Friday with Colin Adams as they each had 82.5-point ride. Ratliff's ride came on Flying Diamond Rodeo's Lucky Luke and won him $4,490. He also won the Santa Rosa Roundup in Vernon, Texas (May 18-21) with an 84-point ride on Beutler & Son Rodeo's Pretty Boy Floyd and garnered $1,055.
"Going 3-for-3 is awesome," Ratliff said. "This week has been a blessing for me. I've kind of changed some priorities in my life and I'm trying to stay in the gym and be stronger in my faith. I just want to be a prayer warrior and have a stronger relationship with my Lord and Savior. I feel like I've been really blessed in return."
Other winners at the $109,575 rodeo were steer wrestler Jason Thomas (5.0 seconds), team ropers Kolton Schmidt/Shay Carroll (5.5 seconds), saddle bronc rider CoBurn Bradshaw (84.5 points on Growney Brothers Rodeo's Cow Camp), tie-down roper Marcos Costa (8.7 seconds), barrel racer Kimmie Wall (17.87 seconds), and bull rider Parker Breding (86.5 points on Growney Brothers Rodeo's Touchy Deal).
For more coverage of the Wrangler Champions Challenge presented by Justin Boots in Redding, check out the June 3 issue of the ProRodeo Sports News.
Courtesy of PRCA