Ratliff Wins Prestigious Salinas Buckle
by Bob Stephens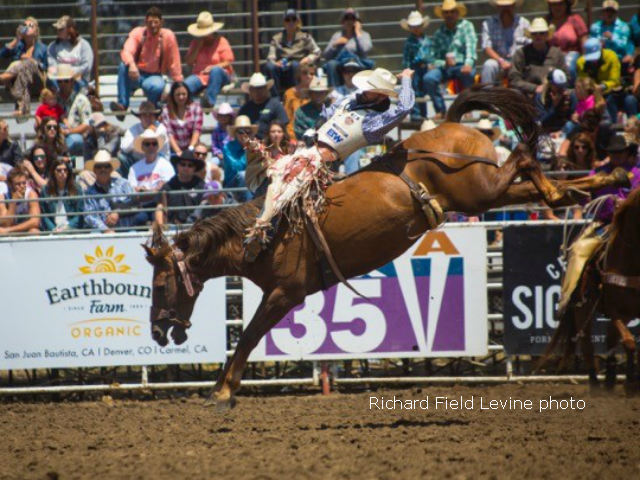 SALINAS, Calif. – Winn Ratliff endured some tense moments before he was presented with his buckle as the bareback riding champion of the historic California Rodeo Salinas, which has been around since 1911.
Ratliff was third man out in the short go Sunday afternoon and grabbed the lead in the average race with 161.5 points on two head. He had placed seventh in the long go but vaulted to the top of the aggregate with his ride for 82 points on Four Star Rodeo's Big Star.
"It was a nail-biter," Ratliff said. "I was sitting by the bucking chutes after my ride, and people were telling me I might win, and I might not win. I didn't want to get my hopes up, because the other guys had good matchups too."
His score held up for the win, and that was a big thrill for the 27-year-old cowboy from Leesville, La.
"I couldn't believe that I actually won Salinas," he said. "I was pretty tickled. It's really neat with all the history behind it. You hear stories about this rodeo – it's like Cheyenne (Wyo.), a big outdoor rodeo. Salinas is one of the rodeos that every cowboy wants to check off his bucket list. The buckle is pretty prestigious … it's beautiful."
He'd seen Big Star before, and watched Tim O'Connell win a round in Fort Worth, Texas, on the horse earlier this year.
"I knew I had a really good horse to ride, but I wasn't sure it was enough to win the short go with all the great horsepower they had here," Ratliff said. "My horse performed, and I performed, and snuck out a win."
He spoke by phone just before going through airport security Sunday evening, on his way to ride Monday night at the Spanish Fork (Utah) Fiesta Days Rodeo.
Ratliff is a three-time qualifier (2012, 2014-15) for the Wrangler National Finals Rodeo, and is well on his way to reaching the Finals again this December in Las Vegas. He won $6,073 in Salinas, and was seventh in the July 18 WEATHER GUARD® PRCA World Standings.
Still, he wanted to win a big rodeo.
"I was telling my mom the other day that I needed a big win," he said. "I'm healthy and I'm riding really good. I'd been placing really good, but I hadn't won since Molalla (Ore.) on July 4. I'm having a good year, but to win Salinas is really good for a guy's confidence. It's really neat to get this win under my belt."
Ratliff's best finish was seventh in the world standings in 2014; he was ninth in 2012 and 15th last year.
"I try to be persistent, and also be consistent," he said.
It was his first time to win Salinas, and one he'll always remember.
"The last couple of years I've had to turn out at Salinas because I made the short round in Nampa (Idaho) the same weekend and had to make a choice," he said. "This year it worked out so I could work both of them. Last year I ended up winning Nampa, and it worked out the opposite way this year."
After competing at Spanish Fork, Ratliff will fly home to Louisiana to see family – including grandparents, parents, aunts and uncles and cousins, and, of course, his wife Brittany and their daughter Maryclaire, who was a year old May 18. He'll attend the annual church revival camp meeting in Oak Grove, La.
"It's been a tradition with the church since it was built over 100 years ago, and our family pitches in and helps host people who come from churches in other states," he said. "I try to make it a priority to go, but didn't get to go last year."
This year, he can proudly show everyone his Salinas buckle.
Other winners at the $375,345 rodeo were all-around cowboy Josh Peek ($6,347 in tie-down roping and steer wrestling), steer wrestler Cody Kroul (20.1 seconds on three head), team ropers Erich Rogers and Cory Petska (47.4 seconds on five head), saddle bronc rider Rusty Wright (170 points on two head), tie-down roper Cooper Martin (30.0 seconds on three head), barrel racer Nellie Miller (64.82 seconds on four head) and bull rider Scottie Knapp (167.5 points on two head).
Read more about the California Rodeo Salinas in the Aug. 12 ProRodeo Sports News.
Courtesy of PRCA