Reno Rodeo Day Five Results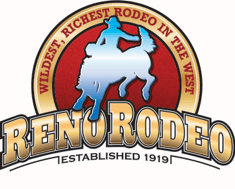 RENO, Nev. – It was Man Up Crusade Night and Reno Rosser's birthday.
The contestants did not disappoint with exciting action in every event. Bulldogger Will Lumus had the fastest time in steer wrestling with an impressive 4.0, tying for second place on the leaderboard so far.
Two teams earned the victory lap tonight in team roping with Brandon Beers (header) and Russell Cardoza (heeler) and Tucker Menz (header) and Cole Curry (heeler) tying with a 5.5 second time.
Cheyenne Hattesen's 17.12 second run around the barrels put her atop the leaderboard 1/100th of a second behind Stevi Hillman's run from a few nights ago.
Bull rider Stetson Wright showed the sold-out crowd why he's No. 2 in the world, scoring an 84 on Big Bend Rodeo's Fast Money and making it look easy.
---
Here are the night's top results:
Bareback (score in points):
1. Cole Frank, Clarendon, TX 87 on Powder River Rodeo's Knot So Foxey
2. Caleb Bennett, Corvallis, MT 85 on Powder River Rodeo's Naughty Temptation
3. Logan Patterson, Kim, CO 82.5 on Powder River Rodeo's Big Blue
Steer Wrestling (score in seconds):
1. Will Lummus, Byhalia, MS 4.0
T2. Dillon Hushour, Clovis, CA 5.0
T2. Jesse Brown, Baker City, OR 5.0
3. Curtis Cassidy, Donalda, AB 5.1
Team Roping (score in seconds):
T1. Brandon Beers, Powell Butte, OR & Russell Cardoza, Terrebonne, OR 5.5
T1.Tucker Menz, Boerne, TX & Cole Curry, St. Francisville, LA 5.5
2. Cory Kidd V, Statesville, NC & Ryan Motes, Weatherford, TX 10.0
3. Rhen Richard, Roosevelt, UT & Jeremy Buhler, Arrowwood, AB 11.3
Saddle Bronc (score in points):
1. Logan Cook, Alto, TX 81 on Powder River Rodeo's Loaded Deck
T2. K's Thomson, Lundbreck, AB 79.5 on Powder River Rodeo's Baby Sitter
T2. Lane Schuelke, Newell, SD 79.5 on Powder River Rodeo's Miss Valley
3. Cody Demoss, Heflin, LA on Powder River Rodeo's Bet the Ranch
Tie-Down Roping (score in seconds):
1. Riley Pruitt, Gering, NE 10.3
2. Justin Brinkerhoff, Corinne, UT 11.3
Breakaway Roping (score in seconds):
1. Sierra Stoll, Mountain View, WY 3.2
2. Kirby Eppert, Seneca, NE 3.5
3. Lakota Bird, Nanton, AB 3.8
Barrel Racing (score in seconds):
1. Cheyenne Hattesen, Lemon Cove, CA 17.12
2. Cassidy Champlin, Pilot Point, TX 17.72
3. Sissy Winn, Chapman Ranch, TX 17.74
Bull Riding (score in points):
1. Stetson Wright, Milford, UT 84 on Big Bend Rodeo's Fast Money
2. Nic Lica, Garden City, MI 78 on Flying Five Rodeo's 516
*Scores are unofficial until verified by the Rodeo Secretary
For more information and live results every night visit the newsroom. Current PRCA leaderboard can be found here.
About the Reno Rodeo
The Reno Rodeo is a Professional Rodeo Cowboys Association (PRCA) sanctioned sporting event, and one of the top rodeos in North America. Reno Rodeo is a non-profit organization made up of over 500 volunteers. This year's Reno Rodeo is scheduled for June 17-26, 2021. Competition includes bareback, team roping, saddle bronc, tie-down roping, steer wrestling, women's barrel racing, women's breakaway roping and bull riding. Like Reno Rodeo on Facebook and Instagram, follow us on Twitter, or for more information on the Reno Rodeo, visit www.renorodeo.com.