Reno Rodeo Nominated for USA Today's 10BEST Award
Rodeo fans are encouraged to vote daily until April 10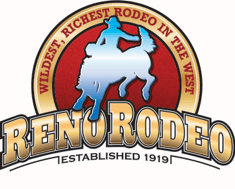 RENO, Nev. — "The Wildest, Richest Rodeo in the West" has been nominated for USA Today's 10Best Readers' Choice travel awards as a contender in the "Best Rodeo" category.
Nominees are carefully selected by an expert panel, and winners are determined by public votes. Voting is open now and ends Monday, April 10. Winners will be announced on Friday, April 21 at 9 a.m. PST on 10Best. Rodeo fans can show their support by voting daily.
Considered one of the region's premier outdoor events, the Reno Rodeo is an integral component of the community and boasts some of the most dedicated fans in the world of ProRodeo.
"We are incredibly honored to be nominated and to be in the running alongside so many other historic rodeos," said George Combs, general manager of the Reno Rodeo. "Every year we strive to make the Reno Rodeo an unforgettable experience for our attendees. We hope our fans will agree and that they'll take the time to vote for Reno Rodeo."
Vote here or visit renorodeo.com for more information about the Reno Rodeo and its long legacy in the Reno community.