Riders Appreciate Opportunity to Ride at Same Venue as the First PBR World Finals
By: Justin Felisko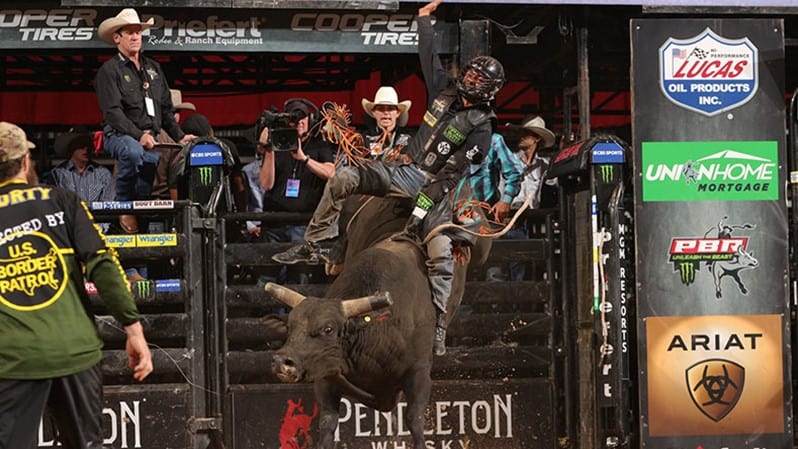 LAS VEGAS – Cody Jesus wanted to make sure he was in the right headspace coming into this weekend's PBR Las Vegas Invitational, so he decided to pull out one of his old VHS recordings from his childhood.
Jesus and his brother would often record past PBR World Finals with their VCR whenever they could find reruns airing on television growing up in Window Rock, Arizona. One of the World Finals he has portions recorded of at home is the 1998 PBR World Finals, which was the last Finals held at the MGM Grand Garden Arena before the PBR moved to the Thomas & Mack Center in 1999.
What better way to get excited about riding this weekend at the MGM Grand Garden Arena than to watch some of his heroes making rank rides inside the same building?
"This is special," Jesus, who was born a few months before the '98 Finals, said. "I still have VCR tapes, and I was watching them all week before I left. Me and my older brother were little kids recording highlights. I watched rides of Owen Washburn, Troy Dunn, J.W. Hart. All of the guys.
"I wanted to see the bull rides they put on in here and make sure I wouldn't fall off."
Jesus now has his own highlight he can watch back after winning Round 1 of the PBR Las Vegas Invitational with an 89.25-point ride on Strange Cargo.
The 22-year-old is competing in Vegas on his final injury exemption, but his second round win of the season netted him 28 points toward the world standings. Jesus jumped 10 positions in the standings, and he will head into Round 2 now sitting at No. 32 in the world.
"It was big," Jesus said. "I know I have needed to do something, and I have been sitting home missing bull riding."
Jesus had not competed in more than a month since he injured his left shoulder during his Touring Pro Division victory on April 23 in Prescott Valley, Arizona. Jesus attempted 14 practice bulls this week to make sure he was ready to return to competition.
"I had a bull run me over, and it was just swollen," Jesus said. "I couldn't lift it or nothing. I just rested for a couple weeks and went to physical therapy."

This weekend is also the first PBR event in Las Vegas with fans in attendance since the 2019 PBR World Finals at T-Mobile Arena.
Jesus was not the only rider excited about the opportunity to ride in the venue that hosted the inaugural PBR World Finals in 1994.
Brennon Eldred stopped by the MGM Garden Arena, which first opened in 1993, on Friday afternoon to check out where the PBR first began to lay its groundwork in Vegas.
"This is going to be rank tonight," Eldred said outside the entrance. "To be able to ride at the same place the founders had the first PBR Finals is really special."
Matt Triplett began Friday night with the first ride inside the MGM Grand Garden Arena since the '98 Finals by riding B Hummer's Gold for 86.25 points.
Triplett said checking into the MGM Grand hotel this weekend brought back memories of his first PBR World Finals in 2013.
"This is so cool," Triplett said. "We got to stay here the first year I made the Finals, and I love the MGM. They take care of us. The rooms are magnificent. I love being here. I love Vegas. I always seem to ride well here. There are so many great memories here. I love the MGM. The Finals here and how they treat us here brings back all the memories of the good times I have had here."
2021 Rookie of the Year contender Austin Richardson wasn't even born yet when the PBR held its last World Finals at the MGM in 1998.
The 21-year-old was unaware the PBR had held its Finals inside the venue until he rode Zorro for 88.75 points and a second-place finish in the round.
"That is pretty crazy and pretty cool," Richardson, 21, said. "That is awesome, and I am honored. I am so young. That is why I probably had no idea."
19-year-old Conner Halverson made his premier series debut Friday night at the MGM Grand Garden Arena and earned the first qualified ride of his career – 84.75 points on Renegade.
Now that he has gotten his first experience in Las Vegas, Halverson is that much more motivated to make sure he cracks the Top 35 and qualifies for the 2021 PBR World Finals at T-Mobile Arena on Nov. 3-7.
"This is something I have been looking to for a long time," Halverson said. "I have been thinking and dreaming about being here ever since I was little, and to get one knocked out on my first one, I am pretty pumped.
"This has given me possibly a little bit of a taste of what Vegas is like for when I come back."
Follow Justin Felisko on Twitter @jfelisko
Photo courtesy of Andy Watson/Bull Stock Media
© 2021 PBR Inc. All rights reserved.