Road to Arlington: Campbell and Mauney Push Themselves Into Serious World Finals Contention
By: Justin Felisko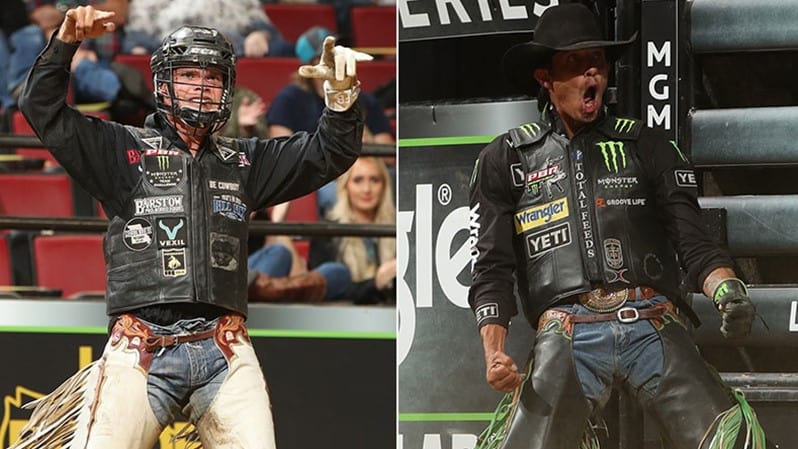 PUEBLO, Colo. – Boudreaux Campbell did not learn of his opportunity to get the last alternate spot for this weekend's PBR Wrangler Invitational, presented by Cooper Tires, until this past Thursday.
Three days later, and that alternate spot could just be the difference-maker as to why Campbell may end up qualifying for his first PBR World Finals come Nov. 12-15 in Arlington, Texas.
Campbell capitalized in Lincoln, Nebraska, Sunday by riding I'm Legit Too for a career-high 91.75 points as he bounced back from a Round 1 buckoff against Cactus Jack (2.56 seconds) Saturday to finish third overall with a 2-for-3 performance.
"It's awesome just to ride one for 8 seconds, and to hear a score like that makes it that much better," Campbell told Kate Harrison on CBS Sports Network. "So I'm on cloud nine right now. I couldn't be happier."
More importantly, Campbell's career-best finish on the premier series earned him 50.5 points and rocketed him 16 places up the world standings.

Campbell, who also finished in eighth place (four world points) at the Casper, Wyoming, Pendleton Whisky Velocity Tour event Friday, began the weekend ranked No. 48, and he is now the No. 32-ranked bull rider in the world.
The 22-year-old leads No. 36 Dakota Louis by 17.66 points with three Unleash The Beast events remaining until the 2020 PBR World Finals: Unleash The Beast in Arlington, Texas, on Nov. 12-15.
Campbell is looking to become the first rider this year to qualify for both the 2020 PBR World Finals and the 2020 Wrangler National Finals Rodeo.
The PRCA regular season ended on Sept. 30, and now the No. 3-ranked rider in the PRCA can focus on the PBR's final month of the regular season.
2020 WORLD FINALS BUBBLE RACE
No. 32 Boudreaux Campbell (120.66 points)
No. 33 Ryan Dirteater (120 points)
No. 34 Taylor Toves (105 points)
No. 35 Amadeu Campos (104.66 points)
No. 36 Dakota Louis (103 points)
No. 37 Marcus Mast (98.66 points)
No. 38 J.B. Mauney (98.5 points)
No. 39 Silvano Alves (98 points)
MAUNEY CONTINUES SURGE FOR 15TH CONSECUTIVE WORLD FINALS
Top Shelf put a damper on what could have been a record-setting 33rd career victory for J.B. Mauney Sunday when the bovine athlete downed the legendary bull rider in 2.65 seconds in the championship round.
However, Mauney's season-best fourth-place finish has him in striking distance of qualifying for a 15th straight World Finals despite missing the first seven months of this season (reconstructive right shoulder surgery).
"I've always known that, when you sit out just a little amount of time, you've got to work at it when you come back," Mauney told Kate Harrison after winning Round 2 Sunday with 89 points on Red Dawn. "And being out nine months (going back to the 2019 World Finals) is the longest in my career. I've had to work a lot harder than I thought, but the only way to fix it is to get on more bulls."

Mauney has used two consecutive Top-5 finishes to earn 82 points in the last two events to go from 98th in the world to No. 38.
It may not be the Top 35 just yet, but No. 38 would technically get Mauney into the Finals if the season ended Sunday, with Fabiano Vieira currently out of competition with a severe head injury and No. 29 Dakota Buttar and No. 30 Lachlan Richardson ineligible for Top 35 World Finals qualifications. Buttar and Richardson turned down UTB draw spots to remain in their home countries earlier in the season. However, the two riders can still qualify for the World Finals via the Velocity Tour Finals in Sioux Falls, South Dakota, on Nov. 6-7 if they are atop the PBR Australia and PBR Canada national standings to earn an invite to the Velocity Finals.
Mauney, though, sure seems like he is going to be crossing the Top 35 threshold very shortly, and this weekend was his first event of 2020 with two qualified rides. Mauney began the weekend at Pinnacle Bank Arena with an 87.25-point ride on Audacious before winning Round 2 Sunday afternoon on Red Dawn.
The future Ring of Honor inductee will look to do just that in a place he has fond memories at when the Unleash The Beast heads to Tulsa, Oklahoma, next weekend.
Of course, the BOK Center is where Mauney broke legendary three-time World Champion Bull Bushwacker's streak of 42 consecutive buckoffs with a 95.25-point ride seven years ago.
Follow Justin Felisko on Twitter @jfelisko
Photo courtesy of Andy Watson/Bull Stock Media
© 2020 PBR Inc. All rights reserved.