Road to Vegas: Woopaa Increases Lead in YETI World Championship Bull Race With 47.25 Points as Kasel Rides Him for 96.75 Points
By: Justin Felisko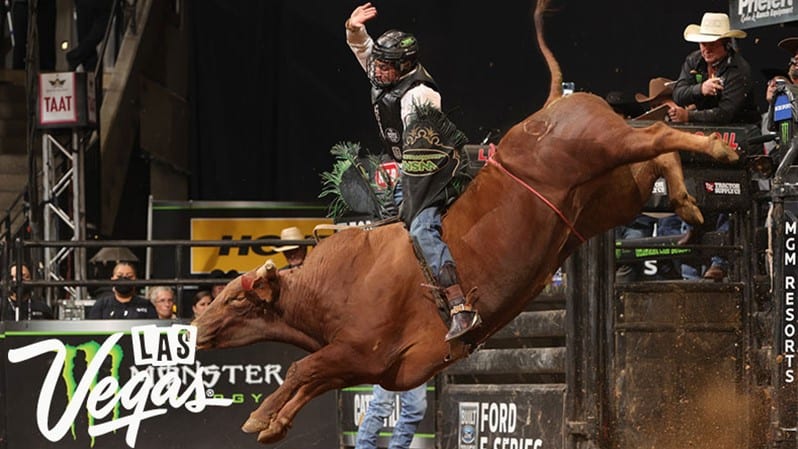 PUEBLO, Colo. – When you are a partner on the top two rides in PBR history, it is easy to see why you are the No. 1 bull in the world.
Such is the case for No. 1 YETI World Champion Bull contender Woopaa as he teamed up with Dalton Kasel for a sensational 96.75 points – the second-best ride in PBR history – Sunday at the PBR U.S. Border Patrol Invitational, presented by Ariat, at the AT&T Center.
Woopaa was marked 47.25 points to increase his lead in the 2021 YETI World Championship Bull race to 0.56 points on No. 2 Chiseled. Woopaa is not expected to buck again until the PBR World Finals on Nov. 3-7 at T-Mobile Arena in Las Vegas.
"I honestly hope next year we can top it," Laramie Wilson told CBS Sports Network's Kate Harrison. "I don't know how we are going to, but I sure hope we can."
Of course, Woopaa first has to take care of business at the World Finals.
The 2021 YETI World Champion Bull will be the animal with the highest average bull score from their top eight regular-season outs and two outs at the PBR World Finals (Nov. 3-7 in Las Vegas).
Woopaa will take a World Champion Bull Average of 46.94 points into the Finals.
It was only a little more than two months ago when Jose Vitor Leme broke the PBR record for the best qualified ride in premier series history with his 97.75 points in Tulsa, Oklahoma.
Now Woopaa will share the No. 2 spot with Kasel after the 2019 PBR Rookie of the Year joined Leme in the record books.
The two qualified rides are the best in almost 17 years since 1997 World Champion Michael Gaffney rode Little Yellow Jacket for 96.5 points in Nampa, Idaho.
Kasel heads into next weekend's PBR Union Home Mortgage Invitational, presented by Bass Pro Shops, eighth in the world standings.
"This is so fun. I have known Laramie for a long time now, and I am so happy being in San Antonio. Great things happen here," Kasel said. "It was hard. I had to try to the whole time. That bull is awesome, and he bucks so hard, and he bends in ways that bulls are supposed to bend, and he does it."
Follow Justin Felisko on Twitter @jfelisko
Photo courtesy of Andy Watson/Bull Stock Media
© 2021 PBR Inc. All rights reserved.