Rocker Steiner has Electrifying Ride to Advance to Fort Worth Finals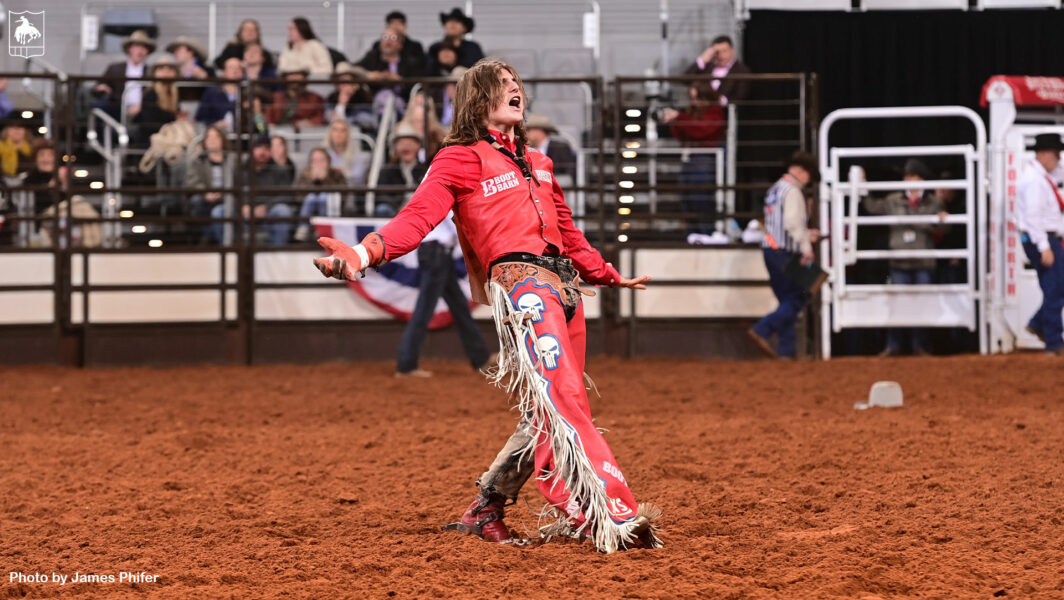 FORT WORTH, Texas – The lightning rod who is Rocker Steiner was as electrifying as ever on Thursday night.
Steiner, who turned 19 in December, had a 90-point ride on Calgary Stampede's Twin Cherry to win Semifinal A at the Fort Worth Stock Show & Rodeo at Dickies Arena.
"I have never been on that horse, I have just been watching it for a while," Steiner said. "I've seen a lot of guys hit the dirt and I've seen a lot of guys be big scores. My dad (Sid) told me I had a bucker and he told me it was Twin Cherry. A piece of my heart dropped, and a piece shot through the roof. I knew I was going to be money or mud."
Steiner said the horse was as good as advertised.
"It felt like we were jumping five feet in the air and Mike Tyson was hitting me in the back of the head and my arm was tied to a freight train going downhill," Steiner said. "Luckily, I had my binds tight tonight and kept chin down and had some fun."
The top four placers in each event from Thursday's Semifinal A advance to the finals at 8:30 p.m. (ET) Saturday in this lucrative Playoff Series rodeo. The semifinals conclude at 8:30 p.m. Friday. The 8 contestants/8 team roping teams will aim for top honors in the finals. All the action will be broadcast live on The Cowboy Channel and the Cowboy Channel Plus App for this Playoff Series rodeo.
"The mindset stays the same, win," said Steiner, who earned $4,000 for his Thursday performance. "If you have to get hurt in the process so be it. I'm here to win. I'm not here for second place. I'm here to take the buckle."
This past December, Steiner made his Wrangler National Finals Rodeo presented by Teton Ridge debut in Las Vegas, and it was quite the roller-coaster ride.
Steiner finished 10th in the PRCA | RAM World Standings with $185,367. He earned $51,039 at the NFR, thanks to placing in three rounds, including winning Round 6 with an 88.5-point ride on Wayne Vold Rodeo's True Grit.
"I was a kid at the Finals," Steiner said. "I have grown up a lot since the Finals. I had a great year last year, but they don't have a chance this year. They can't stop me now. I'm a different breed. I'm a different animal this year. I'm physically stronger than I was before and I'm mentally stronger as well and they can't stop me. I feel like I'm riding in the best era of bareback riding ever and I like to think I'm at the top of my game and we are going to keep going up."
Sid, the 2002 PRCA Steer Wrestling World Champion, saw Rocker's ride unfold and was thrilled with the result.
"I'm always so proud," Sid said. "He just grows so much all the time and matures and to see what he did right there and show his toughness is a proud dad moment."
Other contestants who advanced Thursday into the finals were as follows: bareback riders (Steiner, Chad Rutherford, Garrett Shadbolt and Tim O'Connell); steer wrestlers (Will Lummus, Ty Erickson, Riley Duvall and Shane Frey); saddle bronc riders (Stetson Wright, Kade Bruno, Dawson Hay and Wyatt Casper); tie-down ropers (Zack Jongbloed, Trevor Hale, Shane Hanchey, Brushton Minton); team ropers (Tanner Tomlinson/Patrick Smith, Tyler Wade/Travis Graves, Kaleb Driggers/Junior Nogueira, Jake Copper Clay/Billie Jack Saebens); barrel racers (Emily Beisel, Jack Ganter, Jordon Briggs and Sarah Rose Waguespack); breakaway ropers (Joey Williams, Cheyanne Guillory and Kelsie Domer); and bull riders (Coy Thorson, Jestyn Jax Woodward, and Chance Schott).
Courtesy of PRCA