Rudman and Outlaws Feeling Confident Heading Into PBR Team Series Championship
By: Darci Miller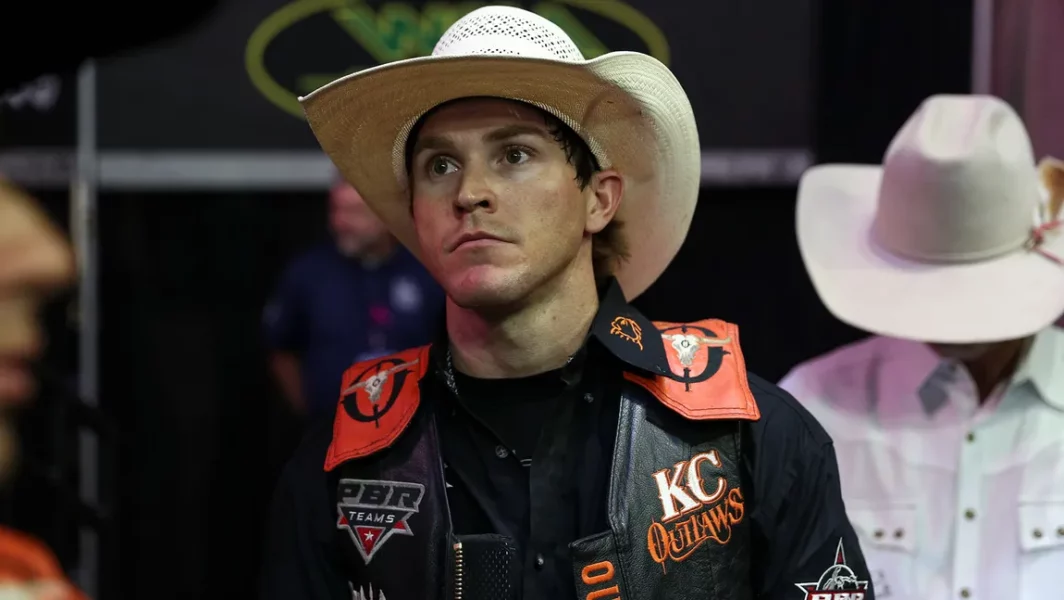 LAS VEGAS – Before Dalton Rudman headed to the South Point Hotel Casino & Spa in Las Vegas for the Challenger Series Championship, he attended a meeting with the rest of the Kansas City Outlaws.
Team leadership gathered the riders to motivate them, reminding them that everyone's healthy and doing what they need to do.
Despite finishing the PBR Team Series season 12-16 and ranked No. 7, the Outlaws feel like they're in a good spot as they prepare for its first-round game against the No. 4 Carolina Cowboys (15-13) Friday night at the inaugural PBR Team Series Championship (Nov. 4-6).
"(We're feeling) really good. Really good," Rudman said. "Everyone's been doing their job and everything like that. We're really excited."
Rudman was riding this wave of confidence as he put his hand in his bull rope at the 2022 PBR Challenger Series Championship, which paid off in the form of a fifth-place overall finish.
The 27-year-old placed third in Round 1 courtesy of an 86.5-point ride on Ho-Pac but was bucked off by Experiment 626 in 6.92 seconds in the championship round.
"Just riding jump for jump, staying square, keeping moving," Rudman said of his Round 1 ride. "Don't quit. Same thing you do every time. It just kind of came together that time."
In nine Challenger Series events since June, Rudman has placed third twice and fourth once, in addition to his fifth-place performance in Las Vegas. He finished the season ranked No. 36 in the Challenger Series standings.
In Team Series competition, meanwhile, Rudman went 3-for-10 during the regular season.
It was an opportunity he wasn't sure he'd get, as he went undrafted in May, signing as a free agent in August.
"It kind of came as a shock because I never talked to anybody, no teams, or anything like that," Rudman said. "I finally just got a call from (head coach) J.W. (Hart) one night and went from there. It's been really good. I really enjoy it, and really enjoy the people. They're all really nice people."
Rudman, who has competed regularly on the Pendleton Whisky Velocity Tour since 2016, had, in fact, previously competed in the South Point Arena in 2020 during the Monster Energy Team Challenge in the summer of 2020, going 0-for-3.
"That was actually a lot of fun," Rudman said. "So I enjoyed that, and when they brought this back, I was interested to see if it was going to be kind of the same thing. And it's good, just like that one was.
"I used to play basketball in high school, and baseball as a little kid and stuff like that. I kind of thought (being on teams) was over and done with, honestly."
But being back on a team has brought a whole new joy to bull riding.
"It's really awesome," Rudman said. "When you're riding individually, it's always nice because there's always people there to help, but you kind of have to ask people to help you. And everyone always does, so it's not a problem, but in the Team Series, they're already there. You already have that support. You don't have to go find it. So it's nice knowing all those guys have your back."
With less than a 24-hour turnaround after the Challenger Series Championship, Rudman has one thing on his agenda as he could be called off the bench if the Outlaws need him as an alternate.
"Relax," he said with a laugh. "Just have fun. If you think about it too much – that's where my problem comes from, is thinking about it too much. Just got to remember it's fun. That's why we do it. And as long as we do our job, we'll be just fine."
Photo courtesy of Bull Stock Media
© 2022 PBR Inc. All rights reserved.