Seven Seeds for PBR Team Series Championship to be Decided on Final Day of Regular Season
By: Justin Felisko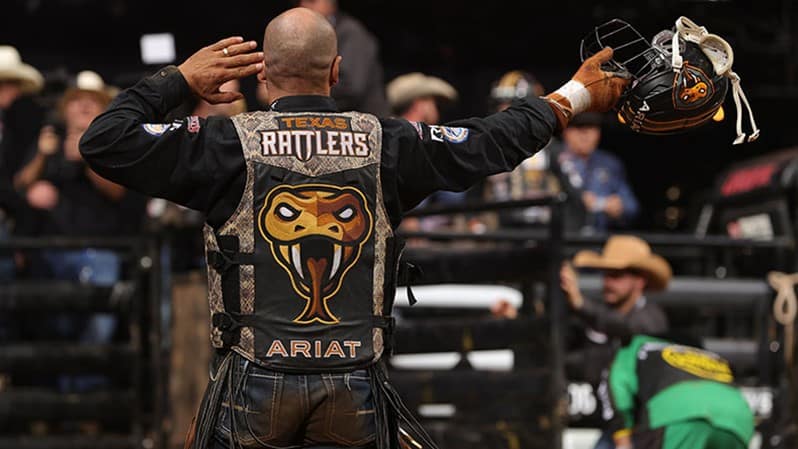 GLENDALE, Ariz. – Texas Rattlers assistant coach Cade Swor may have made the most successful challenge of the PBR Team Series regular season on Saturday night at Ridge Rider Days.
Before head coach Cody Lambert became the biggest villain inside Desert Diamond Arena, it was Swor who astutely informed Lambert that Keyshawn Whitehorse had slapped Fire Cracker during the Rattlers/Arizona Ridge Riders showdown.
At the time, a ride from Whitehorse would have put the Ridge Riders either back in the lead with each team having one rider remaining, or it at least would have gotten the Ridge Riders within striking distance of the lead.
Instead, PBR officials announced to the crowd that Whitehorse did, in fact, slap Fire Cracker, and that is when the boos began to rain down upon the dirt from the Arizona faithful.
Lambert loved every bit of it, and he instigated further by tipping his hat and waving to the crowd.
"That was instinct," Lambert said with a grin following the game. "The moment got the best of me. That was funny, I thought. I was just having a little fun. It was just cool, a really new experience to have a full house just booing your team. That was kind of funny."
All fun and smiles aside, Lambert understood how crucial that challenge was, and it was a big turning point in the game. Texas's Cody Jesus would later buck off Crawfish Richard, and Arizona's Eduardo Aparecido would ride B Hummer's Gold for 85.5 points. If Whitehorse had gotten a score, the Rattlers would not have earned a PBR Team Series record ninth consecutive win.
The challenge and ensuing victory could also lead to the Rattlers earning a first-round bye for the PBR Team Series Championship on Nov. 4-6, depending on how things shape up Sunday during the final day of the regular season.
"Cade Swore saw it," Lambert said. "Cade saw him slap him and said, 'Cody, he slapped him.' I said, 'Then push the button!'"
"We haven't won very many challenges (this season). We've pushed the button a few times, and that one worked out."
Texas started the game with three consecutive rides – Joao Ricardo Vieira (88.75 points on Red River), Rafael Jose de Brito (88 points on Trump Train) and Ednei Caminhas (81.5 points on Dr. Campbell) – 24 hours after becoming the first team to ride all five of its bulls in a game during its win over the Oklahoma Freedom (15-12).

After a 4-11 start to the season, the Rattlers (15-12, 2-0 Ridge Rider Days) have since gone 11-1.
"It's what we wanted all along," Lambert said. "We wanted guys to hold themselves accountable and do their job, for themselves, for their families, for each other. And we talk about the same stuff over and over and over again, because bull riding is fundamentals and effort."
Texas could indeed get a first-round bye for the PBR Team Series with a win over the Missouri Thunder (13-14, 1-1 Ridge Rider Days) and a little help from the other teams in the league.
There could also be a scenario where multiple teams could be tied in the standings, leading to a potential tiebreak scenario in the Bonus Round.
"Try to win the game, and then, once we've set the riders to the bulls to try to win the game, then we'll look at the Bonus Round and we'll come up with different scenarios if we need to win it to do something, or see if it doesn't matter, those sort of things like that," Lambert said.
Heading into the final day of the regular season, five of the league's eight teams are in a position to earn a first-round bye for the 2022 PBR Team Series Championship, and seven of the league's eight playoff seeds are still to be decided.
All eight teams qualify for the postseason, but the top two teams in the regular season receive a first-round bye for the Championship weekend in Las Vegas.
The Austin Gamblers are now in the driver's seat for the No. 1 seed. Austin will clinch the No. 1 seed for the 2022 PBR Team Series Championship with a victory over Arizona. A loss against Arizona could push Austin to as low as No. 5 in the standings if No. 2 Texas (15-12), No. 3 Oklahoma (15-12) and No. 5 Carolina Cowboys (14-13) all are victorious on Sunday afternoon.
Here is how the standings look heading into Championship Sunday in Glendale (5 p.m. ET, CBS Sports Network)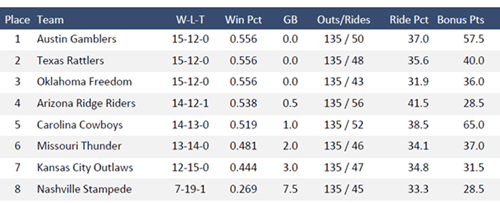 With how close the standings are, Sunday's Bonus Round could also become extremely crucial for playoff seeding. If any teams are tied in W-L record at the end of the regular season, the first tiebreaker is Bonus Points. The second tiebreaker is total aggregate score in game competition (not Bonus Rounds).
There is even one scenario where the Top 5 teams in the league could all finish the regular season with 15 wins each. In that situation, Arizona would be the No. 1 seed at 15-12-1, and Carolina would get the No. 2 seed with a 15-13 record and win the tiebreaker with 65 Bonus Round Points over Texas, Oklahoma, and Austin.
Multiple scenarios can play out, and a double loss (a 0-0 game) could lead to even more clinching scenarios Sunday for playoff seeding.
SUNDAY GAME SCHEDULE (5 p.m. ET CBS Sports Network)
Kansas City (12-15, Ridge Rider Days 1-1) at Oklahoma (15-12, Ridge Rider Days 0-2)
Carolina (14-13, Ridge Rider Days 0-2) at Nashville (7-19-1, Ridge Rider Days 2-0)
Texas (15-12, Ridge Rider Days 2-0) at Missouri (13-14, Ridge Rider Days 1-1)
Austin (15-12, Ridge Rider Days 2-0) at Arizona (14-12-1, Ridge Rider Days 1-1)
Follow Justin Felisko on Twitter @jfelisko
Photo courtesy of Andy Watson/Bull Stock Media
© 2022 PBR Inc. All rights reserved.