Shane Hanchey Delivers Big Win in St. Paul, Ore.
By: Jolee Jordan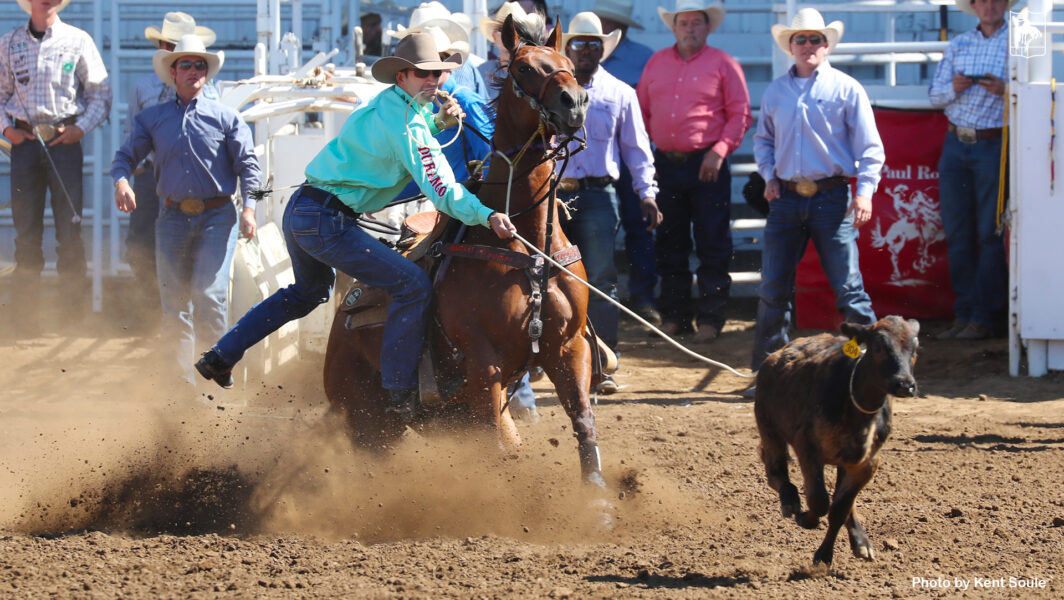 Stop us if you've heard this one before: Shane Hanchey is winning big over the Fourth of July.
The 2013 PRCA World Champion Tie-Down Roper seems to always find an extra gear during the week known as Cowboy Christmas and he did it again in 2023.
Just days after clinching a key win at the Greeley (Colo.) Stampede, Hanchey delivered a pair of fast runs to clinch the average title at the St. Paul Rodeo with 17.3 seconds on two head.
For both wins, Hanchey was riding Bugsy, a new horse that has been a bit of a work in progress as the pair built their team through the winter and spring.
"I got a lot of confidence from the Greeley short round and then we went the next day and tied one in 7.6 seconds in Oakley City (Utah)," Hanchey explained. "That Greeley run turned everything around for both of us."
"We were a little shaky at Reno (Nev.) and around that time," Hanchey said. "But he's getting his confidence and getting into a groove."
In St. Paul (Ore.), Hanchey drew slack on July 1 & July 2, making both runs in the morning.
"In my opinion, that's a big advantage," the veteran said. "You get the better run on the cattle, and it frees you up to get other places, so it's killing two birds with one stone."
Hanchey said he drew good calves that he'd seen run in Reno. He stopped the clock in 8.7 and 8.6 seconds, respectively, to place in both rounds and bank around nearly $10,000.
"I had two of the best calves. I knew the first one was great, so I tried to just go make a run," he said. "Then the second one was even better."
With the good draw comes pressure to deliver.
"You did the hard part, drawing right, so there's almost more pressure . . . now you have to make sure and go do your job," he noted. "I had lots of confidence after the first run. To get to come back and run the second one the next day, I didn't have to sit there and think about it, was great.
"Honestly, that felt like one of the better runs I've made all summer."
That's saying something from someone who pocketed about $24,000 in the last week alone, money that will help him greatly improve his position in the PRCA | RAM World Standings, where he began the week ranked 15th.
"I don't know what it is," Hanchey said. "You have to run the right calves at the right rodeos and I've sure been fortunate. I mean, I've had some bad Fourths but for the most part, it's been good to me."
Hanchey's Cowboy Christmas magic seemed to wear off on his hauling buddies too. Both Trevor Hale and Beau Cooper picked up good checks through the week with one more calf to run.
"We ran one in the mud in Livingston (Montana) and then we're headed to Basin City (Washington) for slack in the morning," Hanchey said from the road on the Fourth. "The rig had a great week."
"I'm just the old guy driving these guys around," he joked.
Other winners at the $440,702 rodeo were all-around cowboy Jordan Ketscher ($2,034, tie-down roping and team roping); bareback rider Cole Reiner (88 points on Sankey Pro Rodeo & Phenom Genetics' Mustard); steer wrestler Dirk Tavenner (8.1 seconds on two head); team ropers Cole Thomas/Clay Green (9.4 seconds on two head); saddle bronc rider Stu Wright (91.5 points on Sankey Pro Rodeo & Phenom Genetics' Black Tie); barrel racer Tarryn Lee (17.13 seconds); and bull rider Braden Richardson (90.5 points on Big Stone Rodeo Co.'s Mr. Clean).
Courtesy of PRCA