Shane Hanchey Finds Stride with Clovis, Calif. Win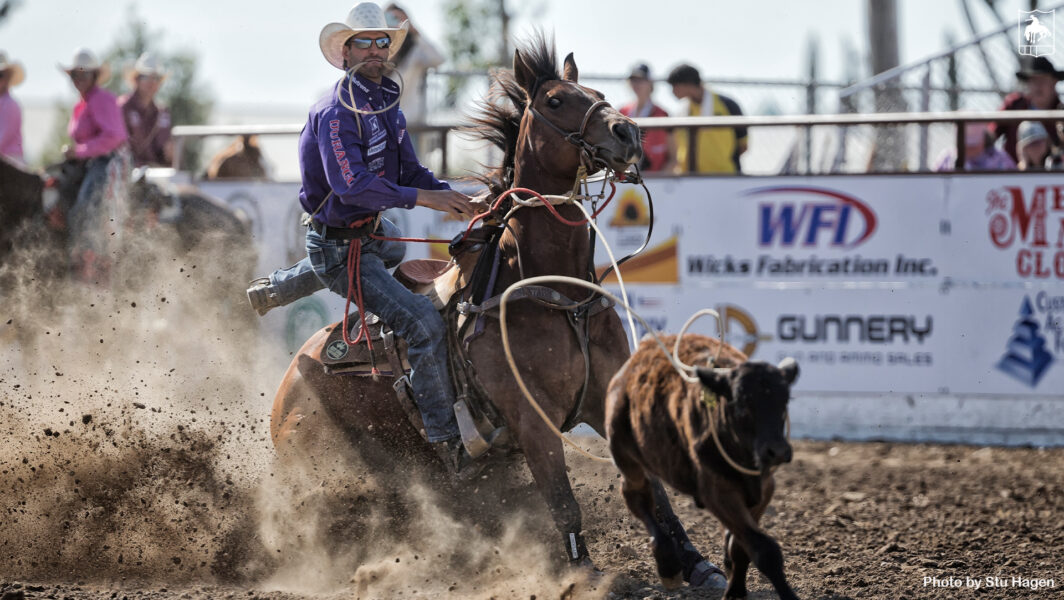 The math was simple for Shane Hanchey – his four runs at the 109th Clovis (Calif.) Rodeo added up to being big in the short-term with the potential to be season-changing as things progress.
"(Clovis) doubled my season earnings from when I came out here from Logandale. I had $12,500 when I came out here and I won $12,900," Hanchey said with a laugh. "Anytime you can win double what you had going into the rodeo with, it's generally not a good sign but maybe this is a sign of good things to come."
Hanchey parlayed his first-round victory in 8.5 seconds on Tuesday into steady momentum for the rest of the rodeo. He finished runner-up in the second-round (9 seconds) on Wednesday then traded up for his third-round run as he needed to head back to Texas for a junior roping event he was hosting.
His 9.1-second effort Thursday night was also good enough for runner-up in the round and guaranteed him a spot in Sunday's short go. He closed the rodeo with a time of 11.8 seconds to finish on top of the average at 38.4 seconds on four head.
All of this came as Hanchey participated in a rodeo he was unfamiliar with, while riding a horse he is still getting acclimated to.
Clovis has typically not been among the places Hanchey routinely visits as obligations back home this time of year generally keep him tied up. This season, the 13-time Wrangler National Finals Rodeo qualifier decided to shake things up as he is working to develop chemistry with his new horse, Bugsy. Hanchey purchased Bugsy just before NFR in December and has been working to get in rhythm ever since.
The duo has had streaky success, including placing in four rounds at San Antonio in February and two round places at RODEOHOUSTON in March, but with very little to show in-between. Hanchey felt he needed to take part in some of the later winter and early spring rodeos to get on the same page. Clovis proved the hard work was paying off – literally.
After entering Clovis at 43rd in the PRCA | World Standings, Hanchey's big runs will likely result in a significant jump in the season standings. With some renewed confidence and newfound trust in his equine partner, the Sulphur, Louisiana, cowboy is looking forward to what's next.
"The jackpots have been really good on him this spring and I've won what I've won this winter on him. We're starting to click at the right time and looking forward to the summer run," Hanchey said. "This was definitely a shot in the arm for sure."
Other winners at the $397,903 rodeo were all-around cowboy Brushton Minton ($7,711, tie-down roping, steer wrestling and team roping); bareback rider Clayton Biglow (87.5 points on C5 Rodeo's She-la); steer wrestler Kalane Anders (22.2 seconds on four head); team ropers Jr. Dees/Ross Ashford (32.2 seconds on four head); saddle bronc rider Jesse Wright (89 points on Burch Rodeo's Lunatic From Hell); barrel racer Wenda Johnson (50.75 seconds on three runs); breakaway roper Hanna Hundsdorfer (16.6 seconds on four head); bull rider Stetson Wright (90 points on Macza Pro Rodeo's Big River).
Courtesy of PRCA