Smidt Claims First Dixie National Rodeo Win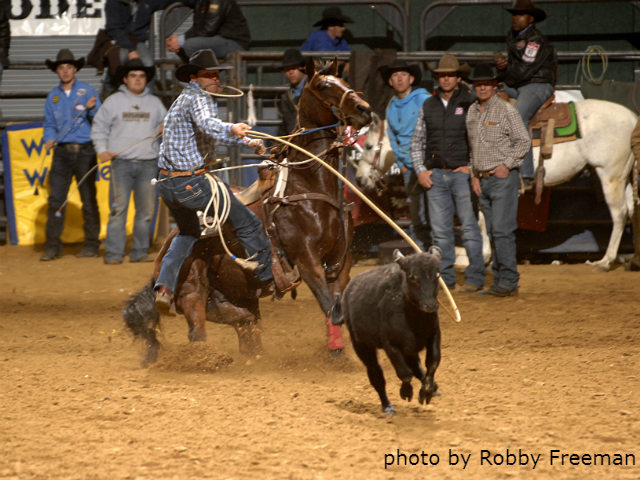 JACKSON, Miss. – Claiming PRCA honors is nothing new to tie-down roper Caleb Smidt.
The Huntsville, Texas, cowboy was the 2015 tie-down roping world champion.
Now, the talented roper can add a Dixie National Rodeo victory to his career accomplishments.
Smidt, a four-time qualifier for the Wrangler National Finals Rodeo, won with a 15.8-second time in the two-head average at the Dixie National Rodeo, which concluded Feb. 14.
"I've only been to that rodeo one other time in 2015 and I didn't do any good and this is really good because I had zero dollars won when I showed up to Jackson," said Smidt, 28. "This is a big rodeo and they had 131 guys competing in tie-down roping and I was really happy to win it."
Smidt made his runs in Jackson Feb. 7 and 9 and earned $6,595 for placing fourth in the second round (8.0 seconds) and capturing the average at the Mississippi Coliseum.
"I rode a new horse, El Gato, that belongs to Bart Hutton from Boerne, Texas, and I rode him a little bit last fall and I like him and I plan on riding him quite a bit this year," Smidt said. "He's getting better and better and he was awesome over there (in Jackson). I ran two really good calves and I was able to get the win with him."
In addition to El Gato, Smidt also still will be competing on his main horse, Pockets. He rode that horse the last three years and won his world crown aboard that horse. Smidt qualified for the WNFR in 2013, and 2015-17. Last year, he finished fifth in the world standings with $209,098 and he split the Round 8 win in Las Vegas with Cory Solomon.
"I went to Fort Worth (Texas) and San Angelo (Texas) and didn't have any luck and it was getting about time where I needed to win something, just to get some money on the board," Smidt said. "This is probably the slowest start I have ever had, so it was nice to win something and get the monkey off my back. Now, I'm ready to go rope and try and win some more."
Up next for Smidt is competing at the lucrative San Antonio (Texas) Stock Show & Rodeo Feb. 16-17.
"For right now, I'm just going to focus on (tie-down roping) and the end goal is the world championship," said Smidt, who has been in contention for the all-around world championship the last several years because he has competed as a team roping header.
Other winners at the $232,585 rodeo were all-around cowboy Shane Proctor ($1,461, saddle bronc riding and bull riding), bareback rider Austin Foss (89 points on Korkow Rodeos' Onion Ring), steer wrestler Cody Sullivan (8.7 seconds on two head), team ropers Tyler Wade/Trey Yates (11.4 seconds on two head), saddle bronc riders Isaac Diaz (84 points on Stace Smith Pro Rodeos' Cow Camp) and Rusty Wright (84 points on Korkow Rodeos' Dirty Little Secret), barrel racer Brittany Pozzi Tonozzi (15.02 seconds) and bull rider Dustin Boquet (86.5 points on Stace Smith Pro Rodeos' Hacksaw Ridge).
Courtesy of PRCA