Starting Lineups and Draw for Rattler Days
By: Justin Felisko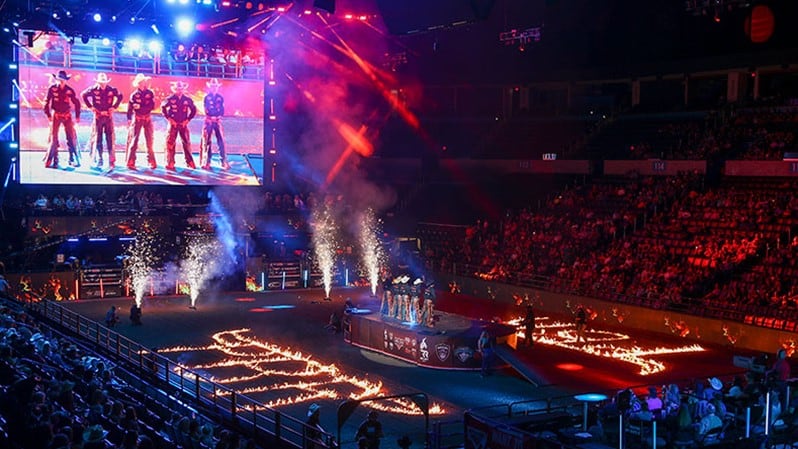 PUEBLO, Colo. – It has been quite a few days for the Carolina Cowboys, Austin Gamblers, Kansas City Outlaws and Arizona Ridge Riders.
Those four teams had the most movement before Thursday's PBR Team Series Trade Deadline. There was no bigger acquisition made than the Gamblers acquiring Dalton Kasel from Kansas City for a 2024 first-round draft pick, 2025 second-round draft pick, Alex Marcilio and cash considerations.
The Gamblers knew two-time World Champion Jose Vitor Leme needed help, and man, oh man, did they get Leme quite the aid. Kasel, a four-time PBR World Finals qualifier with a career average ride score of 87.69 points, will now don the lime green and black jerseys with Leme and give Austin a four-headed monster of Leme, Kasel, Ramon de Lima and Ezekiel Mitchell heading into the final month of the season.
Can Kasel be the final piece to help Austin (11-11) make a push for the PBR Team Series Championship?
Possibly.
However, league leader Carolina got that much stronger this week by signing Sandro Batista and 2018 World Finals event winner Marco Eguchi to improve the team's overall depth. Carolina may have the deepest roster in the league now.
Can Arizona still contend despite losing Batista and Eguchi to Carolina and Chase Dougherty to injury?
What does Kansas City look like after trading their first-round draft pick and original face of the franchise?
Every team has only six games left on the regular-season calendar, and this weekend in Fort Worth, Texas, will be the first chance to see how the teams that made roster moves this week will look.
Let's take a look at the starting lineups and draw for Friday night at Rattler Days (8:45 p.m. ET RidePass on Pluto TV).
Kansas City Outlaws (9-13) vs. Carolina Cowboys (14-8)
Leonardo Lima (KCO) vs. El Cid
Sandro Batista (CC) vs. Drago
Marcus Mast (KCO) vs. Smooth Over It
Boudreaux Campbell (CC) vs. Tiger
Koltin Hevalow (KCO) vs. Whiplash
Cooper Davis (CC) vs. Schott In The Dark
Rafael Henrique dos Santos (KCO) vs. Bread Basket
Mason Taylor (CC) vs. Top Dollar
Bob Mitchell (KCO) vs. War Dress
Daylon Swearingen (CC) vs. Cliff Hanger
REMATCHES
Daylon Swearingen vs. Cliff Hanger (2022 Kansas City – 3.87 seconds)
Rafael Henrique dos Santos vs. Bread Basket (2022 Tulsa – 91.25 points; 2022 Cheyenne vs. Oklahoma Freedom – 4.13 seconds)
KANSAS CITY RIDER TO WATCH: Leonardo Lima makes his Kansas City Outlaws debut on Friday night. Lima was a roster casualty of the Carolina Cowboys signing Sandro Batista and Marco Eguchi this week. The 28-year-old was a locker room favorite in Carolina, and he should be a good morale boost for a Kansas City roster shocked by Kasel's departure. Lima went 1-for-10 for Carolina.

CAROLINA RIDER TO WATCH: Sandro Batista will be riding for Carolina after signing with the Cowboys instead of the Gamblers. Batista's potential looks bright, but can the former Arizona Ridge Rider help the Cowboys win a championship? Batista was only 4-for-16 for Arizona, but he is still adjusting to American-style bulls. If Batista can make a ride aboard Drago, it could be a sign he is ready to be an impact rider for Carolina.
Arizona Ridge Riders (12-9-1) vs. Missouri Thunder (11-11)
Luciano de Castro (ARR) vs. Marciano
Adriano Salgado (MT) vs. Homegrown
Eduardo Aparecido (ARR) vs. Hunter
Colten Fritzlan (MT) vs. Bestex Solutions Red Clark
Vitor Losnake (ARR) vs. Outlaw
Marcelo Procopio Pereira (MT) vs. Wicked Dreams
Alisson de Souza (ARR) vs. Tested's Viper
Cody Teel (MT) vs. Moon Juice
Mauricio Moreira (ARR) vs. Ivy League
Andrew Alvidrez (MT) vs. Pickle Moonshine
REMATCHES
Andrew Alvidrez vs. Pickle Moonshine (2022 Freedom Days vs. Kansas City Outlaws – 2.41 seconds)
Colten Fritzlan vs. Bestex Solutions Red Clark (2021 Glendale – 2.22 seconds)
Luciano de Castro vs. Marciano (2022 Stampede Days vs. Oklahoma Freedom – 85.75 points)
ARIZONA RIDER TO WATCH: The Ridge Riders have smartly put Vitor Losnake in favorable positions as the 18-year-old continues to adjust to riding bulls in America. The time has come for Losnake to be a consistent impact rider, though. Arizona was willing to lose 2018 World Finals event winner Marco Eguchi to protect Losnake because of the youngster's future upside. Can Losnake continue to make the future the present? So far, the answer is yes. Losnake leads the Ridge Riders with two 90-point rides, and he may get a third Friday night aboard Outlaw.
MISSOURI RIDER TO WATCH: In September, Adriano Salgado was among six riders tied for the league lead with six qualified rides. Salgado has developed into one of the best free-agent finds of the season. The 24-year-old has helped fill the gap for the Thunder as injuries have affected their top two draft picks, Colten Fritzlan and Clayton Sellars.
Austin Gamblers (11-11) vs. Nashville Stampede (5-16-1)
Ezekiel Mitchell (AG) vs. Sammy
Kaique Pacheco (NS) vs. Cold Shot
Lucas Divino (AG) vs. Mike's Motive
Thiago Salgado (NS) vs. Goldfinger
Dalton Kasel (AG) vs. Bobkat
Manoelito de Souza Jr. (NS) vs. Mule Train
Ramon de Lima (AG) vs. Bubba G
Ryan Dirteater (NS) vs. Sky Harbor
Jose Vitor Leme (AG) vs. Hundred Bad Days
Silvano Alves (NS) vs. Midnight Rock
REMATCHES
Ezekiel Mitchell vs. Sammy (2022 Little Rock – 2.90 seconds; 2022 Stampede Days vs. Missouri Thunder – 2.41 seconds)
Jose Vitor Leme vs. Hundred Bad Days (2021 Fort Worth – 91 points; 2021 Sioux Falls – 92.25 points; 2021 Billings – 91.25 points)
Kaique Pacheco vs. Cold Shot (2022 Tacoma – 82.75 points)
Lucas Divino vs. Mike's Motive (2022 Stampede Days vs. Missouri Thunder – 86.25 points; 2022 Gambler Days vs. Nashville Stampede – 86.25 points)
Ramon de Lima vs. Bubba G (2022 Nampa – 87 points; 2022 Billings – 88.25 points)
Silvano Alves vs. Midnight Rock (2021 Ocala – 2.56 seconds; 2021 Billings – 3.07 seconds; 2022 Milwaukee – 4.97 seconds; 2022 Big Sky – 6.40 seconds)
AUSTIN RIDER TO WATCH: As stated above, all eyes will be on Kasel as he makes his debut for the Gamblers. He may also be able to do so with fireworks in a favorable matchup against Bobkat. Bobkat has been ridden in three of his past four outs, and Kasel could potentially push for an 88-point ride or higher.

NASHVILLE RIDER TO WATCH: Can the Stampede defrost the Ice Man? Kaique Pacheco is only 8-for-26, and his 30.76% riding average is almost 25% lower than his 54.9% average from earlier this year when he was chasing a world title. The Stampede are much better than their record may show, but they will not be a true threat until Pacheco gets rolling. A rematch against Cold Shot may be just what Pacheco needs.
Oklahoma Freedom (13-9) vs. Texas Rattlers (10-12)
Briggs Madsen (OF) vs. Oilfield Outlaw's Yellow Feather
Cody Jesus (TR) vs. Chief
Trevor Reiste (OF) vs. Off Campus
Joao Ricardo Vieira (TR) vs. Crystalyx
Casey Roberts (OF) vs. Skippy
Brady Fielder (TR) vs. Mr. Right Now
Eli Vastbinder (OF) vs. Midnight Flyer
Braidy Randolph (TR) vs. Crawfish Richard
Derek Kolbaba (OF) vs. American Gangster
Daniel Keeping (TR) vs. Jeremiah
REMATCHES
Derek Kolbaba vs. American Gangster (2019 VT Finals – 4.44 seconds; 2021 World Finals – 90.25 points; 2022 Outlaw Days vs. Carolina Cowboys – 87.75 points; 2022 Thunder Days vs. Austin Gamblers – 7.63 seconds)
OKLAHOMA RIDER TO WATCH: The Freedom have zero depth compared to the top contenders in the league. They have only five riders on their team with multiple qualified rides this season and only one rider (Derek Kolbaba) with double-digit (11) qualified rides. Therefore, Trevor Reiste has a chance to show he can be a solid depth piece for Oklahoma. Reiste is making his debut after being signed to Oklahoma's practice roster on Sept. 13. The 29-year-old is a one-time NFR qualifier (2017) and most recently finished 21st in the PRCA bull riding standings. Reiste won three rodeos and went 23-for-70 (32.86%) in PRCA competition this year, per ProBullStats.com.

TEXAS RIDER TO WATCH: Cody Jesus returns to the Texas Rattlers after missing Thunder Days because of a minor groin injury. The last time Jesus was inside Dickies Arena, he went 6-for-8 at the 2022 PBR World Finals for a second-place finish. Will his good mojo continue in Fort Worth?
Follow Justin Felisko on Twitter @jfelisko
Photo courtesy of Todd Brewer/Bull Stock Media
© 2022 PBR Inc. All rights reserved.