Steer Wrestler Curtis Cassidy Captures First-Round Win at ProRodeo Tour Finale in Salinas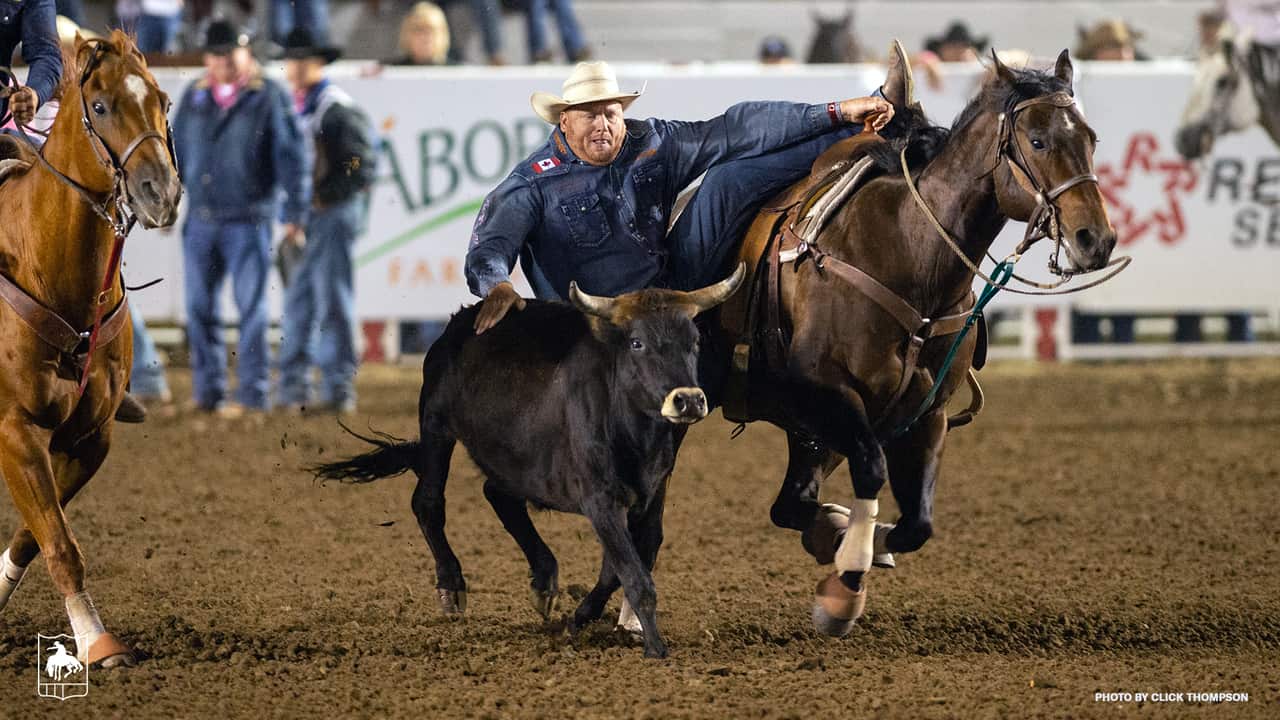 SALINAS, Calif. – Curtis Cassidy is 42 years old and obviously age is just a number to the veteran steer wrestler.
The Donalda, Alberta, cowboy is on the cusp of qualifying for his eighth Wrangler National Finals Rodeo after winning the first round at the ProRodeo Tour Finale at California Rodeo Salinas with a 5.3-second run.
Cassidy made his run Thursday night and it held as the top time after the second batch of competitors finished the first round Friday night.
"I got a real good start, and I was using Tanner Milan's horse, Eddie," Cassidy said. "And, it all came together."
Cassidy owns Tyson, a standout horse, but he took him back to Canada to compete on him in rodeos there. He then rode Eddie, 9, at Cheyenne (Wyo.) Frontier Days and the Pendleton (Ore.) Round-Up and now in Salinas.
"Eddie really works well at the rodeos I have been riding him," Cassidy said. "It's definitely unique competing in Salinas. You have to run them way the heck out there. The good part is you have a good head of steam when you catch them. It's fun once you catch them, but it is a little hairy waiting to get there.
"My steer didn't run really hard and let me catch him and get my feet on the ground. That's what you want here is steer who waits on you."
Cassidy entered the ProRodeo Tour Finale 14th in the PRCA | RAM World Standings with $59,082. He earned $2,300 for winning the first round at the ProRodeo Tour Finale.
"This is the crunch time part of the year and I'm tickled pink to win the first round (in Salinas)," Cassidy said.
The ProRodeo Tour Finale continues Saturday at 1 p.m. (PDT) with the second round and concludes Sept. 26 with an eight-man semifinal round and a four-man sudden-death finals.
Cowboys in the top 24 of the ProRodeo Tour standings qualified for the ProRodeo Tour Finale. The ProRodeo Tour Finale will pay out $1 million to contestants and other PRCA members right before the PRCA regular season ends Sept. 30.
"I travel with guys who are younger in Tanner Milan, Jesse Brown and Scott Guenther and they keep me motivated to keep going," Cassidy said. "I would love to get back to Las Vegas. That would be amazing. I'm knocking on the door right now and hopefully I can pull through."
Courtesy of PRCA