Stetson Wright Works his Magic Again at Rodeo Austin with Saddle Bronc Riding Title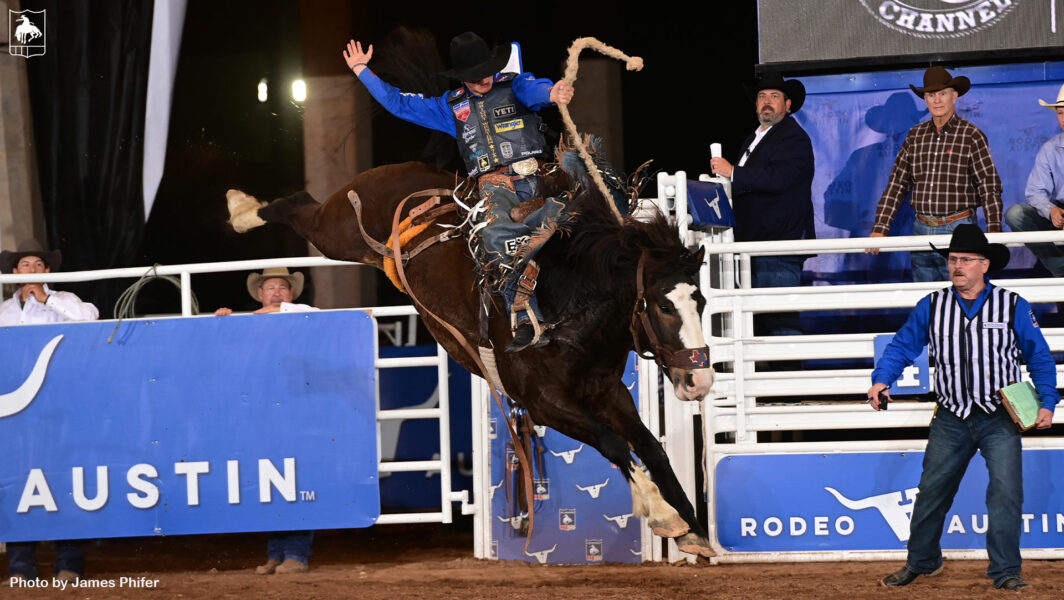 AUSTIN, Texas – During his ProRodeo career, Stetson Wright has made things look easy.
At the tender age of 23 he has already won seven PRCA World Championships – four in all-around (2019-22), two in bull riding (2020 and 2022) and one in saddle bronc riding in 2021.
The Milford, Utah, star had his magic on display Saturday night in Rodeo Austin, winning the finals in saddle bronc riding with a 90-point ride on Andrews Rodeo's Brutus before a sellout crowd of 6,500 at the Travis County Expo Center.
"I placed on Brutus at the NFR in 2021, but every time before that horse had bucked me off pretty hard," said Wright, who was second on Brutus in Round 3 of the 2021 Wrangler National Finals Rodeo with an 89.5-point trip. "The ride was wild (Saturday night). That horse is super strong and shoots ahead and hits your chin almost every jump. You just have to keep moving your feet or else you will buck off."
Wright collected $9,870 for his finals winning ride and came into the night second in the saddle bronc riding in the PRCA | RAM World Standings with $72,309. He left Austin after earning $25,838 in just saddle bronc riding.
Wright was the last rider out in the eight-man finals and was trying to break a logijam as Wyatt Casper, Tanner Butner, Q Taylor, and Zeke Thurston were all tied atop the leaderboard with 88-point rides.
"There was a lot going through my mind, especially because those guys all had such good rides," Wright said. "But I knew that Sammy (Andrews) brought me a horse that I could win on. I just knew if I did my job, I could be first."
In Wright's rookie year in 2019, he won the saddle bronc riding title at Rodeo Austin, and he was the bull riding champ in Austin in 2022. He made it a hat trick of titles in 2023 at the Playoff Series Rodeo.
"This rodeo has been pretty dang good to me," Wright said. "This year has been nothing short of spectacular for me. I have had some injuries to battle through, but when you're doing good it is hard to think about all the negatives."
Entering Saturday, Wright was atop the all-around standings with $118,272 and fourth in the bull riding with $62,588.
Wright acknowledged he has been fighting through a left ankle injury that he suffered Feb. 10, while riding a bull at the San Antonio Stock Show & Rodeo.
"It has been an ongoing battle," Wright said.
Other winners at Rodeo Austin were bareback rider Keenan Hayes (86.5 points on Beutler & Son Rodeo's Black Kat) steer wrestler Stan Branco (3.2 seconds); team ropers Jeff Flenniken/Tyler Worley (5.2 seconds); tie-down roper Hunter Herrin (7.1 seconds); breakaway roper Sawyer Gilbert (2.2 seconds); barrel racing Amanda Welsh (14.88 seconds); and bull rider Jace Trosclair (87.5 points on Andrews Rodeo's Wild Onion).
Courtesy of PRCA