Superhero Performance Propels Stetson Wright to Xtreme Bulls Finale, Xtreme Bulls Tour Titles
By: Tracy Renck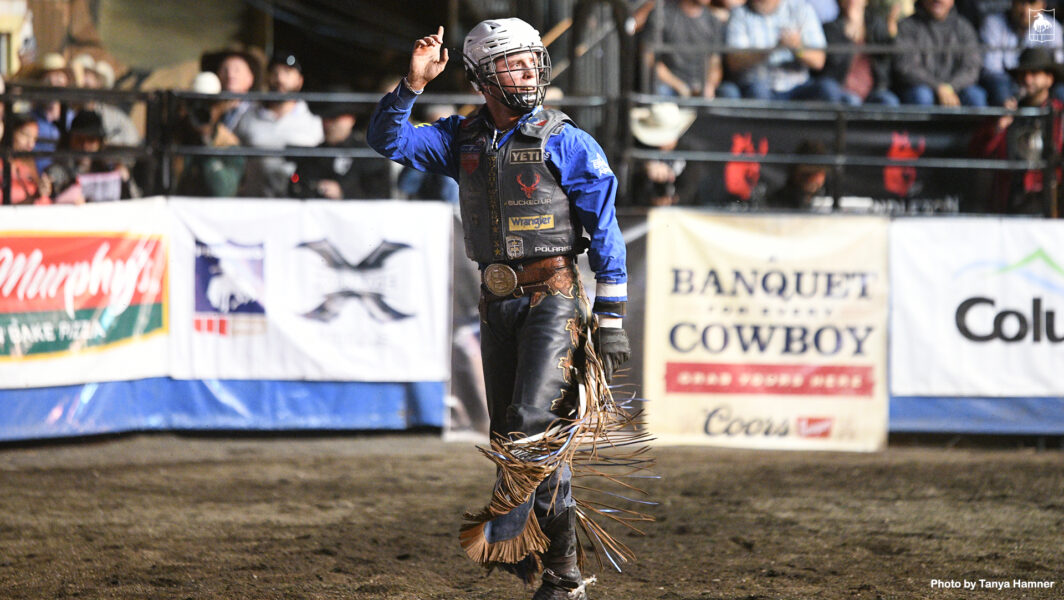 PENDLETON, Ore. –  No one could step on Superman's cape on Tuesday night.
Stetson Wright, thanks to a superhero performance, captured the Pendleton Whisky Xtreme Bulls Finale and Xtreme Bulls Tour titles for the second-consecutive year.
The Milford, Utah, star had 263.5 points on three head to win the average. No one rode four bulls. Wright had a commanding lead in the Xtreme Bulls Tour standings and secured his second career Tour crown by earning $28,200 at the Xtreme Bulls Finale.
"It feels better this year, honestly," said Wright, 24. "Anytime you come back and repeat a title you comeback to show everybody it is not a fluke. I always love showing people that nothing I do is a fluke. This is a pretty special feeling."
His latest heroics didn't come without plenty of drama before a sold-out crowd of 5,000 spectators at Happy Canyon Arena.
As the last bull rider of the event, Wright needed a qualified ride of 80.5 points to defeat Josh Frost, who had 254.5 points.
Wright delivered in the clutch, registering an 89-point trip on Sankey Pro Rodeo & Phenom Genetics' Bouchon.
"I have had extremely good luck with (Bouchon), but I don't think he has ever been that good," Wright said. "That ride felt awesome. I couldn't even hear the whistle go off because the crowd was so loud. When I stepped off a lot of people (in the crowd) were standing up. These fans and this whole bull riding is unreal."
Wright opened the door to get beat in the Tour Finale when he was bucked off by Big Rafter Rodeo's Kiss Me in Round 3 on Tuesday. Couple that with the fact Frost (254.5 points) and Creek Young (250 points) each started the competition by going 3-for-3.
"I wasn't worried about what Josh and Creek did," Wright said. "I thought let's just win the last round. I didn't think I was out of it, but I put myself in that position and if I was going to win, I had to do really good."
Frost and Young opened the door back up for Wright to be triumphant when they were bucked off Macza Pro Rodeo's Wreckonciled and Brookman Rodeo's Road Rage, respectively, in the final round.
"This means a lot," said Wright about being the Xtreme Bulls champion two years in a row. "I struggled to the point that I didn't want to do Xtreme Bulls events. Then, I decided to change my attitude and because attitude is altitude, and it just seems like that ever since I wanted to be at them I have done a lot better."
Wright adds his latest two Xtreme Bulls titles to his seven PRCA World Championships – four in all-around (2019-22); two in bulls (2020, 2022) and one in saddle bronc riding (2021).
"I just feel lucky, and it goes back to my support system," he said. "I couldn't do this without my mom and my dad and my brothers and sister. They push me every year. It is an unreal feeling being where I'm at and I feel lucky, and I know it all because of them."
Courtesy of PRCA