Surging Texas Rattlers Defeat Arizona Ridge Riders for Ninth Straight Win, Moving to No. 2 in League Standings
By: Mandi McCary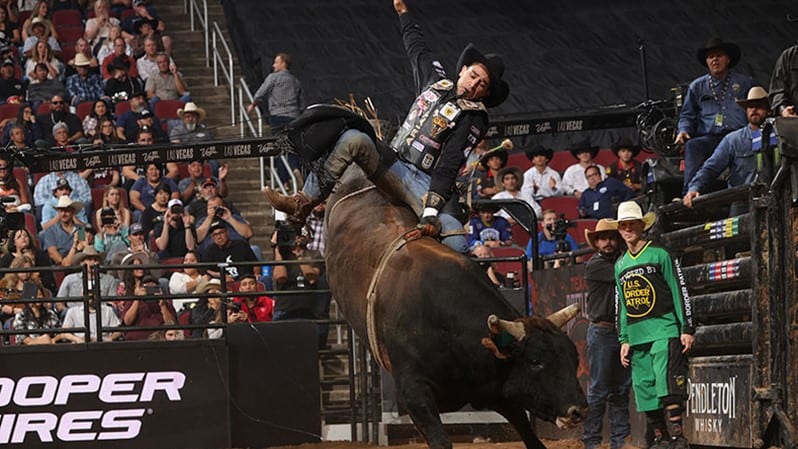 Texas Rattlers: 258.25 / Arizona Ridge Riders: 254
GLENDALE, Ariz. – As the second night of their inaugural PBR Team Series homestand event began, the now No. 4-ranked Arizona Ridge Riders rode three bulls but lost in a heartbreaker to the surging Texas Rattlers, presented by Ariat, 258.25-254.
Winning their second game in the three-game set in Glendale moved the previously No. 5-ranked Rattlers (15-12) to No. 2 in the league as they push for the No. 1 seed heading into the PBR Team Series Championship in Las Vegas (Nov. 4-6).
Texas put the first score on the board right out of the gate when leadoff rider Joao Ricardo Vieira (Itatinga, Brazil) collected 88.75 points in his matchup with Red River (Ty Rinaldo TZ Bucking Bulls).

Answering back for the hometown team, the Ridge Riders' first-round draft pick Luciano De Castro (Guzolandia, Brazil) netted an 89.25-point score in his matchup with One Boot Gambler (Young Cattle Co) to give the team an early lead.

In the top of the second, the slugfest began as Texas rider Rafael Jose De Brito (Potirendaba, Brazil) took back the lead, 176.75-89.25, as he conquered Trump Train (H-H Bucking Bulls/ Hadley Cattle Co.) for 88 points. Arizona's hot rookie Vitor Losnake (Bauru, Brazil) tried to bring one of his signature 90-point rides to the table but was jerked forward and then to the side by Jetliner (Ty Rinaldo TZ Bucking Bulls) and came down after 1.99 seconds.
As the third frame began, 2002 PBR World Champion Ednei Caminhas (Indaiatuba, Brazil) kept the Rattlers' hot streak going as the team sought its second-straight flawless 5-for-5 game. His ride aboard Dr. Cambell (Nancy Haverty/ Clay Struve/ Dakota Rodeo/ Chad Berger) was the Rattlers' 10th consecutive qualified ride, putting 81.5 points on the board and giving the Rattlers a 258.25-89.25 lead.
In an effort to answer back, Arizona's Alisson De Souza (Taubate, Brazil) clung to Long Shot (Platinum Bull Company). With a less-than-ideal 79.25-point score and a flurry of discussion between Ridge Riders coaches Paulo Crimber and Colby Yates, the team kept the score, cutting the Rattlers' lead to 258.25-168.5.
In a frame full of surprises, Braidy Randolph (Jonestown, Pennsylvania) of the Rattlers and Keyshawn Whitehorse (McCracken Springs, Utah) of the Ridge Riders appeared to have made the 8, but neither out was deemed to be a qualified ride.
In the fifth, Texas's closer Cody Jesus (Window Rock, Arizona) had the crowd at a roar as he attempted to further the Rattlers' lead but was bucked off at 2.17 seconds by Crawfish Richard (Dakota Rodeo/Chad Berger).
In a must-ride situation, needing a 90-point score for the win, Arizona closer Eduardo Aparecido (Gouvelandia, Brazil) readied to ride Back Time (Young Cattle/ Crooked Crown). Aparecido nodded his head. His bovine opponent was a bit sluggish in his exit from the chutes, sending re-ride flags flying.
Then paired with B Hummers Gold (Culp Bucking Bulls/ Zapata/ Mendes), Aparecido stayed centered on the bull for a strong ride. But his 85.5-point score was not enough to redeem the home-state team, and the red-hot Rattlers won their ninth consecutive game, 258.25-254.
The loss takes Arizona to 14-12-1 this season. They will seek to redeem themselves at PBR Ridge Rider Days on Sunday, Oct. 16 when they face the Austin Gamblers (2-0 | 15-12). The Texas Rattlers now sit at 15-12 for the season. They will look for their third game win when they play the Missouri Thunder (1-1 | 13-14).
PBR's Ridge Rider Days continues Sunday, October 16 at 1:45 p.m. MST. Tickets are still available and can be purchased online at Ticketmaster.com and PBR.com, at the Desert Diamond Arena (formerly Gila River Arena) Box Office, or by calling PBR customer service at 1-800-732-1727.
PBR RidePass on Pluto TV will offer replays of all the PBR Team Series action from Glendale. Check https://pluto.tv/en/live-tv/pbr-ridepass for the latest programming schedule.
© 2022 PBR Inc. All rights reserved.