Swearingen Chasing Every Point Possible Ahead of World Finals
By: Justin Felisko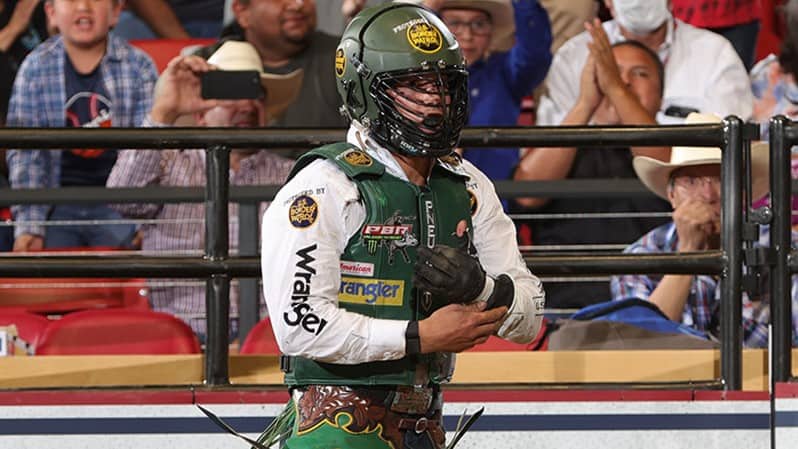 PUEBLO, Colo. – Daylon Swearingen has come to expect the 2022 World Championship race to be a tightly contested battle that will likely not be decided until Championship Sunday at the 2022 World Finals on May 22.
Regardless, Swearingen knows that world points today count just as much as world points on the last day of the season. It is why Swearingen is set to compete on Wednesday night at the Clovis Rodeo PBR.
Clovis is a Touring Pro Major event and will feature Pendleton Whisky Velocity Tour-level points. One rider can earn up to 44 points toward the world standings in Clovis.
"I am just trying to go everywhere I can because it is all about the points," Swearingen said. "This one is Velocity points. If we are going back and forth at the Finals, going to that small one might help me, and I feel good when I keep getting on bulls. It keeps the soreness down."
Swearingen is 89.34 points behind world leader Joao Ricardo Vieira, who is not riding in Clovis. Vieira and Swearingen have each struggled to take ahold of the world title race at the last four events. Swearingen is 2-for-10 (62.5 points), and Vieira is 3-for-11 (55.5 points).

Swearingen has drawn Bull Cookie for Round 1.
Swearingen is one of seven Top 35 riders competing in Clovis. Also tentatively expected to ride are No. 16 Eli Vastbinder, No. 21 Keyshawn Whitehorse, No. 22 Cody Teel, No. 26 Clayton Sellars, No. 30 Brady Oleson and No. 35 Silvano Alves.
Sellars is sitting No. 2 in the Rookie of the Year race and is 72.25 points behind Bob Mitchell, who is not competing in Clovis. He will take on Easy Off.
Alves is hanging onto the world No. 35 ranking and is a mere six points ahead of No. 37 Alex Marcilio. Alves takes on Cake Pop in Round 1.
Two notable riders are returning from injury on Wednesday night – 2020 World Finals event winner Boudreaux Campbell (riding wrist/hand) and 12-time PBR World Finals qualifier Cody Nance (hip/shoulder).
Fans can watch Clovis exclusively on RidePass on Pluto TV at 9 p.m. ET.
Swearingen has earned 108.66 of his 745.66 world points (14.57%) outside of the premier series, which is the most in the PBR.
The 22-year-old does not plan to slow down before the PBR World Finals and expects to ride at the 2022 Pendleton Whisky Velocity Tour Finals on May 6-7 in Corpus Christi, Texas. In fact, Swearingen is the No. 26-ranked rider in the Velocity Tour standings, and a victory in Clovis could push him into the No. 1 VT ranking.
The 2022 Pendleton Whisky Velocity Tour champion wins $50,000.
"I will go to VT Finals, too," Swearingen said. "I am a little tight in my neck and shoulders, but that is standard this time of year. The world title race is just what I expect now. It is falling into place, and this is how it is supposed to be."
Follow Justin Felisko on Twitter @jfelisko
Photo courtesy of Andy Watson/Bull Stock Media
© 2022 PBR Inc. All rights reserved.