Swearingen Returning this Weekend in Montana with Goal of Possibly Making UTB Season Debut in Vegas
By: Justin Felisko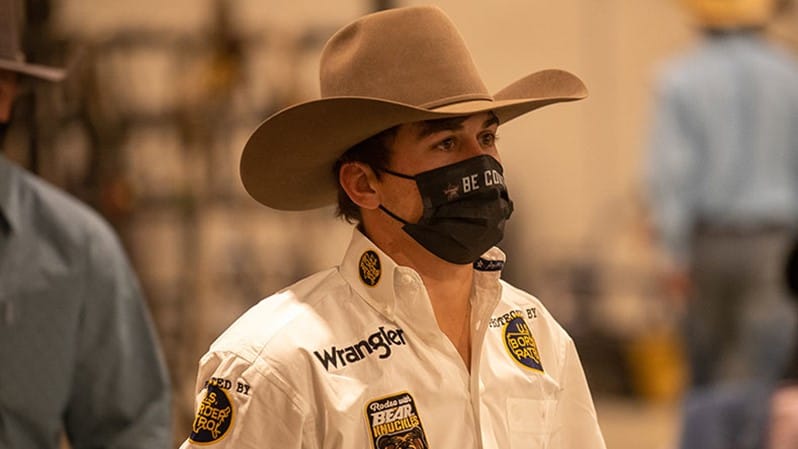 PUEBLO, Colo. – Among the 30 or so aspiring bull ridings taking part in a group workout during the PBR Sport Performance Center Keep Ridin' clinic in Pueblo, Colorado, last month was one of the sport's rising stars.
Daylon Swearingen was lying on the floor of the 18,000-square-foot facility on the Pueblo Riverwalk as PBR Sport Performance Center Executive Director Antwon Burton took a break from his bull riding camp to work one-on-one with him. Swearingen swung his left leg over to his right and began to stretch out his lower back.
The 21-year-old decided to spend a week in Pueblo last month as he put the finishing touches on his recovery from two offseason surgeries on his right shoulder and hip that have prevented him from competing during the first five months of the 2021 season.
View this post on Instagram
Swearingen, who finished ninth in the 2020 world standings, was battered, beaten, and bruised by the time the 2020 PBR World Finals concluded inside AT&T Stadium in Arlington, Texas. Swearingen ultimately underwent reconstructive surgery on his right shoulder the day before Thanksgiving with Dr. Tandy Freeeman in Dallas. He then had his hip fixed by Dr. J.W. Thomas Byrd in Nashville on Feb. 9.
"My recovery has been going good," Swearingen said at the SPC. "I am not frustrated because this is all part of the sport, but I am ready to get back. I feel better today than I did at the end of last year, for sure. I am a little lighter than I was and have been working with some trainers."
Swearingen will make his season debut this weekend at the Kalispell Automotive Group PBR Touring Pro Division event in Montana on Friday and the Dusty Gliko Bull Riding Challenge in Great Falls, Montana, on Saturday.
If all goes well, there is a chance Swearingen will make his Unleash The Beast debut at the PBR Las Vegas Invitational on June 11-12.
Swearingen has drawn Buttons (0-0) for Round 1 in Kalispell.
Swearingen headed to the SPC with his friend Zac Bourgeois to get an extra set of eyes on his rehab in-person vs. digitally. Swearingen started working with a physical trainer, as well as a rehab specialist, through his iPhone five days a week in April once Dr. Tandy Freeman and the PBR Sports Medicine team cleared him to start working out again.
The two-time PBR World Finals qualifier then figured it would be good to work out with Burton in person in May while also serving as a pseudo-guest coach for the SPC rider clinic.
Swearingen worked out for roughly an hour per day and then spent another hour going through a recovery session in one of the SPC's cold/hot tubs.
"I'd kind of been knowing I needed to get out here," Swearingen said. "He studies the sport and knows what muscles and what everything needs to do, and I figured in bull riding, it is the only sport that doesn't have coaches and trainers with us 24/7. I think it is because we have that old-school cowboy mentality of, 'We can do it alone.' So I am trying to get a little bit more help to get that better edge to focus on it."
Swearingen took a step forward in his development during his second season in the PBR last year. The Piffard, New York, native finished ninth in the world standings after setting career-highs in qualified rides (25), event wins (2) and 90-point rides (4).
He was sitting fourth in the world standings at the start of the World Finals, but he was unable to ride up to his normal level after being stepped on by three-time World Champion SweetPro's Bruiser, injuring his shoulder, following an 88-point ride in Lincoln, Nebraska, on Oct. 4.

A world title push in 2021 is likely not in the realm of possibility for Swearingen, but he is still setting his goals high for the second half.
Swearingen believes he can surpass his ninth-place world finish last year and set himself up for a strong showing at the 2021 PBR World Finals in Las Vegas at T-Mobile Arena on November 3-7.
"Pressure is what you put on yourself," Swearingen concluded. "You can have good pressure, which makes you push, and that is what I am using. I have been working real hard these last two months since I was cleared, and I have gotten my mind back to where I need it to be. I have to capitalize on every opportunity I get and not let past mistakes keep creeping up on me and just take care of the future.
"My goal is to push myself as best I can and not slip up on opportunities. I want to be in the Top 8/Top 5, and I believe that is doable."
Follow Justin Felisko on Twitter @jfelisko
Photo courtesy of Andre Silva/Bull Stock Media
© 2021 PBR Inc. All rights reserved.