Talented Youngsters Staying in the Mix, Challenging the Pack
By: James Youness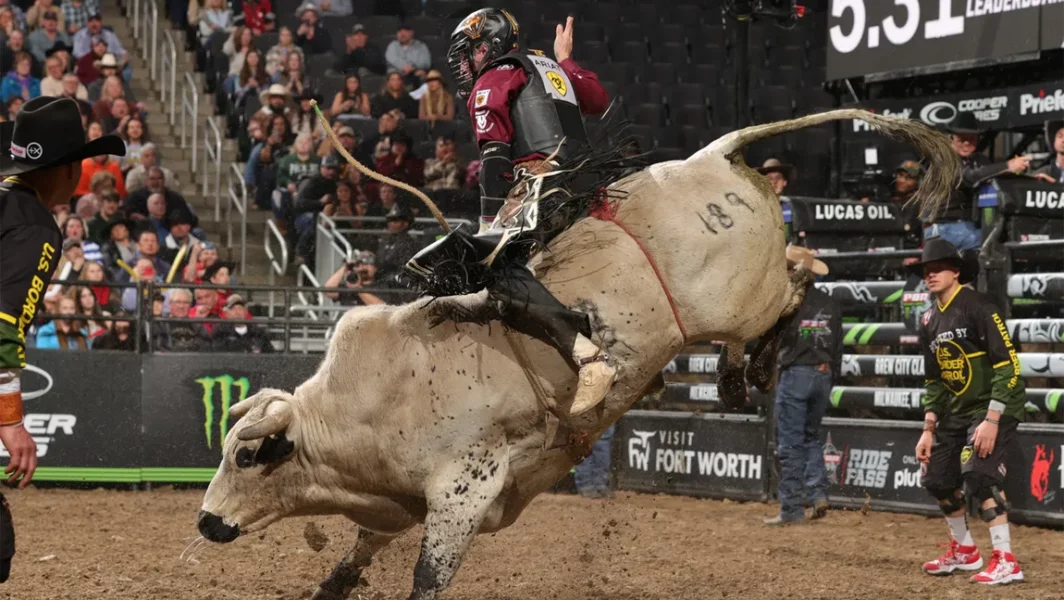 MILWAUKEE, Wis. – On a night in which veteran two-time World Champion Jose Vitor Leme and Round 1-winner Kaique Pacheco got back in the ride column, it was some of the premier series' youngsters who rounded out the Top 10 as the battle to be crowned 2023 PBR Rookie of the Year continued to stay spicy Saturday night.
Currently No. 1 in the first-year frenzy, Rafael Jose de Brito extended his lead atop the rookie standings with an 87-point adventure atop ProVantage Night Stalker in the opening round of action.
Despite not competing since Feb. 25 in sunny Los Angeles, California, the Brazilian returned to action with a big conversion. Now 4-for-5 in his last five opportunities, he's set to square off with King Brute during Sunday's Round 2 showdown in Milwaukee as he attempts to secure a spot in the short round inside Fiserv Forum.
After earning 16.5 UTB points for his third-place tie with Nick Tetz (more on him later!), the No. 6 rider trails series-leading Leme by 284.5 points heading into Championship Sunday, and will look to defend his current lead in the Rookie of the Year race over No. 7 Daniel Keeping, who turned in a productive opening night effort himself.
First challenged by Lil Lace Saturday night, Keeping accepted a re-ride opportunity after seeing his bovine make contact with the chutes early into the attempt. That wouldn't be a problem though, as the Texas native summoned an elite effort in his next attempt.
Besting J&M's Yukon for 86.5 points, Keeping went on to break a four-out buck off streak before an electric Milwaukee crowd. Tying for fifth-place alongside fellow first-year Wingson Henrique da Silva, Keeping expects to ride his bulls regardless of the circumstances.
"You just have to block out the things you can't control and focus on staying on your bull for 8 seconds," Keeping offered.
"That's our job, and I was happy to get it done tonight, but we're just getting started here. It's important not to look too far ahead, or get stuck on the good rides, but there are some talented bulls here this weekend and a lot of hungry riders, so it's time to get back to work."
Keeping and the field are aware of established veteran threats like Leme and crew, but with the ever-increasing pool of talent which continues to be showcased by the series' young riders, the gap between 1 and 35 is shrinking.
While No. 3 in the Rookie of the Year race, Thiago Salgado, has been out of competition since Feb. 10 in Tulsa, Oklahoma, No. 4 Wingson Henrique da Silva has continued to build on his first regular season on tour.
Furthering the conversation that first-timers are collectively pressuring the pack to perform, the 23-year-old Brazilian turned in another encouraging performance Saturday night in Milwaukee. Tying the aforementioned Keeping and fellow youngster Kyler Oliver for a fifth-place finish in Round 1, Silva turned in an 86.5-point ride atop Taking Chances night one inside Fiserv Forum to get on the board.
Now ranked No. 18 overall, Silva gets a matchup against Pearl Snap during the fifth out of the afternoon Sunday as he tries to close the gap on both the UTB and Rookie of the Year leaderboards.
In just his second-ever UTB event appearance, 2022 PBR Canada Champion Nick Tetz got on the board early in Milwaukee, courtesy of his first premier series' tour qualified ride.
Marked 87 points for his ride aboard Death Warrant, Tetz bested his bovine opponent and posted the then-top score of the round as the Canadian sensation celebrated with the stateside audience.
Later seeing Pacheco seal the deal with his 89-point out atop Alter Ego and Leme step into a second-place finish via his conversion against Spirit World, Tetz eventually tied with de Brito for the bronze honors. He'll get a chance to build on the encouraging ride Sunday, matched against Out of Control.
Fellow first-year talent Sandro Batista also snuck into the Top 10 Saturday night, finishing in eighth-place, courtesy of an 85.75-point ride atop Phantom Fury. The No. 24 overall and sixth-ranked rookie has been able to build on his summer spent with the Carolina Cowboys and has turned it into three-consecutive Top 15 finishes, including a fourth-place showing last weekend at the PBR U.S. Border Patrol Invitational. He'll look to keep momentum in his favor Sunday by first facing Hang Em High.
This weekend's action inside Fiserv Forum concludes Sunday afternoon, with Round 2 and short go of the PBR Brew City Classic set to begin at 1:45 p.m. CST. The finale will be aired on CBS Sports Network Sunday afternoon at 3 p.m. CST as the world's best bull riders get set to close out the Milwaukee stop with a bang!
Photo courtesy of Andy Watson/Bull Stock Media
© 2023 PBR Inc. All rights reserved.