Tanner Aus, Ty Breuer Share Lead in Prescott, Ariz.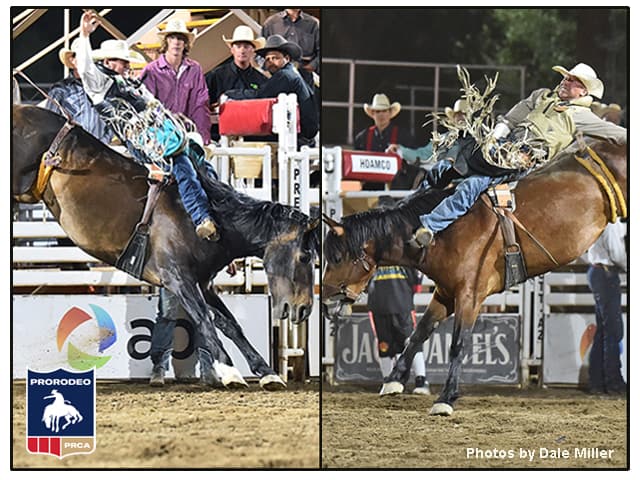 Last week, the battle lines were drawn.
Tanner Aus and Ty Breuer clashed in the bareback riding finals of the Digital Rodeo Tournament presented by The Cowboy Channel. Aus won by a slim margin, garnering 51.1% of the vote to hold off Breuer.
"I didn't pay real close attention until the end," Aus said. "It entertained people and it was fun, and that was the whole point of it. I talked a little bit of smack, but it was all in fun."
Breuer echoed Aus.
"That tournament was a cool deal," Breuer said.
Back in the world of real rodeo, the traveling partners gave themselves a good jump to the abbreviated Cowboy Christmas run in Prescott, Ariz., June 29.
Aus and Breuer tied for the lead after the first night of the World's Oldest Rodeo. Aus had an 87-point ride on Vold Rodeo's Beaver Valley, while Breuer equaled that score aboard his re-ride horse, Vold Rodeo's Misty Frontier.
The World's Oldest Rodeo runs through Sunday. Watch the performances live on The Cowboy Channel of the PRCA on Cowboy Channel Plus App tonight through Saturday at 10:30 p.m. ET and at 4:30 p.m. ET, July 4-5.
Subscribe today to + for $9.99/mo. or $89.99/yr. at cowboychannelplus.com.
"I had never been on that horse before, but she had about three years of stats, and a couple of guys had good luck on her, so I knew it was going to be a good shot," Aus said. "When I got down here, I heard she was a bucker, and she had a good trip. It feels great to start our Fourth of July run this way. We don't have as many rodeos to go to, but it is good to start off on a roll.
"The rodeo is going to get tough. Everyone is hungry and everyone is excited. I hope our scores hold up, but I wouldn't be surprised if they didn't. It is still good to strike first blood there."
Breuer agreed.
"I got a re-ride and walked over to Kirsten (Vold of Vold Rodeo) and asked her who the re-ride was," Breuer said. "She said you'll want to get on it, it's good, and the horse was good. Getting on a good one like that gives me a lot of confidence, which is a big deal."
"We have rodeos to go to now, and there are things about (the season because of COVID-19) we can't change," Aus said. "There are positives that we are getting to go to a few rodeos that we have driven by in years past because you have to make the money a priority when you're trying to make the Finals. These rodeos (we're going to now) are great rodeos that are full of contestants in every event, and that's fun to see. It's really good to be back on the road regardless of how much money we are riding at. It feels like rodeo season, and that's my favorite part about it."
Up next for Aus and Breuer is the long journey back to Mandan, N.D.
"It's kind of a funny story," Aus said. "We started out in Mandan where Ty lives, and we took off from Mandan (June 27) to drive to Prescott (Ariz.) thinking we would ease down here because it is about a 24-hour drive. We were going to ease down here and make our way back up through Oakley (City, Utah) and then up to Cody (Wyo.) and Belle Fourche (S.D.). But we are doubled up every day, and the way that we drew, what happened is we drove all the way from Mandan to Prescott, and the next rodeo we go to is Mandan (July 2). We got down here to Prescott, turned around and are headed back north.
"We contemplated a flight down here (to Prescott), and I kind of talked Ty into driving it because we had the days and we have the camper."
After Mandan Rodeo Days, Aus will be in Cody and Breuer is in Mobridge, S.D. They will both be in Belle Fourche and Killdeer, N.D., July 4.
Courtesy of PRCA