Tanner Brunner Leads Pack in Pool B at Calgary Stampede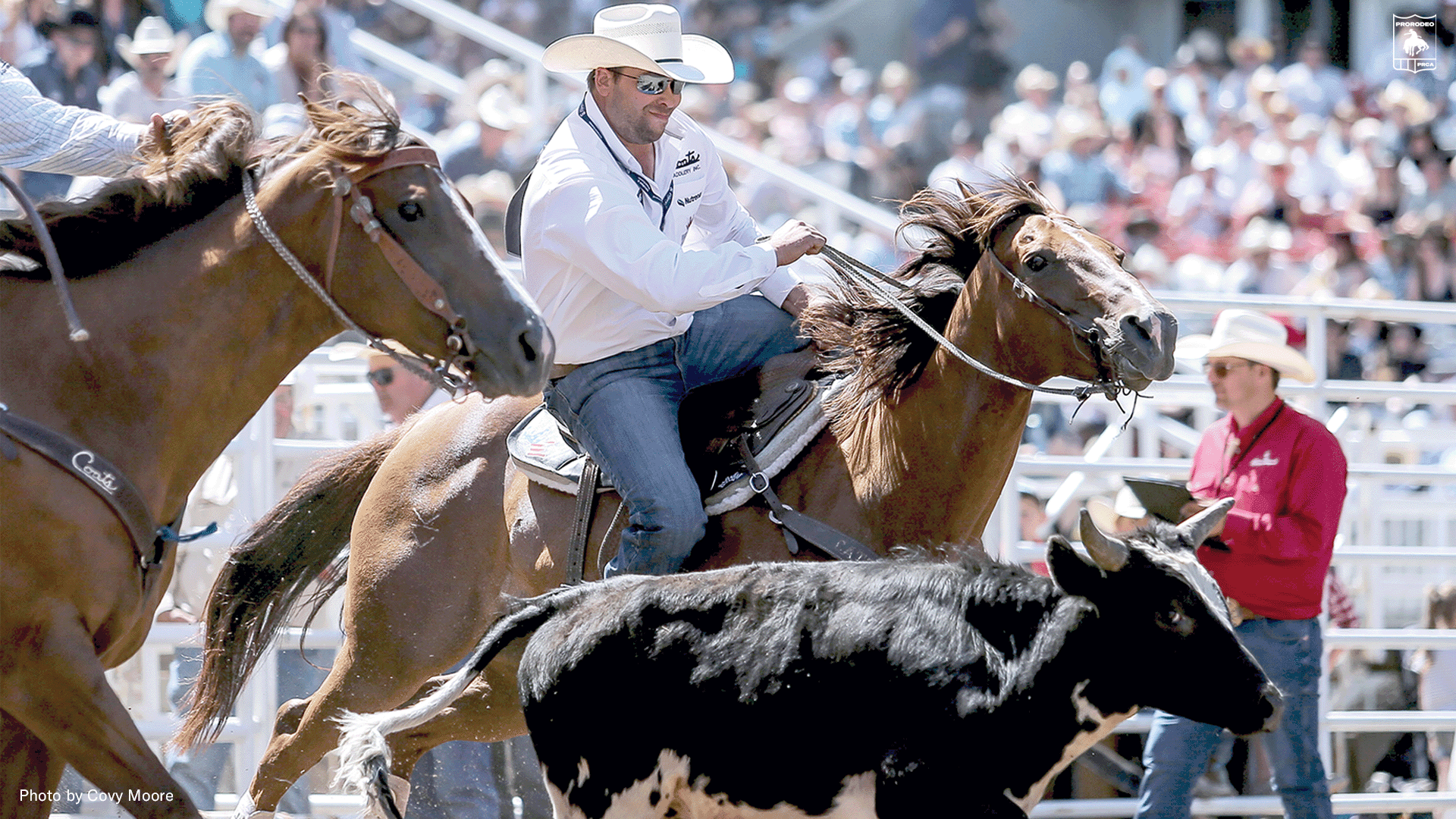 Tanner Brunner is not a rookie in ProRodeo, but he is a rookie at the prestigious Calgary Stampede.
The first-time jitters are nowhere to be found. The Ramona, Kan., steer wrestler hasn't let the daily crowd of nearly 20,000 people intimidate him. After three rounds of competition, he leads the field in Pool B with $10,000 won so far at the key NFR Playoff Series presented by Pendleton Whisky rodeo.
He finished second in Round 1 and won Round 2 with a 4.4-second run. Brunner said his first trip north of the border has been a memorable one and the horse he's riding deserves a lot of credit.
"It's a great experience up here, the Calgary Stampede is awesome in the way they treat us cowboys," said Brunner, a three-time Wrangler National Finals Rodeo qualifier. "Having my horses feeling good and having a good hazer on the other side has really helped."
Brunner is in a prime position headed into Round 4 to advance to the semifinals, but he understands the job is not done. He plans to remain aggressive in his pursuit of one of the most coveted titles in ProRodeo.
"I just have to keep taking aggressive starts and not backing off of the barrier," he said. "I have to give myself a chance to keep advancing. That's what it's all about at these big rodeos."
He currently sits 20th in the PRCA | RAM World Standings, just $2,916 outside of the 15th spot. Calgary provides a golden opportunity for him to make a move with a $1.5 million payout. He said while that's in the back of his mind, he'll continue to take things one run at a time.
"It would be really nice to get a good bump here from Calgary and ride that momentum going into the fall rodeos," Brunner said. "We'll just take it run by run and see where we end up."
The Calgary Stampede continues July 15-17 and starts at 1:30 p.m. (MT) each day. The 2022 Stampede Champions will be crowned on Sunday afternoon. You can catch all of the action on The Cowboy Channel and the PRCA on Cowboy Channel Plus App.
Courtesy of PRCA