Team Ropers Erich Rogers/Paden Bray Capture the American Title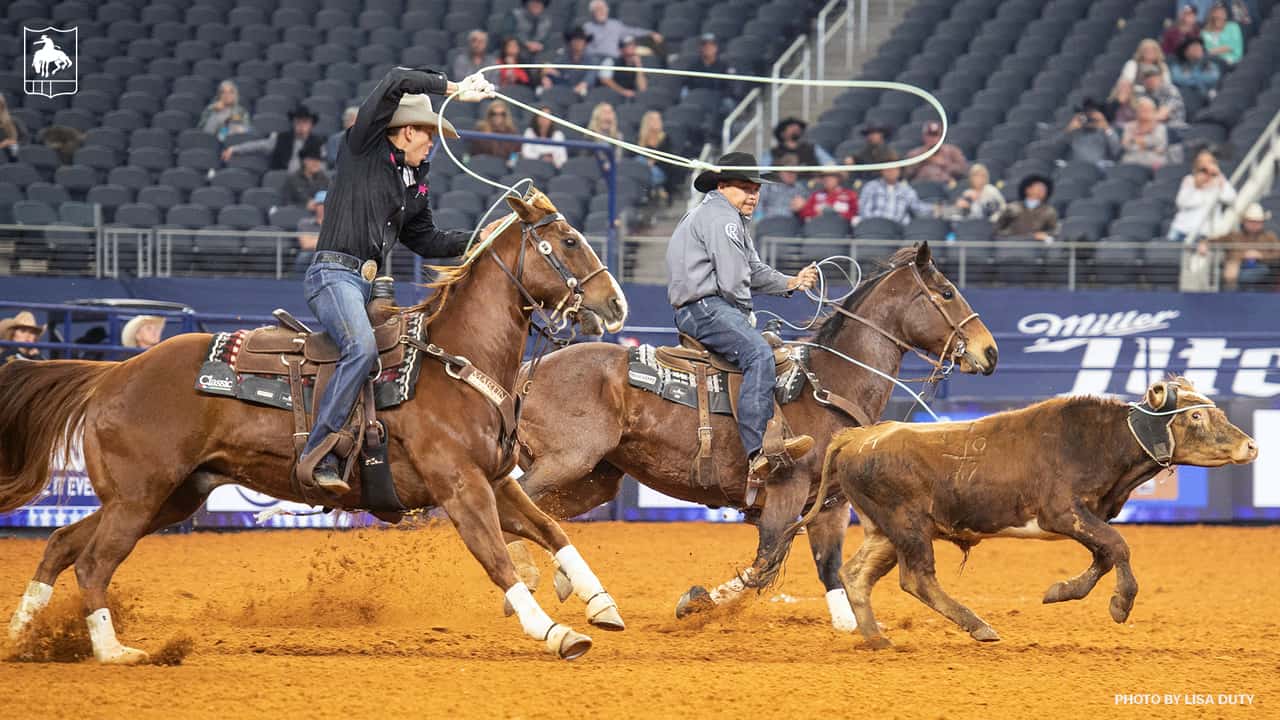 ARLINGTON, Texas – Arlington, Texas has been very good to team ropers Erich Rogers and Paden Bray.
After winning the average at the 2020 Wrangler National Finals Rodeo Dec. 12, at Globe Life Field in Arlington – the duo cashed in March 7, across the street at AT&T Stadium during RFD-TV's The American.
Rogers/Bray clocked a 5.05-second time to win the four-team Shoot-out. It was the inaugural win at The American for Rogers and Bray.
"The mindset was just go catch and do the best we could on the stock they drew us," said Rogers, 34. "Shoot, that steer was one of the best in the herd for today and we made use of him and did what we had to do. I blocked everything out and just thought we were in the practice pen. Pretty much I hurried in there and nodded and got in there and got out of there. That was pretty much the same when we were here in (Arlington) back in December at Globe Life. It is the same atmosphere in a bigger building, and it was a great feeling to be back in the spotlight like this in a big stadium and win."
Bray, 22, concurred with his partner.
"When I got the opportunity to rope with Erich (last year) I knew I just had to focus on my job and just do me," Bray said. "A guy who ropes as good as him is just going to give a young guy like me a lot of opportunities. He's the quarterback. I'm the receiver. I'm just trying to not drop the ball and trying to catch every time. The amount of money we have won together has been absolutely outstanding. That guy is clutch.
"I'm the finisher. He sets it up. It's the hardest thing you can do is just have to catch one for a lot of money. You get to where you think a little bit about it, but he maxed the barrier out and we drew a great steer. He got on him and I went, 1, 2, 3, and I made sure I was going to catch before I threw. He made my job easy."
Event winners – like Rogers/Bray – earned a minimum of $100,000 with $50,000 counting toward the PRCA | RAM World Standings.
"Winning $100,000 means a whole bunch to me," said Rogers, the 2017 PRCA team roping header world champion. "It's the greatest feeling ever and life changing for me. It also means a lot for the standings and a sigh of relief. Come August and September we don't have to press near as hard and be sweating it."
Rogers entered The American seventh in the world standings with $10,282 and will rocket to first place with $60,000-plus. Bray was fifth in the heeler charts with the same amount of money pre-American and will now be sitting atop the standings.
A year ago, Rogers and Bray placed third and second in their respective world standings with $175,503 each. They earned an event-best $122,962 at the 2020 NFR.
At The American, Rogers was riding Sandy, 14, owned by Ken Bray, Paden's father. Paden was riding Slider, 13.
"These are great horses," Paden said. "The ultimate goal is to get that gold buckle and get another one for Erich. Even though we have this healthy lead, I'm young and dumb and I'm not going to back off."
Other winners at AT&T Stadium, were bareback rider Tilden Hooper (90.50 points on Frontier Rodeo's Gunfire); steer wrestler Jacob Talley (3.87 seconds); saddle bronc rider Ryder Wright (91.25 points on Andrews Rodeo's All Or Nothing) tie-down roper Shane Hanchey (7.74 seconds); breakaway roper Jill Tannner (2.65 seconds); barrel racer Hailey Kinsel (15.420 seconds) and bull rider Colten Fritzlan (90.25 points n Dakota Rodeo's Safety Meeting).
Courtesy of PRCA