Teel Remains Dedicated in the Gym, Riding his Bulls as Thunder Win Saturday
By: Justin Felisko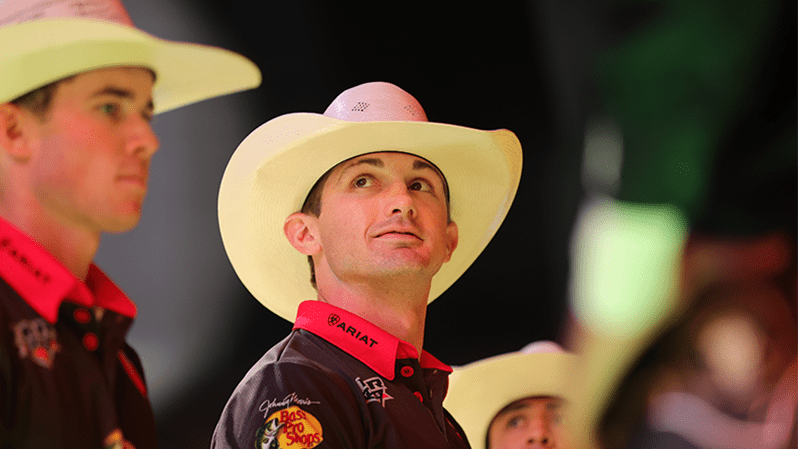 RIDGEDALE, Mo. – Missouri Thunder co-coach Ross Coleman would make sure to get to the pristine workout facility at Big Cedar Lodge in Ridgedale, Missouri, extra early this week for his team's workouts to see which of his riders would walk through the doors first.
One of the first guys every day was none other than 2012 PRCA champion Cody Teel, and even on gameday Teel would be putting in the work on the treadmill and be dripping in sweat by the end of the workout.
That was the case once again Saturday morning as Teel participated in a 2-mile workout ahead of the team's matchup against the Nashville Stampede.
"Just training for these moments, when you're running on that last stretch, that last half mile, I think of situations like this where you have a re-ride, game's on the line, event's on the line, whatever it is," Teel said. "Just kind of practicing that mental focus and being comfortable."
View this post on Instagram
Teel's conditioning came up clutch in a big way.
The 30-year-old delivered a walk-off, game-winning ride for the Missouri Thunder (11-10, Thunder Days 1-1) when he converted on his re-ride bull, War Cry, for 88.25 points in Missouri's 267.5-261.75 victory over the Stampede (5-15-1, Thunder Days 0-2) at Thunder Ridge Nature Arena.

"You can push yourself a lot further than what you think," Teel said inside an ecstatic Thunder locker room. "Your body can go a lot further than your mind and legs, but it feels good when it all works out according to plan. It doesn't always work out as planned, but when it does, they're great feelings."
Coleman had all the confidence in the world that Teel would come up clutch for his teammates.
"You know what he does? Cody amazes me every time I see him," Coleman said. "First off, he's a gentleman and a cowboy, a hard worker. He's the first one to workouts and he's the last one to leave. He's got some age on him, everybody knows that. Cody Teel is always the first one there and you know what? He's the last one to leave. He puts in the work, he really does, and he loves this sport. He is so good at this sport too and he's just a superstar guy and damn sure knows how to ride bulls.
"That's exactly the best thing in the world. Good things happen to good people and Cody Teel is a legend of the sport. After he's done, retired, I would think for sure he's going to have the Ring of Honor."
Teel's ride capped a wild opening game on Saturday night between Missouri and Nashville that featured three lead changes in the game's final three outs.
Adriano Salgado pushed the Thunder into the lead on the team's second-to-last out with 89.25 points on Dang Dang. However, Ryan Dirteater then answered the call for the Stampede with his 90.5-point ride on Schott in the Dark.
With the game on the line for Teel, he would not disappoint.
"I love everything about it, Coleman said of each team going 3-for-5 and throwing haymakers back and forth. "That's why we do this Team Series, I swear. The reason why this whole thing started is so that we can pass the torch to the next generation and make these guys better bull riders, which they are. They're great bull riders already. If we had nothing to do with them, the PBR would still be outstanding, they'd be riding great bulls and good things would happen. Kaique (Pacheco) and Jose (Vitor Leme) would take over everything it seems like, like they do, but now, look at all of these other guys. Look at Adriano, been giving some of these other young bucks belief, knowing that others can do it too. Andrew Alvidrez, amazing.

"But it's like this: In anything you want to do, if you want to get better, surround yourself with the right type of people and you can always learn something."
There was concern after Freedom Fest that Teel would need to undergo an MRI on his left shoulder, but the six-time World Finals qualifier shrugged that off and instead opted to keep rehabbing his shoulder in the gym and putting the work in.
Teel explained that as the years begin to add up on his career, he has to put a greater emphasis on his physical conditioning to stay relevant in the toughest sport on dirt.
However, it is also that mental side which can get weaker as a rider gets older too.
"This shoulder is fine," Teel said. "I got wadded up on the other one tonight, now it's evened out. But I felt great today, didn't bother me one bit, so credit to Sports Medicine. All of the guys keeping me in there this week. I've been through so many injuries in my career. It does help the ride a little, but ultimately it's for my health. The mental side of it, pushing yourself when you don't want to keep doing it or if you don't want to get up in the morning, you make yourself do it and it's just kind of discipline.
"Mental toughness translates to moments like that when you might be winded, you have to do this, there's no back-up, and that's where it helps me a lot, that mental side, especially with running. You can go a lot farther than you think and that helps in any sport, practicing those mental moments where you want to quit."
The Thunder will look to wrap its homestand Sunday with a victory over the Oklahoma Freedom (12-9, Thunder Days 1-1).
SUNDAY GAME SCHEDULE (6 p.m. CBS Sports Network)
Kansas City Outlaws (8-13, Thunder Days 1-1) @ Arizona Ridge Riders (12-8-1, Thunder Days 1-1)
Nashville Stampede (5-15-1, Thunder Days 0-2) @ Texas Rattlers (9-12, Thunder Days 2-0)
Austin Gamblers (11-10, Thunder Days 1-1) @ Carolina Cowboys (13-8, Thunder Days 1-1)
Oklahoma Freedom (12-9, Thunder Days 1-1) @ Missouri Thunder (11-10, Thunder Days 1-1)
Follow Justin Felisko on Twitter @jfelisko
Photo courtesy of Andy Watson/Bull Stock Media
© 2022 PBR Inc. All rights reserved.