The Morning Line – Louisville Round 1 & 15/15 Bucking Battle
By: Slade Long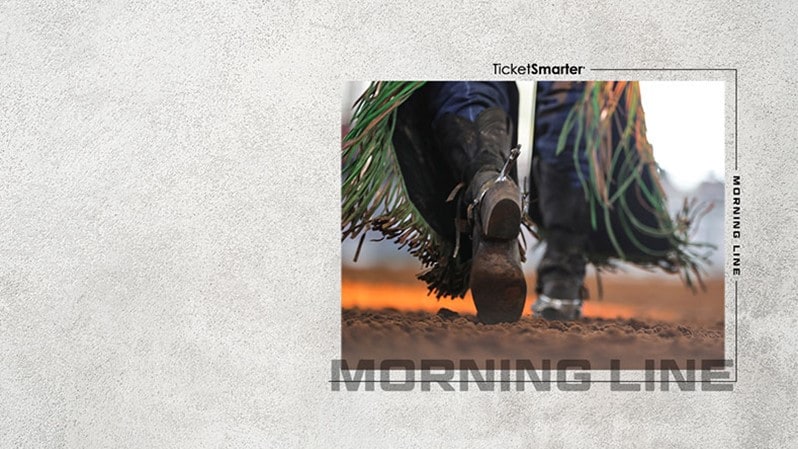 Round 1 of the PBR Lucas Oil Invitational gets underway Saturday night in Louisville, Kentucky, at 6:45 p.m. ET. Fans can watch the action on CBS Sports Network at 8 p.m. ET and RidePass at 6:45 p.m. ET.
The 15/15 Bucking Battle airs Sunday on CBS national television at noon ET (check local listings).
Andrew Alvidrez on 401 One for the Money:
This should be a nice draw for young Alvidrez. This bull hasn't seen much time on the UTB level tour, but he's been around for a while and is rideable. His style may remind you of a more famous bull in this round – Nailed – and, in fact, both bulls got their start in Canada with stock contractor Nansen Vold.
Chase Outlaw on 66C Harold's Genuine Risk:
This bull is unridden this year, but that should change tonight. Harold's Genuine Risk is a consistent long-round caliber bull at this level, but he has a real weakness for left-handed riders. He's 1-5 against them. Outlaw should be able to show off on this bull and get a high 80s score.
Ezekiel Mitchell on 3 Stunt Man Ray:
Mitchell bucked off this bull last year, but he also rode him for 89.75 points in early 2019. Stunt Man Ray has put in four solid years at this level, and for all of that time he's been one of the best draws imaginable for right-handed riders. He is 12-18 against righties in his career, and he has carried many of them to 88-91 scores and a good number of round wins. Mitchell could not have drawn a better matchup in this round.
Joao Ricardo Vieira on 410 Pancho Villa:
Pancho Villa is 12-2 in his career, and the two rides both came at the hands of Dener Barbosa. He threw Jess Lockwood off in early 2020, but most of his other high profile matchups have been against right-handed guys. He tends to go to the left. On the surface this bull looks like a tough match for anyone, but if he goes to the left, he will have a hard time getting Vieira on the ground.
Kaique Pacheco on 100 Nailed:
Pacheco rode this bull for 88.75 points back in 2017, and it is a little surprising they haven't met more often. Nailed has been around for a long time, and he has been one of the best money bulls in PBR history, especially for right-handed riders. He's a little unpredictable, and he has a little bit of an odd style – always backing up under himself. He usually doesn't cover much ground, and doesn't go far from the chute in 8 seconds. He is a near perfect fit for Pacheco, and it would be a shocker if Pacheco doesn't get a good score here.
Cooper Davis on -410 Playing Chicken:
This bull is another Canadian import. There are about six of them in this round, and all are good draws. This one should be a fairly easy win for Davis, who gritted out two rides on tough bulls last weekend to reach the championship round where he rode Chiseled. Davis will have another really difficult bull in the 15/15 Bucking Battle, but he should get an easy score as long as he doesn't overlook this one.
J.T. Moore on 111 Black Rose:
Black Rose has been in the game since 2020. Originally from Canada, he moved south in 2017, and he has consistently given up scores to left-handed riders. He's been ridden 10 times in his last 13 outs going back to 2019. This is a good opportunity for Moore to snag some points.
Jose Vitor Leme on V41 Twisted:
On paper this bull doesn't look like a promising matchup for anyone, but Leme is not just anyone. Twisted has been ridden twice in 25 career outs, the most recent one in 2018. He has only faced a couple of high-profile left-handed riders, and certainly hasn't faced Leme before. Although Leme has bucked off a couple of bulls this year, it would be ill-advised to bet against him right now. The guy is riding as well or better than anyone in the history of the sport.
15/15 Round
Silvano Alves on 57 Diddy Wa Diddy:
Alves will have a tough time here. Diddy doesn't give right-handed riders much of a shot. He goes to the left and brings a lot of power and force. This is a really good bull who we will see on the highlight reel quite a bit this year.
Boudreaux Campbell on -621 Zero Time:
Zero Time usually means zero for the rider, but he has slipped up and allowed two qualified rides in his last four outs. He can have a lot of up-and-down the first couple of jumps. He likes to go to the left, but may not stay hooked. He's a tough bull, but Campbell is coming off the best ride of his life and should be up to the challenge.
Derek Kolbaba on 162 The Right Stuff:
This bull may be named "The Right Stuff" but he doesn't have what it takes to get social media exposure, or bull rider likes because he kind of throws everyone off. He's 32-1 in his career. Jess Lockwood rode him at the 2019 World Finals, but he's thrown off 22 straight since then.
Taylor Toves on 262 Oilfield Outlaws Yellow Feather:
Good bull here, but not an easy one to ride. Yellow Feather is like Diddy Wa Diddy, but he doesn't waste any time or effort trying to be flashy. He is all power and speed. He goes to the left and has good enough timing, but he's strong enough to beat any rider. Sooner or later this season he may run up against Leme and give up a record high score, but Toves is an underdog here.
Colten Fritzlan on 38C Amato:
Amato only has three outs on record, but he was marked 45.5 points in Pensacola and earned every bit of it. He went to the left there, and looked a lot like Yellow Feather – lots of power and no nonsense. Fritzlan will have to bring it to get by this bull.
Rafael Henrique dos Santos on 442 Blue Crush:
Blue Crush last gave up a score in August of 2019, and is 22-0 since then. This is an unpredictable bull who can get out from under anyone. He has some big wild jumps, and he can be hard to get out of the chute clean on. There are more bulls like him in Brazil than there are in the States, and Most of the Brazilian riders have experience against out-of-line bulls like this. That could work in Santos' favor, but the bull still has the edge here.
Joao Ricardo Vieira on 604 Marquis Metal Works Coriolis Effect:
Vieira rode Coriolis Effect for 89.5 points last August, and he's the only man who's ridden this beast. Coriolis Effect has amped up his intensity since then. He straight up abused two-time World Champion Jess Lockwood in Glendale, Arizona, a couple of weeks ago, and produced two outs over 45 points that weekend.
Mauricio Moreira on 612 Ridin' Solo:
This may be the flashiest bull going right now. He gets lots of air time, and has lots of action. He is somewhat rideable in that he has less power than some of the other bulls in the World Champion Bull race this year. Moreira has not ridden a bull this rank since he's been in the United States, and although Solo should go into his hand, he is still the underdog in this matchup.
Dener Barbosa on Marquis Metal Works Red Clark:
This is another bull that goes really strong to the left. This round is stacked with them. Clark is 13-0 and no one has really warmed him up recently, although he's faced a lot of right-handed guys in the past few months. Barbosa is good enough to ride any bull here, but he hasn't exactly been on a roll lately.
Jose Vitor Leme on B1 Apper's Mind Freak:
Leme is 1-for-2 against this bull, both matchups occurred in the 2019 season. Mind Freak hasn't been ridden in over a year, but he is vulnerable to lefties, and Leme deserves to be the favorite here in one of the two best matchups in this round for odds of a qualified ride.
Junior Patrik Souza on 60 Midnight Rock:
This doesn't look great for Souza on paper. Midnight Rock hasn't been ridden since last August. He's a better fit for a right-handed rider, but he's run a gauntlet of them this season already. Souza is left-handed, and he has done most of his damage on bulls that go into his hand this year.
Keyshawn Whitehorse on 444 Big Black:
Big Black is really the bull to have in this round, but not so much for right-handed guys. He's 16-1 against them. Ezekiel Mitchell rode him in Des Moines, Iowa, last fall. Whitehorse hasn't been on him before, and this is a money bull, but he will be tough going away from Whitehorse's hand.
Cole Melancon on 679 I'm Busted:
This bull has been ridden twice this season in back-to-back weeks, both times by Vieira. He's yet another bull who goes to the left with power. Melancon is very strong on bulls that go away from his hand, and that makes this an interesting matchup. However, I'm Busted has busted five righties in his career and has been ridden by none.
Kaique Pacheco on 624 Homegrown:
This is the other matchup in the round where the odds are on the rider. On paper, Homegrown doesn't looks like the best fit for a right-handed rider, but Pacheco rode him rather handily for 91.25 points earlier this season, and Pacheco is riding well right now.
Cooper Davis on 527 Preacher's Kid:
Davis rode Preacher's Kid for 89.5 points last August in one of the grittiest rides I've ever seen in 40 years of watching guys try to ride bulls. It was not easy, and this bull is famously difficult to ride. He's always one of the worst draws in whatever round he's in. This is nearly an even matchup ONLY because Davis is the rider. This bull would be a huge favorite over anyone else here.
© 2021 PBR Inc. All rights reserved.