'The possibilities are endless' for a Healthy Kasel After History-Making Ride
By: Justin Felisko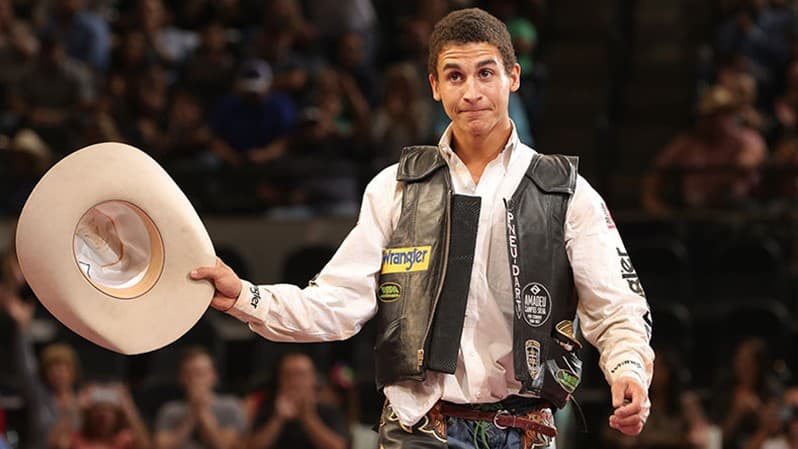 PUEBLO, Colo. – Dalton Kasel was making the four-hour drive home to Stephenville, Texas, when his cell phone went off.
Kasel glanced down to see it was none other than reigning World Champion Jose Vitor Leme calling.
Leme may not have been in San Antonio to watch Kasel's sensational 96.75-point ride on Woopaa a few hours earlier at the PBR U.S. Border Patrol Invitational, presented by Ariat, but he made sure to call his friend and congratulate him on making the second-greatest bull ride in PBR history.
"After that ride, I think everyone needed to call him and say congrats," Leme told PBR.com on Monday. "It was a great ride."
Of course, it was only a few months ago when Leme broke a 17-year record by riding Woopaa for 97.75 points in Tulsa, Oklahoma. That score was on Kasel's mind when he stepped on top of the shark cage at the AT&T Center and selected the No. 1 contender in the YETI World Championship Bull race with the first pick of the championship round draft.
"I wanted to beat Jose's record, so I went into it with the plan of trying to have the world record for the highest-marked ride," Kasel told PBR.com Monday morning. "I had it planned out that way, and it didn't work out exactly. I saw Jose's bull ride, and I saw what he did in Tulsa, and I wanted to beat that, and I wasn't able to. But I am not going to complain."

Kasel's 96.75-point ride may not be scored the highest in PBR history, but it certainly belongs right up there in the conversation with Leme's.
And, if you ask Leme, he says it is perfectly OK for those to have different opinions of which ride was better. At the end of the day, Kasel and Leme both made history this year aboard the rankest bull in the world.
"Some people will say his ride was better, and some will say mine, but it depends on who's the judge, but both of us did a great job," Leme said.
Leme and Kasel spoke for about 10 minutes on Sunday night. Kasel said he appreciated hearing from Leme, who has become a good friend since Kasel arrived on the Unleash The Beast two years ago.
"I thought it was pretty neat he called, but I wasn't surprised," Kasel said. "I respect Jose and all that he does. He congratulated me, and we talked about Woopaa for a second. We've turned into great friends, and that makes it a whole lot more fun."
Top 5 Rides in PBR History
Jose Vitor Leme vs. Woopaa (97.75 points in Tulsa, Oklahoma | 2021)
Dalton Kasel vs. Woopaa (96.75 points in San Antonio | 2021)
Michael Gaffney vs. Little Yellow Jacket (96.5 points in Nampa, Idaho | 2004)
Chris Shivers vs. Dillinger (96.5 points at the 2001 PBR World Finals)
Chris Shivers vs. Jim Jam (96.5 points in Tampa, Florida | 2000)
Bubba Dunn vs. Promise Land (96.5 points in Tampa, Florida | 1999)
Kasel admitted it is still somewhat hard to comprehend just how big of a moment Sunday night was.
"It was kind of a shock to me," Kasel said. "Nothing really sunk in, nor has it sunk in yet, but it is getting cooler and cooler by the minute. It is pretty neat."
Kasel's ride aboard Woopaa capped a perfect 3-for-3 performance that netted him his second event win of the season. In fact, he is the only rider other than Leme to win multiple events in the second half. Kasel previously won the PBR Wrangler Long Live Cowboys Classic.

The 22-year-old is up to No. 8 in the world standings despite missing almost four months this spring, recovering from reconstructive surgery on his free arm elbow.
Kasel knows he is not overcoming the 1,519.25-point deficit between himself and Leme in this year's world title race, but the Muleshoe, Texas, native says he hopes he can finish 2021 strong and make a point that he will be rising to title contention next season.
"I am probably too far back to catch Jose, but I still can make a bunch of money trying. I have to keep looking at it like that," Kasel said. "This is the best I have ever felt, and this is something that is good for me in the sense I can build on this and show myself and others that I am going to be in contention for the world (title) next year. I have no doubt in my mind that this is going to be the case. This is a confidence-booster, for sure.
"Coming back from (elbow surgery), and I am already Top 10 in the world? The possibilities are endless whenever I stay healthy."
How about a 98-point bull ride?
"I think so," Kasel concluded. "One way or another. Whether it be at the World Finals or next year, I think the record is going to get broken again by somebody."
Follow Justin Felisko on Twitter @jfelisko
Photo courtesy of Andy Watson/Bull Stock Media
© 2021 PBR Inc. All rights reserved.