Top 5: Fort Worth's Finest Rides from the 2022 PBR World Finals
By: James Youness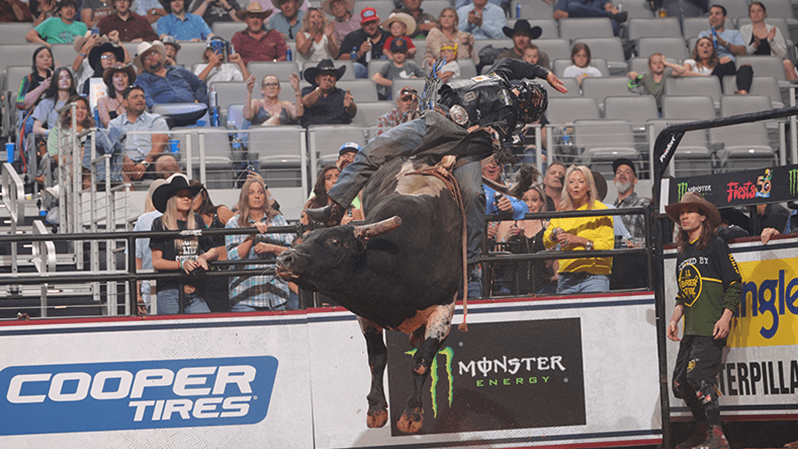 PUEBLO, Colo. – As the Texas Rattlers and Fort Worth area prepare to host the highly anticipated PBR Rattler Days on Oct. 7-9, some of the sights, smells and sounds from the 2022 PBR World Finals will likely be top of mind as teams begin their load-in at Dickies Arena.
While riders from each of the eight competing teams may have competed in the Unleash The Beast mainstay spectacle in the building in May, they'd be wise not to dwell on the memories too long. With the PBR Team Series Championship itself quickly approaching, only two regular-season events remain before each team heads to Las Vegas on Nov. 4-6 to battle it out for the ultimate prize: the inaugural PBR Team Series Championship.
This weekend's slate of games in Fort Worth represents one of the remaining two regular-season events, making each individual ride, team score and game outcome even more important in the team standings.
Given Dickies Arena, and Fort Worth in general, has welcomed the PBR and its dedicated fanbase with open arms each time the world's best bull riding talent swings through Central Texas, we couldn't help but look back at some of the top rides from the 2022 PBR World Finals as we prepare for some more rowdiness erupting from the chutes this weekend:
5. Daylon Swearingen (92.25 points)
Rising star, 2022 PBR World Champion and now Carolina Cowboys frontrunner, Daylon Swearingen didn't come into World Finals warmed up. He came in RED-HOT and surely didn't hold back inside Dickies Arena this past May.

After beginning an event-best six-consecutive ride streak with a 93-point ride in the second round, Swearingen eventually punctuated the legendary run with a 92.25-point ride on I'm Legit Too in Round 7.
Bucking to the right from the get-go, the bovine athlete continued to rowdily spin until the 8-second buzzer rang, quickly followed by an eruption from the Dickies Arena crowd. Thankfully for Swearingen, who got a little banged up while dismounting his seventh-round bull, victory was near.
Helping to solidify the young rider's first-ever World Championship and World Finals event title, Swearingen captured the attention of fans and competing riders alike, as the talented cowboy logged qualified ride after qualified ride in dominant fashion.
T4. Josh Frost (92.75 points)
While Josh Frost may not have the same name recognition as the Jose Vitor Lemes and Daylon Swearingens of the riding world heading into his first PBR World Finals experience, that doesn't mean the 27-year-old showed up to shake hands and enjoy Fort Worth.
He was there to put in work, and that's exactly what he did.
Capturing the attention of the Western sports world by posting one of the highest-scored rides of the entertaining weekend, Frost faced off with Ridin Solo to earn 92.75 points in Round 2.

After starting with a few ferocious bucks to the left, Ridin Solo switched gears midway through the ride en route to earning a 45-point bull score, the second-highest of the event.
"Solo fired, but Frost brought the freeze," echoed Craig Hummer on the official broadcast as the first-time Finals rider was awarded his career-best score.
The 92.75-point outing was Frost's first 90-point ride on the premier series, but the score merely represented the third-best in Round 2, as a pair of mentioned veterans had plans to steal the round-winning honors.
T4. Jose Vitor Leme (92.75 points)
After recording qualified rides in the first three rounds of the Finals, Leme was met with a rare, quick buckoff in Round 4, as the veteran was forced off his opponent in 3.63 seconds.
Humbled, yet determined, the energy of the Austin Gamblers' leader could be felt throughout the arena as he erupted from the chutes aboard Norse God with one thing in mind:
Getting back on the scoreboard.
Logged a round-winning 92.75-point score, Leme rode his bovine opponent for 8 seconds of greatness.
"I just thank God for all of this, this round, this ride. I'm so happy," Leme shared with CBS following his Round 5-clinching ride. "Sometimes, we have to pass some moments like that (bucking off in Round 4) to wake up. I feel alive, I feel great, and I'm ready for another one."

While the score ultimately tied Frost for the event's fourth-best, Leme was able to hold onto his Round 5 victory and placed fifth overall in the event after missing the last two rounds due to injuries sustained in Round 6.
2. Daylon Swearingen (93 points)
Generally speaking, riders aren't winning the PBR World Finals event title, let alone clinching the entire PBR World Championship, without displaying several spectacles during the tour's final opportunities to shine.
Six-straight qualified, 85-plus-point rides during said weekend? That's going to be noticed, and for Swearingen, more than enough to stock his trophy room with 2022 World Finals hardware.
After a frustrating pair of failed Round 1 rides (due to accepting an early re-ride opportunity), the young star began his unforgettable run as he climbed aboard Big Black in Round 2 of the competition.

Logging an impressive 93-point ride, Swearingen tucked his left hand and let the other fly high as he was bucked to the right for 8 challenging seconds before executing a flipping dismount and immediately celebrating amidst an electric Dickies Arena crowd.
Narrowly edging Rattlers first-round draft pick Cody Jesus by 9.75 points, Swearingen's 539.75-point aggregate score was enough to clinch the cowboy's first World Finals event win and PBR World Championship.
As impressive as the outing was, it was the Arizona Ridge Riders' Mauricio Moreira who captured the Round 2 victory and eventually the weekend's highest-scored ride.
1. Mauricio Moreira (94.25 points)
In what became one of the most entertaining highlights of the eight-round event, Round 2 continued to stand out, as did the world's most elite riding and bucking talents.
Catapulting to the top of the round and overall event leaderboard, Mauricio Moreira decided to have a night.

Matched against WSM's Jive Turkey, the 23-year-old matched his opponent jump-for-jump en route to being scored a career and event-best 94.25 points.
Customary of the Unleash The Beast's season-ending award ceremony, Moreira was presented the Lane Frost/Brent Thurman Award for having the highest-marked ride at the 2022 PBR World Finals.

Moreira paired his triumphant second-round ride with an 85.75-point score in Round 6 while finishing 16th overall.
With a variety of 90-plus-point rides coming last time the PBR visited Dickies Arena, the PBR Team Series returns with 12 head-to-head games of action-packed entertainment Oct. 7-9 as the Texas Rattlers look to enjoy their first hometown advantage in Fort Worth. The action begins on Friday, Oct. 7 at 7:45 p.m. CT only on RidePass on Pluto TV.
Photo courtesy of Andy Watson/Bull Stock Media
© 2022 PBR Inc. All rights reserved.