Toves Determined to Make the Most of his Premier Series Opportunity
By: Justin Felisko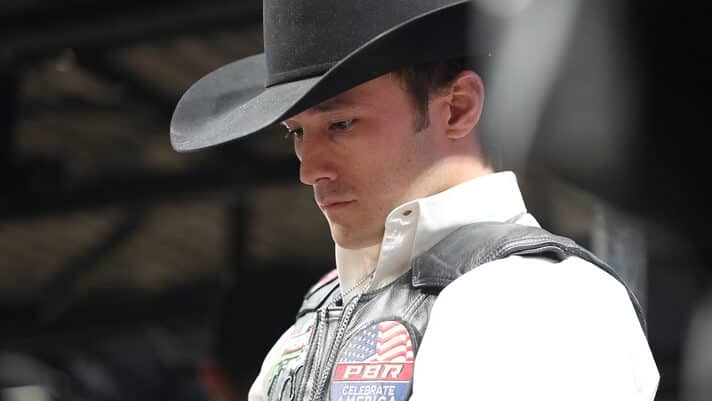 PUEBLO, Colo. – Inside the bucking chutes last year, Taylor Toves could lower his black cowboy hat almost completely over his eyes and still not hide the bulging veins in his neck.
Toves was seeing some of his closest traveling mates, Keyshawn Whitehorse and Tye Chandler, getting called up to the PBR's premier series while he was continuing to waffle on the Velocity Tour.
No matter how hard he tried, Toves could just not put together a perfect weekend.
One buckoff became another, and then another buckoff would lead to another.
With each failed attempt came more frustration, a harder grip on his bull rope and those veins on his neck.
Tightness overcame his 5-foot-8 frame instead of the loose riding style that he began to develop since attempting his first steer in seventh grade.
"It lights a fire in you when you see anybody in your group go up to that next level," Toves said. "It is a really good thing if you take it the right way and if you can put it in yourself that way and make it drive you and do better. Not put so much pressure on myself like I did to where it messed me up. It is always good to see your friends be up there because you know you ride just as good as they do.
"It fuels a fire to do better and be up there with them."
Whitehorse, who Toves was extremely happy for, went on to win the 2018 Rookie of the Year title and qualify for the 2019 World Finals.
Meanwhile, Toves floundered at non-UTB events and went 13-for-81 to conclude 2018 ranked 82nd in the world standings.
Toves was unable to channel his fire last season and his performance was a far cry from the goals he set for himself after competing at the 2017 PBR World Finals as the Velocity Tour wild card qualifier.
2018 was supposed to be a breakout year for Toves, who was born in Louisiana before his parents moved to Stephenville, Texas, when he was 10 years old.

Toves went through one stretch of 13 consecutive buckoffs in August/September as he tried to qualify for the World Finals through the Velocity Tour for a second consecutive year.
He also began the 2018 campaign with eight consecutive buckoffs.
"I rode a bunch of bulls right to the whistle last year at the Velocity and it took a toll on myself," Toves said. "That and the pressure I put on myself to get up here with my friends was making bull riding a lot harder than it should be. When I wasn't up there with them, I put more pressure on myself to get there and it ended up messing me up even worse."
2019 is now going the way he wished 2018 went.
Toves heads into this weekend's Caterpillar Classic in Kansas City, Missouri, ranked 21st in the world standings.
The second-generation bull rider – Toves' father, Nick, rode bulls in Louisiana and later team roped – has drawn Concealed Carry (4-2, UTB) for Round 1 on Saturday night at the Sprint Center.
He is also sixth in the Rookie of the Year race as he looks to etch his name in the PBR record books with his pal Whitehorse.
"It's been long," Toves said about finally being on the premier series. "A lot longer than I was hoping it would take. I have been riding good, and hopefully I am here to stay."
Toves won the first Unleash The Beast round of his career two weeks ago when he covered Millennium's Buck for a career-best 88 points in Duluth, Georgia.
The round win helped Toves pick up 110 points and moved him further into the Top 30 of the world standings. He'd earned an automatic bid to the UTB by winning the Pendleton Whisky Velocity Tour's Jacksonville Invitational on Feb. 16.
"That was huge," Toves said. "That is what I was trying to do last year and I was trying too hard. I had been riding consistent all year and I finally got that win. That is everything. When you get to win one of those deals and know you get to come up here, it does everything for you."
RideTV analyst and five-time PBR World Finals qualifier Colby Yates has been waiting for Toves to finally break through on the premier series.
"I really like Taylor Toves," Yates said. "He is the total package as far as his style goes. He has to figure out how to stay consistent. I think he puts mental challenges on himself. Once he figures it out, that guy can be something special because he does ride really good."
Toves is 3-for-8 (37.5 percent) in three Unleash The Beast events and has finished higher each week.
He does not plan to need a Velocity Tour wild card spot to qualify for the 2019 World Finals.
In 2017, Toves got to the World Finals in his first year back from a broken right leg that cost him nine months of the 2016 season.
He had to get a steel rod and three screws inserted into his leg, as well as two screws placed in his ankle.
He is still proud of his bounce back performance that year, but 2017 ended sour as the Louisiana native bucked off all five of his bulls at the World Finals.
"Hell, it was just a dream come true because at one point I wasn't even able to ride," Toves said.
Toves believes this year will be different, though.
He will be ready for the bright lights of the Unleash The Beast and not let his nerves do him in.
"I know not to put that extra pressure on myself now that I have been here a couple of times," Toves said. "Take it like another bull riding and stay on all the time."
Follow Justin Felisko on Twitter @jfelisko
© 2019 PBR Inc. All rights reserved.