Trevor Brazile Captures Eighth Career Steer Roping Gold Buckle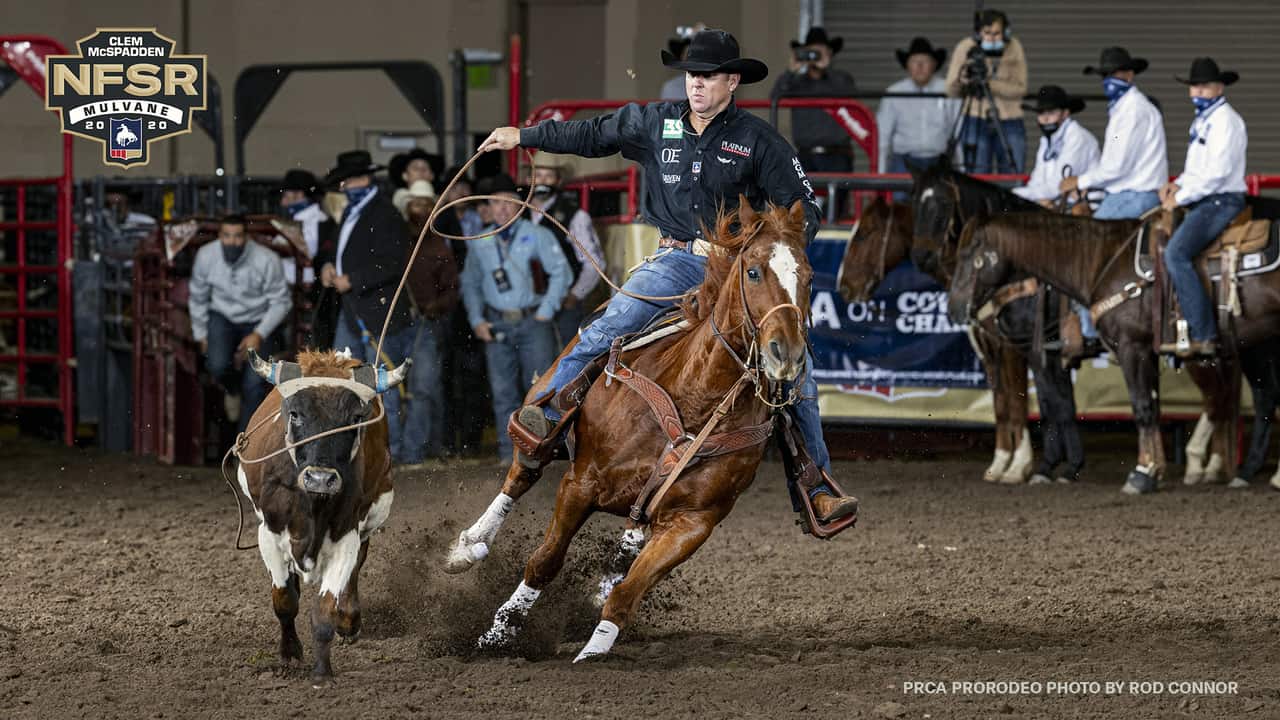 MULVANE, Kan. – The $7-million cowboy Trevor Brazile became an eight-time steer roping world champion in dramatic fashion Saturday night.
Brazile needed to rope a steer in Round 10 to win the world title and the average – and that's exactly what he did like he's done so many times before in his legendary career.
The Decatur, Texas, cowboy clocked a 12.4-second time in Round 10 to win his record 26th career gold buckle at the 2020 Clem McSpadden National Finals Steer Roping at the Kansas Star Arena.
Brazile finished with $117,459 in the PRCA | RAM World Standings to edge runner-up Scott Snedecor's $110,779. Brazile earned $69,072 at the NFSR.
"If you don't go do your job and you don't execute, somebody else is the world champ," said Brazile, 43. "Once they told me what I was doing, that was it. I just went and made my run. This is awesome. I want everybody to know that my thanks goes to my Lord and Savior Jesus Christ. He blessed me so much. I'm just thankful for the opportunity and the blessings that have come my way, and we were able to capitalize on this."
Brazile placed in six rounds at the NFSR and won the average with a time of 124.5 seconds on 10 head to capture his eighth steer roping gold buckle to go with the ones he won in 2006-07, 2011, 2013-15 and 2019.
Brazile's eight steer roping gold buckles are second on the all-time list behind only ProRodeo Hall of Famer Guy Allen's 18.
When Brazile, the last cowboy to compete, roped his steer in 12.4 seconds in Round 10, it gave him the average win because he was the only competitor to tie down 10, and that in turn clinched his world championship.
That became a reality when Scott Snedecor, a four-time world champ (2005, 2008 and 2017-18) registered a no time in the final round.
Snedecor roped right before Brazile, and when Snedecor came up empty it changed Brazile's game plan.
Entering Round 10, Brazile was holding a slim $1,965 lead in the world standings over Snedecor. Brazile also was sitting second in the average, 1.2 seconds behind Snedecor.
"Scott had a steer they had been 9 seconds on, and I had a steer they had been three-tenths longer on in 10, so I was prepared for almost every scenario but that," Brazile said. "He's roped his butt off all weekend, and my hat's off to him. He pushed me as hard as anybody has ever pushed. It is one of those things where I can never let off because he doesn't. He's a great competitor. I was mentally preparing myself to have to be eight seconds. It was a huge difference in the shuffle of the cards right there."
Snedecor was second in the average with a 110.9-second time on nine.
The average played the final factor in deciding the world champion because it paid six places – $27,347 for the winner, $22,632 for second, $17,917 for third, $13,202 for fourth, $8,487 for fifth and $4,715 for sixth. The round win paid $9,155.
Snedecor was trying to digest how things unfolded in Round 10.
"I think the steer was a little slow leaving out of there and I might have slowed up too much," Snedecor said. "The horse kind of quit me a little early maybe and the steer just rolled over and got up. I felt like I rode good and scored good and got out and had it on him to tie him fast, but it just wasn't my turn.
"I did my part I felt like for 10 steers. I scored and rode good, and it all felt good. I just got out-roped a little bit. Trevor earned it. He roped better than I did for 10 steers. We go lots of miles and it comes down to one steer at the end of the deal. It's all good fun. I still got out of there with good money and I was glad to see him win another championship."
Brazile, who was riding Salty, 19, a horse loaned to him by fellow steer roper John Bland, has won the NFSR average five times – 2012, 2014-15, 2019-20. He entered his 23rd NFSR $12,865 away from reaching the $7 million mark in career earnings – no one else has broken $3.6 million in ProRodeo.
By Round 4 Friday, Brazile reached and passed the milestone by earning $7,577 after placing second with a 9.3-second run. Brazile won Round 3 with a 9.9-second run extending his PRCA record to 74 career total round wins at the Wrangler National Finals Rodeo – in tie-down roping and team roping – and steer roping.
Brazile has won 36 rounds at the NFSR, second only to Allen's 48.
Brazile's 26 gold buckles are a PRCA-record 14 in all-around (2002-04, 2006-15, 2018), three in tie-down roping (2007, 2009-10) and one in team roping (2010) to go with the NFSR buckles.
Before the start of the 2018 Wrangler National Finals Rodeo, Brazile announced that season was going to be the final one for him rodeoing full time so he could spend more time with his family – wife, Shada; son, Treston; and daughters, Style and Swayzi.
"I told them I wasn't going to steer rope much next year," Brazile said. "I only went to 20 this year, but I'm not even going to do that next year. I probably will not even go to enough to make the (NFSR), so this is a good way to leave here for me."
Outside of Brazile, Jesse Tierney had a memorable Saturday, splitting the Round 6 win and claiming the Round 7, 8 and 9 titles outright a day after he didn't earn any money in the first five rounds.
"This felt outstanding," Tierney said. "(Friday night) was a real humbling night. I drew some good cattle (Saturday night) and just focused on what I know how to do, and it felt really good to have that kind of success. Winning one round is an honor, winning four is something I never dreamed of."
---
RESULTS
Round 1: 1. J. Tom Fisher, 10.3, $9,155; 2. Vin Fisher Jr., 12.3, 47,577; 3. Chet Herren, 13.3, $5,998; 4. Thomas Smith, 13.5, $4,420; 5. Trevor Brazile, 13.7, $2,841; 6. Cole Patterson, 15.4, $1,579
Round 2: 1. (tie) Fisher Jr., 10.3, $8,366; Rocky Patterson, 10.3, $8,366; 3. Scott Snedecor, 10.5, $5,998; 4. Garrett Hale, 11.2, $4,420; 5. J. Tom Fisher, $2, 841; 6. Cole Patterson, $1,579
Round 3: 1. Trevor Brazile, 9.9, $9,155; 2. Scott Snedecor, 10.5, $7,577; 3. Tuf Cooper, 11.7, $5,998; 4. Chet Herren, 12.6, $4,420; 5. Billy Good, 14.2, $2,841; 6. Garrett Hale, 15.1, $1,579
Round 4: 1. Scott Snedecor, *9.0, $9,155; 2. Trevor Brazile, 9.3, $7,577; 3. J. Tom Fisher, 10.5, $5,988; 4. Tuf Cooper, 11.1, $4,420; 5. Vin Fisher, 11.8, $2,841; 6. Cole Patterson, 12.0, $1,579
*Round 4 record
Round 5: 1. Cole Patterson, 9.4, $9,155; 2. Trevor Brazile, 9.7, $7,577; 3. (tie) Scott Snedecor, 9.8, $5,209; Billy Good, 9.8, $5,209; Rocky Patterson, 9.9, $2,841; Cody Lee, 10.2, $1,579
Round 6: 1. (tie) Jess Tierney 10.4, $8,366; Landon McClaugherty, 10.4, $8,366; 3. Thomas Smith,10.5, $5,998; 4. Vin Fisher Jr., 11.2, $4,420; 5. Rocky Patterson, 11.5, $2,841; 6. Scott Snedecor 11.6, $1,578
Round 7: Jess Tierney, 9.9, $9,155; 2. Trevor Brazile, 10.1, $7,577; 3. Cody Lee, 10.4, $5,998; 4. Garrett Hale, 10.9, $4,430; 5. Scott Snedecor, 13.1, $2,841; Vin Fisher Jr., 13.3, $1,579
Round 8: 1. Jesse Tierney, 10.1, $9,155; 2. Chet Herren, 11.0, $7,577; 3. Trevor Brazile, 11.9, $5,998; 4. Rocky Patterson, 12.4, $4,420; 5. Garrett Hale 12.5, $2,841; Vin Fisher, 12.8; Scott Snedecor, 12.6, $1,579
Round 9: 1. Jess Tierney, 9.8, $9,155; 2. Vin Fisher Jr. 9.9, $7,577; 3. Tuf Cooper, 11.3, $5,998; 4. Billy Good, 11.6, $4,420; 5. Cody Lee, 12.0, $2,841; 6. Landon McClaugherty, 12.3, $1,579
Round 10: 1. Vin Fisher, Jr., *8.2, $9,155; 2. Garrett Hale, 8.5, $7,577; 3. Billy Good, 8.7, $5,998; 4. Jess Tierney, $4,420; 5. Thomas Smith, 9.7, $2,841; 6. Roger Branch, 10.1, $1,579
*Round 10 record
Average: 1. Trevor Brazile, 124.5/10, $27,347; 2. Scott Snedecor, 110.9/9, $22,632; 3. Cole Patterson, 143.4/9, $17,917; 4. Vin Fisher Jr., 89.8/8, $13,202; 5. Tuf Cooper, 125.2/8, $8,487; 6. Garrett Hale, 84.8/7, $4,715
2020 PRCA | RAM World Standings (unofficial): 1. Trevor Brazile, $117,459; 2. Scott Snedecor, $110,779; 3. Vin Fisher Jr., $105,514; 4. Cole Patterson, $87,405; 5. Jesse Tierney, $70,103; 6. Tuf Cooper, $61,559; 7. Landon McClaugherty, $57,408; 8. Garrett Hale, $57,182; 9. Billy Good, $55,750; 10. J. Tom Fisher, $53,178; 11. Chet Herren, $46,942; 12. Thomas Smith, $46,570; 13. Rocky Patterson $46,406; 14. Cody Lee, $39,491; 15. Roger Branch, $28,149
Courtesy of PRCA