Two-Time PBR Canada Champion Coverchuk Leads Touring Pro Division Event in Yorkton, Saskatchewan
By: Kacie Albert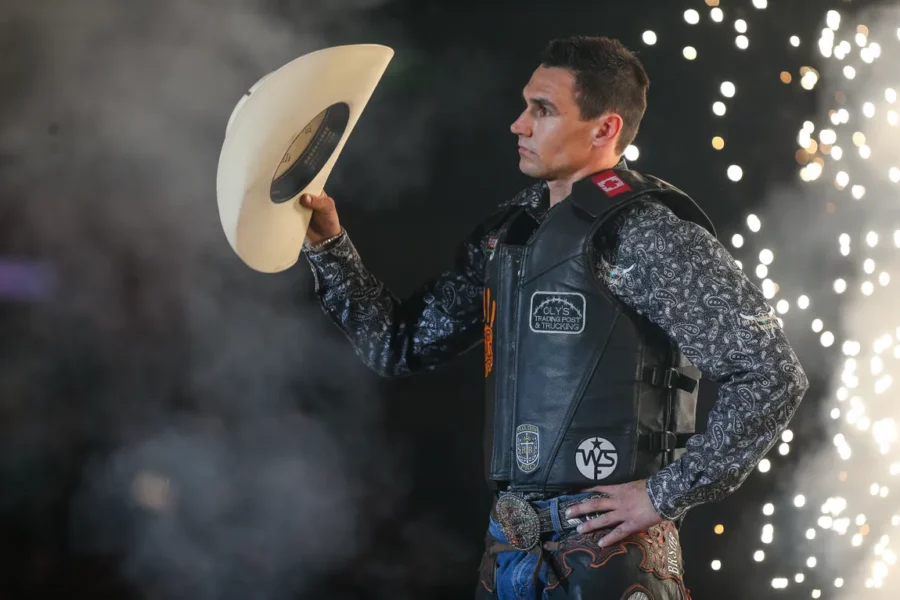 YORKTON, Sask. – As the lone rider to go a perfect 2-for-2 Friday evening in Yorkton, Saskatchewan, two-time and reigning PBR (Professional Bull Riders) Canada Champion Cody Coverchuk surged to an early lead at the Touring Pro Division's Mazergroup PBR, marking the final regular-season event of 2022.
In Round 1, Coverchuk was unrivaled, topping the field when he conquered Pure Feeling (Vold Rodeo) for 84.5 points.
The reserved Saskatchewan man then went head-to-head with Stutter Step (Vold Rodeo) in Round 2. Continuing his momentum, Coverchuk reached the requisite 8 for 84 points to remain atop the leaderboard.
Keaton Martz (Forestburg, Alberta) is currently second.
After bucking off Back Cracker (Vold Rodeo) in 5.53 seconds in Round 1, Martz returned with a vengeance in Round 2. He covered Brady's Mr. Clean (Shay Marks) for a round-winning 84.5 points to catapult up the standings.
Third following the opening night of action is William Barrows (Foremost, Alberta).
Barrows was electric in Round 1, besting Quiet Riot (Lazy S Bucking Bulls) for 84 points. The Alberta man, however, proved no match for Patches O'Houlihan (Flying Four Bucking Bulls), upended in a quick 2.69 seconds.
Tyler Craig (Crossfield, Alberta) is presently fourth courtesy of his 82.5-point ride atop Liquor Shakes (Vold Rodeo) in Round 1.
As the only other rider to deliver a qualified ride, Reed Duncan (Mortlach, Saskatchewan) rounds out the current Top 5 in fifth.
Duncan earned his score in Round 1, logging 82 points on Cliff (Vold Rodeo).
The Mazergroup PBR continues Saturday, November 5 in Yorkton, Saskatchewan. Action at Gallagher Centre gets underway at 7:00 p.m. CST.
Stay tuned in to PBRCanada.com and follow the tour on Facebook (PBR Canada), Twitter (@PBRCanada), and Instagram (@PBRCanada) for the latest results, news, stats and more.
PBR Canada Touring Pro Division
Mazergroup PBR
Gallagher Centre – Yorkton, Saskatchewan
(Round 1-Round 2-Event Aggregate)
1. Cody Coverchuk, 84.5-84-168.5
2. Keaton Martz, 0-84.5-84.5
3. William Burrows, 84-0-84-
4. Tyler Craig, 82.5-0-82.5
5. Reed Duncan, 82-0-82
Aaron Roy, 0-0-0.00
Chad Hartman, 0-0-0.00
Weston Davidson, 0-0-0.00
Tim Lipsett, 0-0-0.00
Stefan Tonita, 0-0-0.00
Jake Maher, 0-0-0.00
Karson Turel, 0-0-0.00
Tyson Salmon, 0-0-0.00
Cody Fraser, 0-0-0.00
Bodee Kalssen, 0-0-0.00
Orrin Marshall, 0-0-0.00
Cody Braithwaite, 0-0-0.00
Trinity Bear, 0-0-0.00
Jud Colliness, 0-0-0.00
Tyler Mitchell, 0-0-0.00
Photo courtesy of Covy Moore/CovyMoore.com
© 2022 PBR Inc. All rights reserved.