Two-Time World Champion Leme Wins Premier Series Event in Tulsa and Surges to World No. 4 Rank
By: Kacie Albert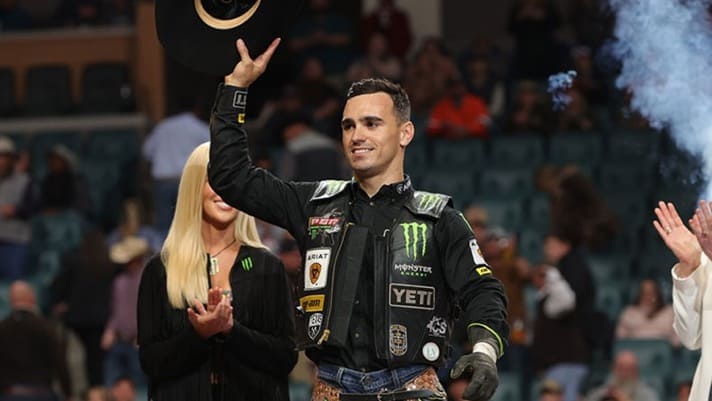 TULSA, Okla. – After making history in Tulsa, Oklahoma, in 2021, shattering the PBR's (Professional Bull Riders) high-marked ride record, Jose Vitor Leme (Ribas do Rio Pardo, Brazil) delivered yet another monster effort inside the BOK Center this weekend to inch closer to further etching his name in the organization's record books. Leme was the only rider to go a perfect 3-for-3 on the weekend, culminating his efforts with a mammoth, walk-off 90-point ride to win the elite Unleash The Beast's PBR Express Ranches Classic, presented by Hard Rock Hotel & Casino, and surge into the world's Top 5 as he seeks his unprecedented third consecutive gold buckle at season's end.
Leme made his triumphant return to competition in Tulsa after a jaw injury sustained in Sioux Falls, South Dakota, had sidelined him for two premier series events.
Quick to strike, Leme delivered the second-best score of Round 1 when he outlasted God Bless America (Hoefer/Berryman/Ogden/Hart) en route to an 89.75-point score.
The former semi-professional soccer player then conquered Casper (Crescent City Bucking Bulls/Lari Crane/Gene Owen) for 88.5 points in Round 2, advancing to the championship round second on the leaderboard.
Leme, however, earned the first pick in the championship round when then-event leader Austin Richardson (Dallas, Texas) was unable to attempt his final draw after sustaining a broken collarbone when successfully riding Mike's Effect (Blake Sharp/Michael Floyd/High Voltage Cattle) in the second round.
For the second time this season, Leme did not elect to go head-to-head with reigning YETI PBR World Champion Bull Woopaa (Barker Bulls/Hookin' We Ranch), the very bull he twice obliterated the PBR's all-time high-marked ride record aboard.
Instead, he chose I'm Legit Too (Hart Cattle Co./Hale). In near-picture-perfect form, Leme matched the swift animal athlete jump-for-jump, reaching the requisite 8 for a monstrous, event-winning 94 points.

For his efforts, Leme earned a check for $46,348.14 and a crucial 143.5 world points. While he traveled to Tulsa tied for the world No. 6 rank, Leme's second event win of the season propelled him solidly within the Top 5. Now ranked No. 4, Leme is within a mere 229.5 points of world No. 1 Joao Ricardo Vieira (Itatinga, Brazil).
Historically, seven of the past 13 PBR World Champions have won the Tulsa event en route to capturing the coveted gold buckle. Those riders are Jess Lockwood (2019 and 2017); Cooper Davis (2016); J.B. Mauney (2015, 2013); Renato Nunes (2010); and Kody Lostroh (2009).
Should Leme once again be crowned the PBR World Champion in 2022, the stoic Brazilian would become the first rider in history to claim the honor in three consecutive seasons and just the third three-time PBR World Champion.
Just two regular-season events remain before the 2022 PBR World Finals. Following upcoming elite tour events in Nampa, Idaho, and Billings, Montana, the PBR World Finals will debut at Dickies Arena in Fort Worth, Texas, May 13-22.
Atop the 2022 PBR World Championship race, No. 1 Vieira extended his lead over No. 2 Daylon Swearingen (Piffard, New York), compliments of a fifth-place finish that earned him 41 world points.
While Vieira converted in Round 1, riding Mr. Personality (Southern Cross Bucking Bulls) for 87.75 points, his Championship Saturday began in less-than-ideal fashion, bested by Satan's Seed (Lucas Manning Bucking Bulls) in 3.06 seconds.
However, the veteran rider's opening-round effort was enough to earn him a berth to the championship round, where he elected to face off against unridden ABBI (American Bucking Bull Inc.) Classic standout Cool Whip (Julian/Staci Addison/D&H/Crooked W).
Cracking the animal athlete's code, Vieira became the first rider in 11 attempts to reach the requisite 8, scoring 82.5 points.
Despite being offered a re-ride, Vieira elected to keep the score, securing his sixth Top-5 finish of the season.
Vieira retained his world No. 1 rank for a sixth consecutive week, expanding his lead over No. 2 Swearingen from 48.34 points to 89.34 points.
Swearingen was shut out in Oklahoma, bucked off by Skittles (Fire S Cattle/JWC Buckers) in a hard-fought 7.09 seconds in Round 1 and After Midnight (5S Bucking Bulls/Tex Brothers Ranch) in a quick 3.01 seconds in Round 2.
Chasing history in 2022, should Vieira earn his first gold buckle at season's end, he would become the oldest PBR World Champion in history. Currently 37, Vieira would surpass Adriano Moraes (Cachoeira Paulista, Brazil), who won his third title in 2006 at age 36.
Delivering two clutch 90-point rides on Championship Saturday, Rafael Henrique dos Santos (Sebastianopolis, Brazil) was second, netting $21,545 and 97 world points.
In Round 1 on Friday, Santos was upset by Sky's The Limit (Halpain Bucking Bulls), sent to the ground in a swift 1.48 seconds.
Fast to rebound, the 26-year-old returned in Round 2, delivering the top score when he rode Diddy Wa Diddy (Cord McCoy/Bill McCarty) for 91.5 points.
Santos then readied to dance with Oklahoma's own Bread Basket (TNT Bucking Bulls/Hart Cattle Co.) in the final round, a matchup that would yield the surging Brazilian his second 90-point ride of the evening. Reaching the whistle, Santos earned a 91.25-point score to clinch the silver finish.
In the hunt for his second PBR World Finals qualification, Santos climbed nine positions in the standings, rising from No. 27 to No. 18.
Third was Richardson, who was sensational in Round 1 Friday evening. Avenging a buckoff dealt to him earlier this season in Oklahoma City, Richardson rode Woopaa for a career-best 94.5 points.

As action for the PBR Express Ranches Classic, presented by Hard Rock Hotel & Casino, continued, Richardson remained in firm control of the event lead when he covered Mike's Effect for 87.5 points in Round 2.
However, Richardson sustained a broken collarbone during his dismount, relegating him to a sling and forcing him out of competition for the championship round.
Richardson's two qualified rides garnered him $13,162.14 and 78.5 world points. He is now ranked No. 7 in the standings, 294.5 points behind No. 1 Vieira.
In fourth place was Cody Teel (College Station, Texas), taking home $10,160.14 and 57 world points.
Teel snapped his 15-out buckoff streak in Round 1, besting Kong (Coleman/Odgen/Hart) for 88.25 points.
However, the reserved Texan was then humbled in Round 2 when he was bucked off by Detroit Lean (Blake Sharp/Henry Wilson) in 4.63 seconds.
Teel then architected a matchup with then-world No. 3 bovine Moonlight Party (Jane Clark/Gene Owen) as his final opponent. Reclaiming his championship-contending form, Teel reached the whistle for a cheer-inducing 91.5 points.
The 2-for-3 showing propelled Teel from No. 25 to No. 22 in the standings.
In the bull pen, Woopaa was unrivaled, earning his PBR-best fifth YETI "Built for the Wild" Bull of the Event honor. The powerful red bovine posted the top score in Round 1, marked 46.25 points when he was covered by Richardson. Woopaa also registered what tied for the second-best score of the tour stop, scored 46 points in the championship round when he bucked off Dalton Kasel (Muleshoe, Texas) in 7.2 seconds.

Woopaa's two head-turning outs allowed him to reclaim the No. 1 rank in the YETI World Champion Bull race after making the journey to Tulsa ranked No. 2. Now holding a 46.25-point world average, Woopaa leads No. 2 Ridin Solo (Cord McCoy/Bill McCarty) by 0.04 points.
Ridin Solo was also out in Tulsa. However, he could not retain his rank after earning 45 points for his 5.52-second buckoff of Rookie of the Year leader Bob Mitchell (Steelville, Missouri) in the final round.
Fans who were unable to attend the event can tune into the action from Championship Saturday when CBS Sports Network telecasts Round 2 and the championship round of the PBR Express Ranches Classic, presented by Hard Rock Hotel & Casino, from Tulsa on Sunday, April 17 at 8 p.m. EDT.
PBR RidePass on Pluto TV will offer re-airs and on-demand replays of every PBR Unleash The Beast event. PBR RidePass is available on desktops, laptops and mobile devices via www.pluto.tv. Tune to channel 720 for the latest programming schedule, and click here for on-demand PBR programming.
The PBR Unleash The Beast will next travel to the Ford Idaho Center in Nampa, Idaho, for the PBR ZipRecruiter Invitational, presented by Cooper Tires. The event will be on Friday, April 22 at 7:45 p.m. MDT, and Saturday, April 23 at 6:45 p.m. MDT.
Elsewhere in the PBR, the race for the 2022 PBR Australia Championship continued as the Monster Energy Tour returned to Rockhampton, Queensland, for the third time this season.
Sweeping both rounds of competition, Aaron Kleier (Clermont, Queensland, Australia) earned his second consecutive event win, victorious at the PBR Rockhampton Invitational.
Fresh off his event win last weekend in Toowoomba, Queensland, Kleier first struck in Round 1, surging to an early event lead when he rode Get A Haircut (Diamond J Rodeo Co.) for 86 points.
The stoic Queensland native then readied to face a familiar opponent in Round 2 – Rambo (Dittmann Bucking Bulls). The duo of athletes first went head-to-head in Julia Creek, Queensland, in 2019, with Rambo besting Kleier in 2.05 seconds.
Reversing his fortunes, Kleier conquered the powerful animal athlete, reaching the requisite 8 for a Round 2-best and event-winning 86.5-point score.
For his efforts, Kleier earned 80 national points. Climbing from No. 5 to No. 4 in the Australian rankings, he also inched within 24.5 points of No. 1 Cody Heffernan (Singleton, New South Wales), who did not compete in Rockhampton due to injury.
In 2022, Kleier is chasing history.
He is currently tied with David Kennedy (Kyogle, New South Wales) for most Australian national titles won by one rider in league history in 2021, each now with four. Should Kleier win his unprecedented fifth consecutive national title at season's end, he would become the winningest bull rider in PBR Australia competition.
The 2022 PBR Australia season will continue Saturday, April 23, with the second iteration of the 2022 PBR Origin Tournament in Tamworth, New South Wales. Action inside AELEC Arena will get underway at 7 p.m. AEDT.
Stay tuned to PBR.com for the latest news and results, and follow the league on all social media platforms at @PBR.
PBR Unleash The Beast
PBR Express Ranches Classic, presented by Hard Rock Hotel & Casino
BOK Center – Tulsa, Oklahoma
Event Leaders (Round 1-Round 2-Round 3-Event Aggregate-Event Points)
1. Jose Vitor Leme, 89.75-88.5-94-272.25-143.5 Points.
2. Rafael Henrique dos Santos, 0-91.5-91.25-182.75-97 Points.
3. Austin Richardson, 94.5-87.5-0-182.00-78.5 Points.
4. Cody Teel, 88.25-0-91.5-179.75-57 Points.
5. João Ricardo Vieira, 87.75-0-82.5-170.25-41 Points.
6. Dalton Kasel, 0-89.5-0-89.50-30 Points.
7. Luciano De Castro, 0-88.5-0-88.50-22.5 Points.
8. Eduardo Aparecido, 0-87.75-0-87.75-20 Points.
9. Kaique Pacheco, 0-87.5-0-87.50-17.5 Points.
10. Bob Mitchell, 86.5-0-0-86.50-16.5 Points.
(tie). Keyshawn Whitehorse, 0-86.5-0-86.50-13.5 Points.
12. Brady Fielder, 86.25-0-0-86.25-14 Points.
13. Dener Barbosa, 85.75-0-0-85.75-13 Points.
14. Chase Dougherty, 0-84.25-0-84.25-11 Points.
Daylon Swearingen, 0-0-0-0.00
Mauricio Gulla Moreira, 0-0-0-0.00
Derek Kolbaba, 0-0-0-0.00
Mason Taylor, 0-0-0-0.00
Eli Vastbinder, 0-0-0-0.00
Manoelito de Souza Junior, 0-0-0-0.00
Marcelo Procopio Pereira, 0-0-0-0.00
Matt Triplett, 0-0-0-0.00
Clayton Sellars, 0-0-0-0.00
Lucas Divino, 0-0-0-0.00
João Henrique Lucas, 0-0-0-0.00
Claudio Montanha Jr., 0-0-0-0.00
Brady Oleson, 0-0-0-0.00
Ramon de Lima, 0-0-0-0.00
Andrew Alvidrez, 0-0-0-0.00
Ezekiel Mitchell, 0-0-0-0.00
Adriano Salgado, 0-0-0-0.00
Brandon Davis, 0-0-0-0.00
Conner Halverson, 0-0-0-0.00
Dakota Louis, 0-0-0-0.00
Alex Cardozo, 0-0-0-0.00
Casey Coulter, 0-0-0-0.00
Brennon Eldred, 0-0-0-0.00
Sam Woodall, 0-0-0-0.00
Wyatt Rogers, 0-0-0-0.00
Venn Johns, 0-0-0-0.00
PBR Australia Monster Energy Tour
PBR Rockhampton Invitational
Great Western Hotel – Rockhampton, Queensland
Event Leaders (Round 1-Round 2-Event Aggregate-National Points)
1. Aaron Kleier, 86-86.5-172.50-80 Points.
2. Lachlan Richardson, 85-83-168.00-58 Points.
3. Brumby Brandenburg, 82.5-80.5-163.00-42 Points.
4. Caiden Sandilands, 0-84.5-84.50-32 Points.
5. Michael Smith, 0-83.5-83.50-19 Points.
6. Ben Moran, 0-82-82.00-9 Points.
7. Kelsey Pavlou, 81.5-0-81.50-10 Points.
8. Qynn Andersen, 0-79.5-79.50-5 Points.
9. Brody Woodard, 78.5-0-78.50-6 Points.
10. Jackson Gray, 76-0-76.00-4 Points.
Beau Willis, 0-0-0.00
Taran Chirgwin, 0-0-0.00
Cody Fraser, 0-0-0.00
Wyatt Milgate, 0-0-0.00
Blayne Johnson, 0-0-0.00
Ben Reiter, 0-0-0.00
Hayden Davis, 0-0-0.00
2022 PBR World Standings
(Place, Rider, Events, Wins, Top 5's, Points, Total Winnings)
1. João Ricardo Vieira, 25, 5, 8, 844.00, $240,996.00
2. Daylon Swearingen, 27, 5, 9, 754.66, $270,294.96
3. Kaique Pacheco, 18, 2, 8, 660.00, $174,836.00
4. Jose Vitor Leme, 17, 3, 6, 614.50, $159,737.39
5. Kyler Oliver, 22, 3, 6, 610.50, $141,270.95
6. Mauricio Gulla Moreira, 25, 2, 6, 592.50, $141,118.21
7. Austin Richardson, 18, 2, 5, 549.50, $127,645.48
8. Dalton Kasel, 24, 3, 6, 496.50, $125,402.67
9. Luciano De Castro, 22, 2, 6, 485.00, $78,316.47
10. Chase Dougherty, 23, 0, 4, 413.00, $107,846.33
11. Dener Barbosa, 24, 0, 5, 404.00, $79,437.55
12. Derek Kolbaba, 18, 0, 3, 390.50, $66,422.41
13. Eduardo Aparecido, 19, 1, 6, 386.00, $72,600.08
13. Stetson Lawrence, 15, 1, 4, 386.00, $89,743.00
15. Mason Taylor, 24, 1, 3, 383.50, $120,887.17
16. Eli Vastbinder, 22, 0, 4, 360.00, $40,945.58
17. Manoelito de Souza Junior, 20, 1, 4, 277.50, $46,348.97
18. Rafael Henrique dos Santos, 12, 0, 2, 262.00, $44,767.67
19. Bob Mitchell, 20, 0, 5, 245.50, $34,375.93
20. Brady Fielder, 16, 2, 7, 238.50, $48,965.30
21. Keyshawn Whitehorse, 22, 2, 3, 235.16, $39,344.83
22. Cody Teel, 19, 0, 2, 227.00, $37,809.80
23. Marco Eguchi, 16, 0, 1, 194.00, $36,682.00
24. Marcelo Procopio Pereira, 22, 1, 1, 189.00, $46,920.17
25. Matt Triplett, 15, 1, 5, 181.00, $30,061.48
26. Clayton Sellars, 21, 0, 4, 173.25, $26,949.72
27. Lucas Divino, 18, 0, 5, 169.50, $44,238.46
28. João Henrique Lucas, 21, 1, 3, 165.00, $19,006.50
29. Claudio Montanha Jr., 18, 0, 1, 161.16, $14,224.50
30. Brady Oleson, 14, 1, 2, 150.50, $22,845.38
31. Ramon de Lima, 18, 1, 3, 139.00, $16,385.81
32. Andrew Alvidrez, 18, 0, 1, 134.00, $18,205.00
33. Ezekiel Mitchell, 16, 0, 1, 130.50, $15,438.31
34. Adriano Salgado, 18, 1, 3, 130.00, $17,661.39
35. Silvano Alves, 18, 0, 0, 125.50, $21,040.83
36. Brandon Davis, 14, 1, 3, 122.00, $21,738.10
37. Alex Marcilio, 12, 0, 3, 119.50, $22,226.01
38. Conner Halverson, 21, 0, 4, 116.00, $14,602.51
39. Cole Melancon, 6, 0, 1, 114.16, $18,462.00
40. Dakota Louis, 20, 1, 2, 113.25, $19,081.59
41. Alex Cardozo, 17, 0, 1, 112.00, $20,698.71
41. Casey Coulter, 17, 1, 4, 112.00, $17,014.51
43. Cannon Cravens, 7, 0, 0, 109.00, $17,346.00
44. Chase Outlaw, 5, 0, 2, 108.50, $15,811.00
45. Brennon Eldred, 9, 0, 1, 103.00, $11,016.67
© 2022 PBR Inc. All rights reserved.