Ty Harris Finding Momentum with Guymon Pioneer Days Rodeo Title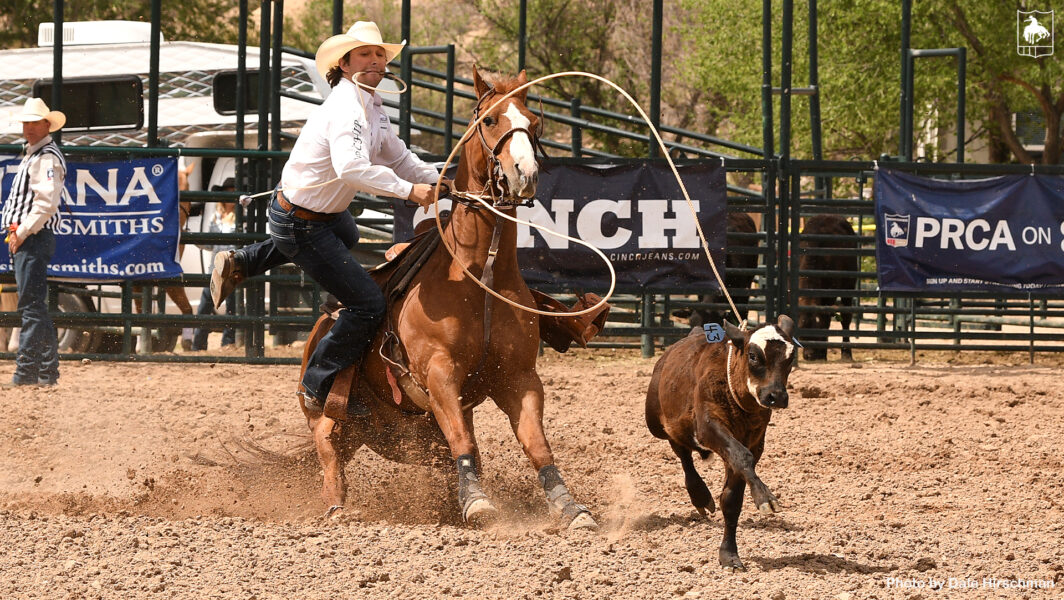 Just one week ago, San Angelo tie-down roper Ty Harris gave his season a shot in the arm with a reserve finish at the Clovis (Calif.) Rodeo behind PRCA World Champion Shane Hanchey.
Seven days later, the ropers switched positions after moving east to the Oklahoma Panhandle with Harris taking home his first win at the Guymon (Okla.) Pioneer Days on May 7 with 26.0 seconds on three head, besting Hanchey by just a smidge over a second.
"I like average ropings," Harris, 24, said after his seventh competitive run in two rodeos. "You can just go make good runs and have a shot. Everybody is so fast anymore that the one-headers are really tough. You have to draw right to get the advantage. You have to draw just enough good ones to get a check."
Along with valuable Playoff Series points, Harris collected $7,801 after posting runs of 8.8, 7.9 and 9.3 seconds at the Henry C. Hitch Pioneer Arena.
"The first one, I ran down there and was 8.8," Harris recalled. "The second one, I drew a great calf and was 7.9."
Harris collected his only round check in that second round after landing fourth.
"On the third one, I was 9.3 and I knew I just needed to knock him down to get good points and a check.
"It ended up working out."
Coupled with his winnings in Clovis, Harris has now banked just over $17,000 in his last two rodeos, more than doubling his previous season earnings in the PRCA | RAM World Standings. His season has been augmented with having his little brother, Joel, on the ProRodeo road also, currently sitting second in the Resistol Rookie race.
"It's been so fun. He stepped away from roping for a while, but it's been a game changer having him back," Harris said. "It's a new light, seeing him out here pro rodeoing. It's awesome."
With the big Guymon win, Harris should vault inside the Top 15 as he seeks out his fifth straight Wrangler National Finals Rodeo berth. Harris has won three-quarters of a million dollars since capturing the PRCA's Resistol Rookie of the Year award in 2018.
After a solid winter, Harris is optimistic about the remainder of the 2023 ProRodeo season.
"The summer and outdoor rodeos is usually where I've had more success," Harris said. "I like running a calf every day, the traveling, when you can get in the groove. The weather's great and you get to see different sights."
Now in his sixth year of rodeoing, Harris is working to take advantage of every opportunity and enjoy the process.
"I try to be as prepared as I can and take advantage at every rodeo," he said. "This is my sixth year, so I want to go have fun. I've set myself up to have most of May off and then I'll go to Canada and to Reno (Nev.) in June and I'll be gone.
"I'm pretty excited about the summer rodeo and I'm looking forward to this year."
Other winners at the $330,616 rodeo were all-around cowboy Coleman Proctor ($6,068, team roping and steer roping); bareback rider Dean Thompson (92.5 points on Frontier Rodeo's Gun Fire); steer wrestler Mason Couch (13.1 seconds on three head); team ropers Derrick Begay/Colter Todd (21.9 seconds on three head); saddle bronc rider Tanner Butner (90 points on Frontier Rodeo's Lonesome Eyes); breakaway roper Sierra Heinert (4.6 seconds on two head); barrel racer Summer Kosel (34.13 seconds on two runs); steer roper Scott Snedecor (56.9 seconds on four head); and bull rider Junior Souza (88 points on Frontier Rodeo's County Jail).
Courtesy of PRCA