Unleash The Beast Returns to North Little Rock for Ninth Time in League History Feb. 25-26
By: Kacie Albert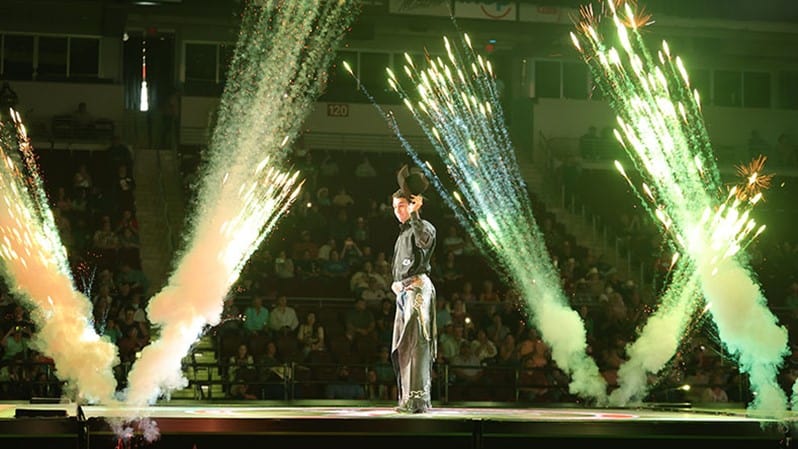 NORTH LITTLE ROCK, Ark. – For the ninth time in league history, the PBR's (Professional Bull Riders) elite Unleash The Beast will buck into North Little Rock, Arkansas, holding the Bad Boy Mowers Mowdown on Feb. 25-26 at Simmons Bank Arena.
For two nights only, the Top 30 bull riders in the world will compete in one of the most exciting live sporting events to witness. Going head-to-head against the sport's rankest bovine athletes, the tour stop will showcase the ultimate showdown of man vs. beast.
Last season, the premier PBR Unleash The Beast bucked back to Simmons Bank Arena for the sixth consecutive season as Rafael Henrique dos Santos (Sebastianopolis, Brazil) captured his career-first victory on the elite tour.
As the only rider to go a perfect 3-for-3, Santos entered the championship round second on the event leaderboard after delivering matching 87-point scores atop Back Jack (Flying M/Hilton/Winston) and Stetson (CG Bucking Bulls/Big Rafter Rodeo) in Round 1 and 2, respectively.
Santos then clinched the golden finish when he bested Twilight Zone (Carr Pro Rodeo) for a monstrous 90.75-points in the final round.
For his efforts, Santos netted 133.5 world points, elevating him from No. 16 to No. 9 in the world standings. Battling a nagging rib injury as the season continued, Santos completed the 2021 season with his first appearance at the prestigious PBR World Finals, ranked a career-best No. 20 in the world.
Other past PBR Bad Boy Mowers Mowdown event winners include: Ramon de Lima (2020), J.B. Mauney (2019), Luciano de Castro (2018), Derek Kolbaba (2017), Ryan Dirteater (2016), Wiley Petersen (2003) and Dusty LaBeth (2002).
The PBR's return to North Little Rock comes on the spurs of a season for the ages for now-two-time PBR World Champion Jose Vitor Leme (Ribas do Rio Pardo, Brazil). Leme is now just the second back-to-back PBR World Champion in league history, joining three-time PBR World Champion Silvano Alves (Pilar do Sul, Brazil), who won his first two titles in 2011-2012, and seventh multi-time PBR World Champion.
Shattering nearly every record en route to his second gold buckle, Leme punctuated his 2021 PBR World Championship winning season by shattering the league's all-time high-marked ride record, a record he previously broke in August.
Teaming with 2021 YETI PBR World Champion Bull Woopaa (Barker Bulls/Hookin' W Ranch) for an unprecedented 98.75-point score, Leme earned the first-ever 50-point score awarded to a rider.
Throughout 2021, Leme went a torrid 49-for-71, covering 69.01% of his animal athlete opponents. In addition to setting a new high-score record, Leme also broke the season record for most 90-point rides (24) and round wins (21), and tied the season record for most event wins (8).
The bull riding action for the 2022 PBR Bad Boy Mowers Mowdown begins with Round 1 at 7:45 p.m. CST on Friday, February 25, followed by Round 2 and the championship round at 6:45 p.m. CST on Saturday, February 26. All competing bull riders will get on one bull each in Rounds 1-2. Following Round 2 Saturday evening, the riders' individual two-round scores will be totaled with the Top 12 advancing to the championship round for one more out and a chance at the event title.
Tickets for the two-day event go on sale Monday, December 6 at 10:00 a.m. CST, and start at $15, taxes and fees not included. Tickets can be purchased online at ticketmaster.com and PBR.com, at the Simmons Bank Arena Box Office, or by calling PBR customer service at 1-800-732-1727.
Two-day ticket packages will also be available, offering fans up to a 10% discount on select price levels.
PBR Elite Seats are available for avid fans who want an exclusive VIP experience while enjoying the world's top bull riding circuit. These tickets, available in three tiers, offer premium seats, a question-and-answer presentation with some of the top bull riders and stock contractors in the world, a behind-the-scenes look at the event from the back of the bucking chutes, a $10 concession voucher and souvenir credential and lanyard.
Available for $450 is the PBR Premier Elite Seat with souvenir chair. Offering the best views in the venue, fans will receive a limited-edition PBR folding chair to take home following the event.
Fans will also have the chance to purchase the PBR VIP Elite Seats, which include an exclusive merchandise gift and pre-show photo opportunity from the dirt, and the PBR Elite Experience Seats, which include an exclusive merchandise gift.
For an enhanced PBR experience, fans can now purchase add-on PBR Premium Experiences which will include the Elite Experience on both Friday, February 25 and Saturday, February 26, and Bull Housing Tour on Saturday, February 26 in North Little Rock.
The Elite Experience, available for $75, will include a Q&A session with a select group of the league's top riders, bullfighters and stock contractors, pre-event photo on the bucking chutes, arena concession voucher, Stars of the PBR book, and commemorative credential and lanyard.
The Bull Housing Tour, available for $50, will get experience-purchasers up-close-and-personal with the league's top animal athletes and include a commemorative lanyard and Bulls of the PBR book.
For more information on PBR Elite Seats and PBR Premium Experiences, or to purchase the Elite Experience for the PBR Bad Boy Mowers Mowdown in Arkansas visit https://pbr.com/tickets/premium-experiences/.
© 2021 PBR Inc. All rights reserved.