Vastbinder Among Group of World Champions with his Four 90-Point Rides at the World Finals
By: Justin Felisko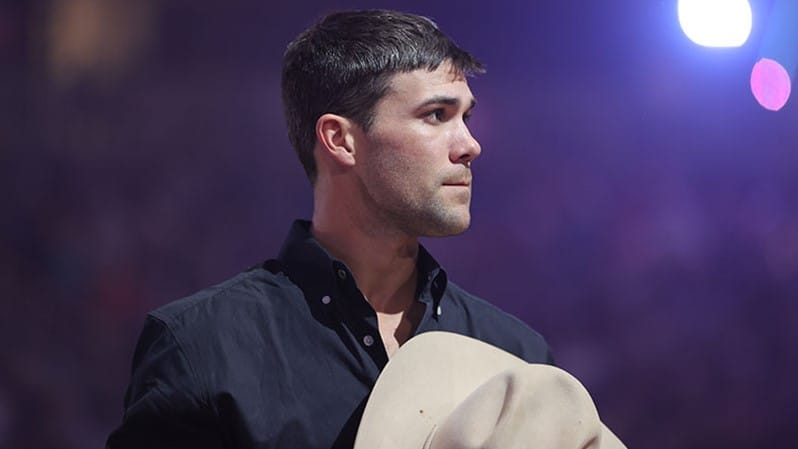 PUEBLO, Colo. – Eli Vastbinder's last-minute surge to win the 2021 Rookie of the Year title was memorable in its own right because of the toughness he displayed while riding through a separated right shoulder and broken ribs.
Vastbinder's 4-for-6 performance was also historic.
The 30-year-old tied a PBR record with four 90-point rides at the World Finals, becoming just the eighth rider in PBR history to do so. He is also the second oldest Rookie of the Year winner in PBR history. Keith Adams was 31 years old when he won top rookie accolades in 1997.
In fact, Vastbinder is the only non-World Champion to produce four 90-point rides during one World Finals and is the only rookie to do so.
Riders with four or more 90-point rides at the World Finals
Ty Murray (1999: 4)
Justin McBride (2007: 4)
Chris Shivers (2008: 4)
Renato Nunes (2008: 4)
Kody Lostroh (2009: 4)
J.B. Mauney (2013: 4)
Jess Lockwood (2019: 4)
Eli Vastbinder (2021: 4)
Five of the eight riders –Justin McBride, Chris Shivers, Kody Lostroh, J.B. Mauney and Jess Lockwood – won the World Championship thanks to their performances, while Renato Nunes would win his world title two years later.
Vastbinder will look to chase his own world title in 2022. The season gets underway in Indianapolis on New Year's Day with the PBR Monster Energy Invitational before the Unleash The Beast heads to New York City for the Monster Energy Buck Off at the Garden on Jan. 7-9.
The Statesville, North Carolina, bull rider began the World Finals with a bang by winning Round 1 with 91 points on Manaba. Following a buckoff in Round 2, Vastbinder then separated his right shoulder (riding arm) and broke his ribs attempting to ride Whiskey Bent in Round 3.
Vastbinder was awarded a re-ride, and he somehow went on to ride Hell on the Red for 90 points before needing to be assisted off of the dirt by the PBR Sports Medicine Team.
It was then that Vastbinder's memorable Finals began to really take shape.
He came back on Saturday night and once again battled through his broken ribs to post another 90-point ride, this time aboard 2021 ABBI Classic Champion Juju. Once again, Vastbinder had to be carried to the PBR Sports Medicine room, where doctors would evaluate him to make sure none of his ribs potentially punctured his lungs. Vastbinder would then spend about 30-45 minutes sitting in the sports medicine room or locker room, barely able to breathe. He capped his Finals by riding Medicine Man for 92.25 points to win Round 5 on Championship Sunday and clinch the Rookie of the Year title.
Vastbinder entered the World Finals fifth in the Rookie of the Year race, 177.5 points behind No. 1 Junior Patrik Souza, before usurping Souza, Chase Dougherty, Jesse Petri and Rafael Henrique dos Santos with his fifth-place finish at the World Finals.

Here is a by-the-numbers look at Vastbinder's 2021 season.
19: Vastbinder ranked fourth in the rookie class with 19 qualified rides. Junior Patrik Souza led all rookies with 26 qualified rides, which was eight in the PBR.
35.19: Vastbinder's 35.19% riding percentage was also fourth among rookies. Rafael Henrique dos Santos led the class with a 36.73% average (18-for-49).
90.94: Vastbinder averaged 90.94 points per qualified ride in Las Vegas. His 92.75 points on Medicine Man was a career-best, and it was also the highest by any rider aboard Medicine Man in the bull's five-year career.
0: Before the World Finals, Vastbinder had zero 90-point rides on the premier series. His previous career-high was 89.5 points on Juju at Iron Cowboy this past August.
30: Vastbinder was the only rookie in this year's class 30 years or older.
9: Vastbinder finished ninth in the world standings, 2,121 points behind World Champion Jose Vitor Leme.
Follow Justin Felisko on Twitter @jfelisko
Photo courtesy of Andy Watson/Bull Stock Media
© 2021 PBR Inc. All rights reserved.