Vieira Back Home to Continue his Rehabilitation in Decatur
By: Justin Felisko
PUEBLO, Colo. – Fabiano Vieira is back home at the Vieira ranch in Decatur, Texas, to the joy of his family and friends.
The eight-time PBR World Finals qualifier has been released from the Baylor Scott & White Institute for Rehabilitation in Dallas following 29 days of rehab and therapy, his wife, Jilian, confirmed on Tuesday.
Jilian said on Monday night that she was hopeful her husband would be heading home on Tuesday, and those aspirations came to fruition today.
It has been a total of 56 days since Fabiano sustained two brain injuries at the July 1 Touring Pro Division event during the 90th annual Texas Cowboy Reunion in Stamford, Texas.
Fabiano will next continue his therapy and recover at the Fit-N-Wise Rehabilitation and Performance Center in Decatur, Texas.
"A total of 56 days of a lot of struggle, suffering, a tight heart (and) with longing for my daughters, but I knew how important it would be for his recovery to be (by his) side every day," Jilian said in a statement she posted on Instagram. "God made many miracles in his life that I could see. (He) taught me to hope, to know how to wait for everything in its time and thus understand and accept and never question God for everything we went through, thus strengthening my faith every day.
"Today, August 25, we are going home, a new journey that begins and treatments that will continue at Fit -N- Wise Decatur. But with a heart full of joy in being able to speak, I will take him back home. God allowed this."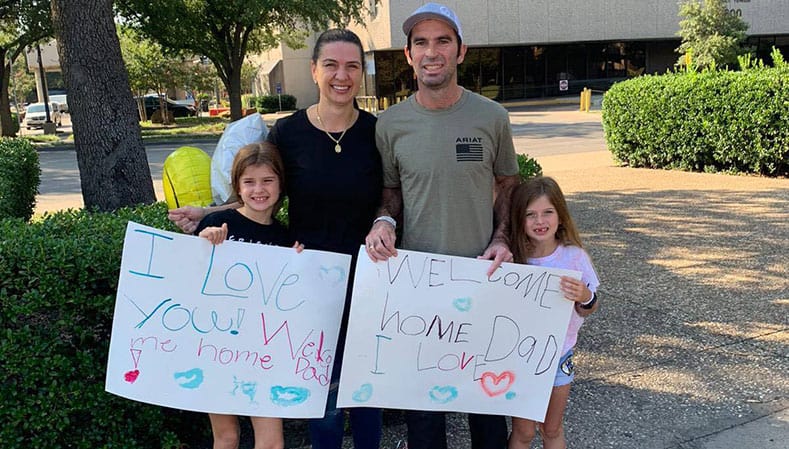 Vieira sustained a skull fracture and two brain injuries attempting to ride Stone Cold Crazy during the Touring Pro Division event on July 1. The now 38-year-old was immediately brought to Anson General Hospital in Anson, Texas, before being transferred to Hendrick Medical Center in Abilene for additional care later that night.
Doctors elected to perform emergency surgery on one of Vieira's brain injuries on July 2.
According to Jilian, Fabiano spent 10 days in the ICU as doctors continued to monitor his progress and go through the process of removing him from a medically induced coma on July 5 and taking out his breathing tube on July 6. Fabiano woke up on July 8, but remained sleepy because of medication he was taking for pneumonia. Doctors transferred him out of the ICU three days later and into a different room as his vital signs began to stabilize. This was also done out of a sense of security with an increase in coronavirus patients in the ICU.
Vieira was transferred to the Baylor Scott & White Institute for Rehabilitation on July 27.
Jilian on Tuesday recalled a conversation she had with a nurse during the couple's first day at Baylor.
"The first day I arrived with him at Baylor, the oldest nurse said to me, 'Don't worry, God lives here in this place. He still has a lot of work ahead of him, but God is with him,'" Jilian said.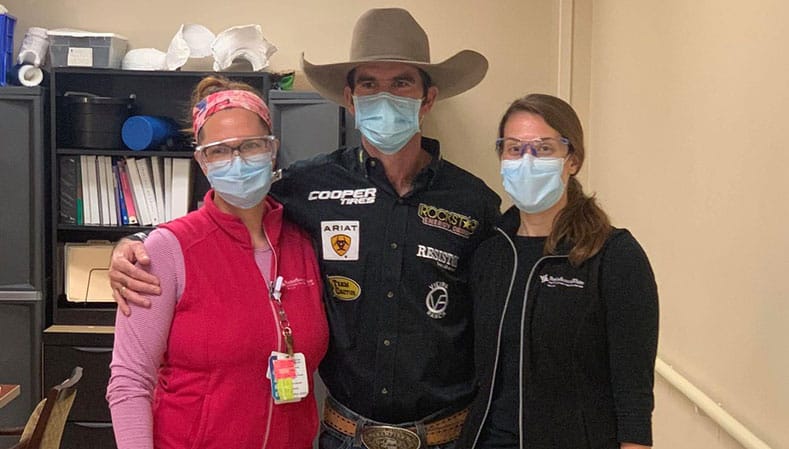 Stock contractor Renato Teixeira and his family, along with bullfighter Lucas Teodoro and his wife, Ingrid, created a GoFundMe for Fabiano and his family on July 16 to help with increasing medical cost for the Vieira family.
Fans wanting to make a donation can do so HERE. (Fans in Brazil can also make a donation on the Vakinha platform HERE.)
The Western Sports Foundation is also offering assistance to the Vieira family during this time.
The social media account Favor4Fabiano has been posting additional updates from Jilian about Fabiano's recovery.
Friends of the Vieiras are organizing a dinner/live auction to raise funds for the Vieira family on Oct. 11 at NRS World in Decatur, Texas.
The Vieira family has relied on their faith and the strength of their friends and the Western sports community as Fabiano continues to make progress in his recovery.
Jilian once again thanked everyone for the outpouring of support the family has received in the now almost two months since Fabiano was injured.
Fabiano still has a ways to go, but the family is so grateful to have their husband and father back home, as well as for everything the Baylor Scott & White Institute for Rehabilitation has done.
"As everyone told me, God does not work a miracle in half, but (until it is) complete," Jilian said. "I have faith that soon (Fabiano) will be 100% recovered. From the beginning, my only word is gratitude, to God, to friends, family, everyone who prayed, helped with donations, doctors, nurses and the entire Baylor team for the exceptional recovery work."
Fabiano was the No. 10-ranked bull rider in the world at the time of his injury last month.
Vieira became the fourth-oldest bull rider to win a premier series event this past April when he won the PBR Las Vegas Invitational, presented by Union Home Mortgage at the Lazy E Arena in Logan County, Oklahoma. He concluded the first half of the season 13-for-32 (40.63%) with a victory and three Top-10 finishes.
The Perola, Brazil, native made his PBR debut in the United States in January 2010 and qualified for his first World Finals the following season, beginning a stretch of eight consecutive World Finals appearances in which he became a fan favorite worldwide. Vieira successfully reached the 8-second mark on the PBR's highest level of competition 301 times.
Fabiano has remained steadfast in his belief that he will always be a cowboy no matter the adversity he has faced.
"Fabiano said that he entered the hospital as a cowboy and that he would leave as a cowboy, that nobody in the world can change that, only God, 'I am a real cowboy and I always will be. I was born like this,'" Jilian concluded.
Follow Justin Felisko on Twitter @jfelisko
© 2020 PBR Inc. All rights reserved.