Vote on the Golden Barrel Award for Best Celebration
By: Darci Miller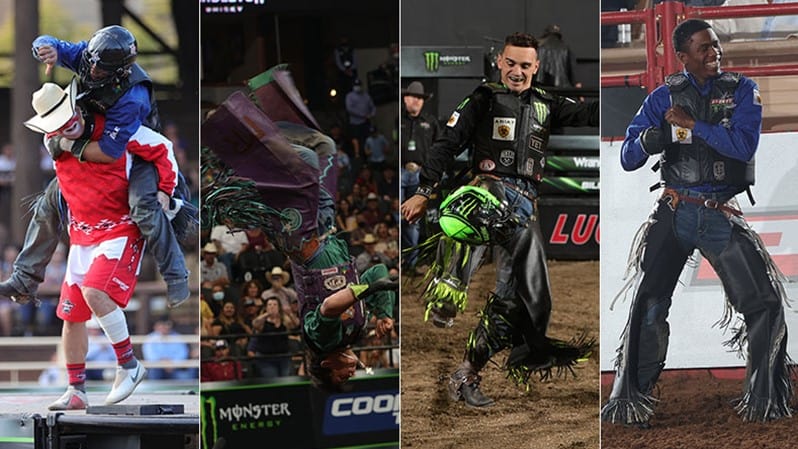 Ever wanted to give your favorite rider or bull an award? Well, you're in luck.
This season, the PBR is hosting the inaugural Golden Barrel Awards, a series of end-of-season honors voted on by you, the fans, in the categories of Best Celebration, Best Winning Ride, Best Save and 7 Seconds of Agony.
There's no greater joy in the world of bull riding than that of making the 8-second whistle, and the nominees in the Best Celebration category have all put their unique touch on their moments in the sun. From dance moves to soccer moves and everything in between, these riders have gotten creative, and we are so here for it.
Head over to the Golden Barrel Awards page to cast your vote, and read on for more about the nominees.
Mauricio Moreira rides Flint Rasmussen

We're not sure we understand this one, and you know what? We're not sure we even have to. Mauricio Moreira made his U.S. debut in 2020, but he is having a breakout season in 2021, currently ranked No. 7 in the world standings. With a career-best 22 rides on the premier series, he's had ample opportunity to hop aboard everyone's favorite entertainer.
Thiago Salgado backflips

Thiago Salgado is brand new to the PBR scene, and he's already making a splash with his flashy celebration. He made both his Pendleton Whisky Velocity Tour and Unleash The Beast debuts in February, and it didn't take long for him to start, well, flipping out. This is one celebration that makes riding a bull look like the easy part.
Jose Vitor Leme punts his helmet

A legendary celebration for a legendary bull rider. The reigning World Champion and current world No. 1 bull rider was a semi-pro soccer player back in Brazil, and he shows off those skills each time he punts his helmet across an arena. He's done it a lot this season, too, with 43 rides on the premier series – and an astounding 21 of them for 90 or more points.
Ezekiel Mitchell Dougies

Does anyone have more swagger than Ezekiel Mitchell? Doubtful. Ranked No. 32 in the world standings, Mitchell hasn't had the season he wanted this year, but he still brings the party whenever he makes the 8 with his smooth moves.
© 2021 PBR Inc. All rights reserved.