What to Watch For: Barbosa Confident he Can Climb World Standings Despite Small Scapula Fracture
By: Justin Felisko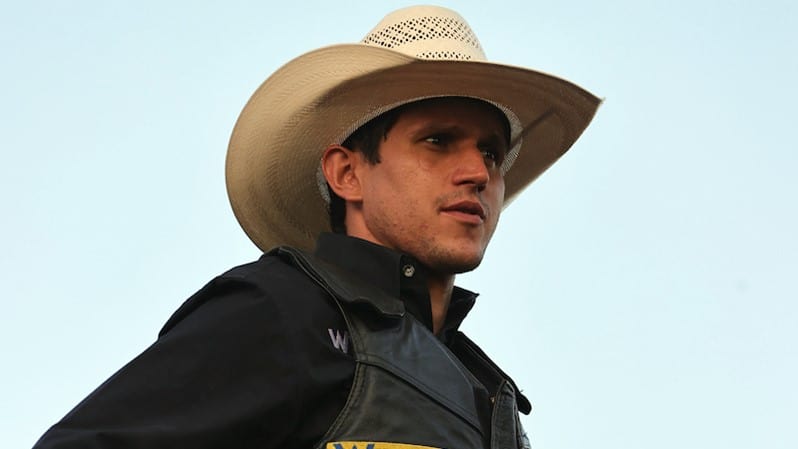 PUEBLO, Colo. – Dener Barbosa grimaced in pain and started to rotate his right free arm into the air on Tuesday night at Last Cowboy Standing.
Barbosa had just been eliminated from the PBR Major at Cheyenne Frontier Days when I'm Busted bucked him off in 3.10 seconds in the second round.
The No. 4 ranked bull rider revealed this week in Cheyenne that he sustained a 'small scapular fracture' to his free arm shoulder in Amarillo, Texas, on July 10 when West Coast Connection stepped on him at the Koben Puckett Invitational.
Barbosa insisted before Round 2 at Last Cowboy Standing he could compete with the injury and continue his pursuit of a world title.
"It is just sore," Barbosa said. "My scapula is just broke a little bit. Two weeks ago, I felt a lot of pain. Today I am just sore a little bit. I think it will be good. Before I ride I just feel a little tight."
The four-time PBR World Finals qualifier will look to make up some of the ground he lost to world No. 1 Jose Vitor Leme this weekend at the PBR Express Ranches Classic, presented by Pit Boss, on Saturday and Sunday.
Barbosa is 641.67 points behind Leme in the world standings heading into his Round 1 matchup against True Soldier (1-2, UTB) at the BOK Center (8 p.m. ET on CBS Sports Network).
Barbosa believes his injury can heal in four to five weeks, but he does understand that if he were to land on his shoulder the wrong way or get stepped on that the fracture could worsen.
TOP 30 RIDERS OUT OF COMPETITION BECAUSE OF INJURY
No. 11 Colten Fritzlan (left shoulder)
No. 14 Rafael Henrique dos Santos (ribs)
No. 29 Kyler Oliver (left shoulder surgery)
ALTERNATES
No. 31 Marcelo Procopio Pereira
RIDERS COMPETING VIA EXEMPTION – DIVINO RETURNING
No. 41 Paulo Lima (Pendleton Whisky Velocity Tour standings invite)
No. 44 Lucas Divino (seven injury exemptions remaining after Tulsa)
No. 49 Daylon Swearingen (five injury exemptions remaining)
No. 54 Thiago Salgado (Last Cowboy Standing Stockyards Showcase invite)
No. 66 Stetson Lawrence (six injury exemptions remaining)
Lucas Divino is set to make his Unleash The Beast debut in Tulsa after an almost 5-month recovery from reconstructive left hip surgery. Divino originally had plans to shut down his season and get his right hip also fixed, but he and his wife, Tayler, decided to put off the second surgery with the couple close to welcoming their first child in August.
View this post on Instagram
Divino last competed on March 20 when Juju bucked him off in 1.75 seconds in Kansas City, Missouri, aggravating a previous left knee injury in the process.
At that point, Divino knew he could not continue to ride through the pain that was also continuing to bother him in his hips. Divino has had hip issues for years, and he learned recently that he had bone spurs on his left and right hip, as well torn cartilage on the left side.
The 27-year-old is 4-for-11 (35.71%) in five UTB events this season.
Divino was a fringe world title contender last year, finishing 11th in the world standings, but he struggled this season before getting surgery as his hips and knee injury continued to worsen.
He has drawn Cherry Bomb (3-1, UTB) for Round 1 on Saturday night.
LEME CONTINUING 90-POINT RIDE RECORD PURSUIT
After putting up three 90-point rides in one night of competition, world leader Jose Vitor Leme is two 90s away from breaking Cody Hart's single-season record (16) that he set during his dominant 1999 World Championship season.
Leme could potentially break the record Saturday night in Tulsa.
The No. 1 ranked bull rider in the world has drawn Body Count (3-0, UTB) for Round 1. Body Count has yet to be ridden on the premier series, and he hasn't bucked in his last two outs (40.5 points / 39.75 points) compared to his impressive outs at the beginning of the year – (44.25 points at the UTB in Fort Worth and 45 points at the TPD in Fort Worth).
2019 Rookie of the Year Dalton Kasel rode Body Count for 89.5 points last year at the Pendleton Whisky Velocity Tour Finals.
Body Count is No. 5 in the ABBI Classic standings.
Leme will then take on YETI No. 1 World Champion Bull contender Woopaa in the 15/15 Bucking Battle. Leme has ridden Woopaa for 95.75 and 94.75 points in two previous matchups.
Leme leads No. 2 Kaique Pacheco by 361.5 points in the world standings.
ABBI CLASSIC ROUND
Round 1 of the PBR Express Ranches Classic, presented by Pit Boss, will be an American Bucking Bull Inc. (ABBI) Classic event. There will be 30 bulls competing for a prize purse of more than $30,000 on Saturday night with the winning bull collecting more than $8,000 in prize money.
The Top 5 Bulls in the ABBI Classic standings are: Juju, Cuttin Torch, Manaba, Yadi and Body Count.
Follow Justin Felisko on Twitter @jfelisko
Photo courtesy of Andy Watson/Bull Stock Media
© 2021 PBR Inc. All rights reserved.